Ohio State partners with National African American Male Wellness Initiative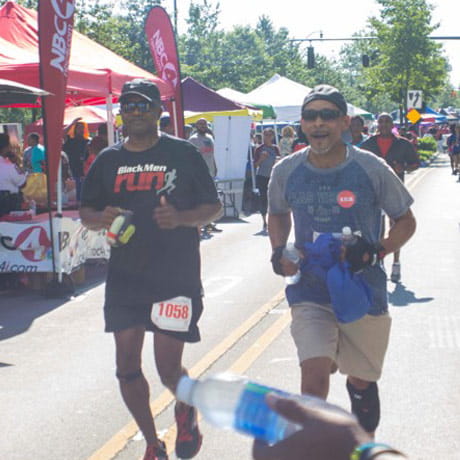 Darrell Gray, MD, associate professor of Internal Medicine; Timiya Nolan, PhD, assistant professor of Nursing; Joshua Joseph, MD, assistant professor of Internal Medicine; and James Odei, PhD, assistant professor of Biostatistics, are co-investigators on a study, Creating Healthier Communities through Meaningful Partnerships: A Model from the National African American Male Wellness Initiative — OSU Partnership. This study is invested in closing health disparity gaps in the African-American community.
The National African American Male Wellness Initiative (AAMWI) was established in Columbus, Ohio, in 2004. Aimed at reducing premature mortality among African-American men, AAMWI hosts numerous events, such as an annual walk and health fair, leading it to become the largest health initiative in central Ohio for African Americans, spanning five cities in Ohio and 16 across the nation. Three years ago, Dr. Gray and Dr. Joseph began volunteering at the walk. AAMWI founder John Gregory recognized their commitment and community engagement, and asked the two to assist in transforming the walk from an annual screening event to a health promotion opportunity for African-American men who are prematurely dying. Dr. Gray was appointed the medical director and Dr. Joseph was named co-research director. Dr. Odei, a statistician, joined the nonprofit to analyze screening data from the walk. Dr. Nolan, a co-research director, joined to assist the group with adapting intervention research in its application to the Connect and Collaborate Grant, a program supporting innovative and scholarly engagement programs that leverage academic excellence of The Ohio State University in mutually beneficial ways with external partners.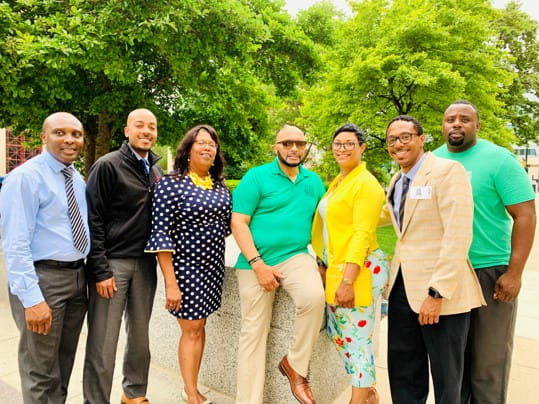 "We are invested in closing health disparity gaps in the African-American community, and we see the academic-community partnership model as a viable model for tackling these gaps. We cannot do this alone. It takes a village!" says Dr. Nolan.
This study addresses the unequal distribution of mortality from chronic diseases such as diabetes, cardiovascular disease and cancer among African -American men. In 2010, the American Heart Association outlined goals for reaching ideal cardiovascular health through the Life's Simple 7 (LS7) framework, consisting of modifiable lifestyle behaviors and biometric factors, including smoking status, body mass index, physical activity, diet, total cholesterol, blood pressure and blood glucose. Numerous studies have shown an association between higher attainment of LS7 with a lower risk of the aforementioned diseases. However, little evidence exists reviewing best practices to maximize LS7 attainment in African-American men. This study aims to facilitate engagement with a primary care provider and address social determinants of health that present barriers to wellness; improve participants' LS7 attainment with a team-based intervention employing community health workers and health coaches; and increase participation in clinical trials.
Drs. Gray, Nolan, Joseph and Odei anticipate this being a flexible model that can be adapted to other populations across Ohio and beyond. The team is already strategizing to expand this to African-American women.