Art of Analysis — engaging learners in innovative learning processes
Merging health and creativity generates laser-focused learners, faculty and staff at The Ohio State University College of Medicine. Each day, they collaborate to transform the health of their communities and meet the continually evolving field of medicine. They also partake in the shared aims of both art and science, which offers a humanistic understanding of health.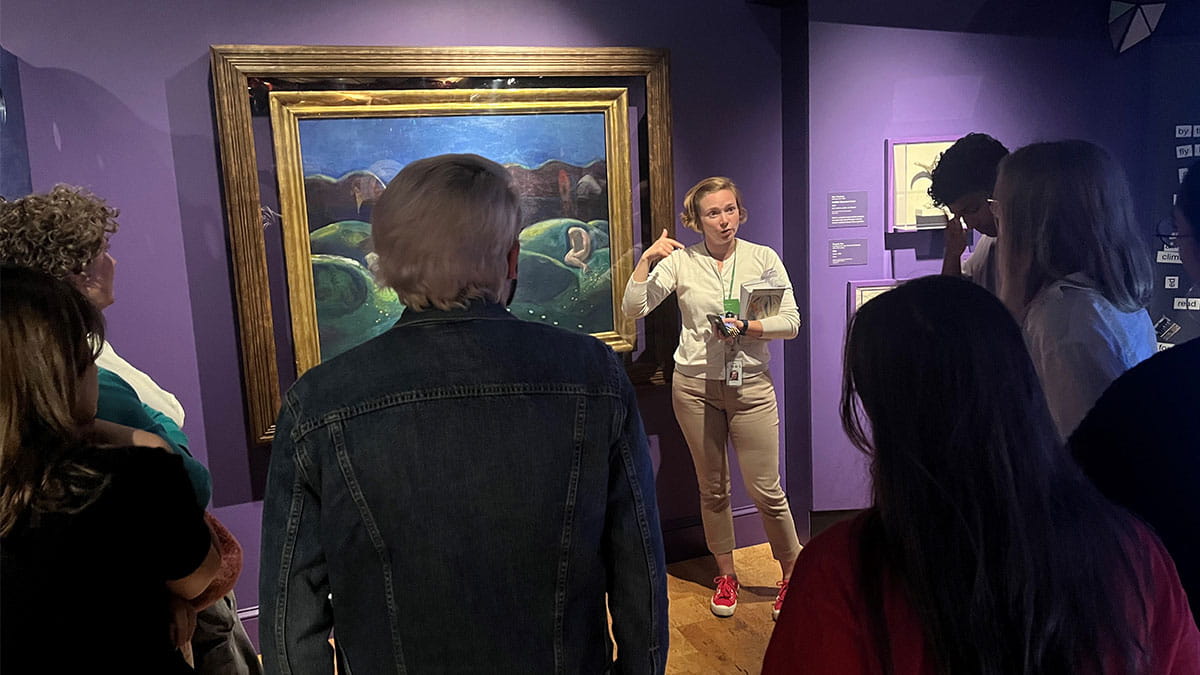 More than 80 percent of students in the college engage in the arts. A recent program called Art of Analysis (AOA) between the college's
Humanism & the Arts in Medicine Program
and
The Columbus Museum of Art (CMA)
, delivered an evening of art creation, examination and facilitated discussion to strengthen skills, like observation, interpretation, communication and collaboration.
AOA is a cooperative program led by CMA's Crane McKee director of learning innovation, Jennifer Lehe. She says the program centers creativity and helps participants consider multiple perspectives by examining and discussing works of art.
"Creativity is a thinking process that elevates higher-order thinking skills," Lehe says. "The process we use here forces us to slow down, notice, listen to one another, and generate multiple, well-reasoned possibilities."
Possibilities deemed necessary to produce the finest physicians and researchers in the world. AOA is based on the process Lehe refers to as Observe, Describe, Interpret, Point to Evidence, or ODIP.
Rhea Dhingra is in her first year of medical school. She says attending the program was important to her, despite a looming exam facing her and fellow learners. Her participation allowed her to meet and interact with like-minded people who have a stake or interest in art and science, in some way.
"We were able to deepen our awareness of possibilities and perspectives, but also of our own subjective interpretations," Dhingra says. "Art analysis broadens our understanding from the scientific context…in a magical capacity that can only be understood by partaking in it."
For Dhingra and other attendees, taking the time to prioritize analytical and artistic moments like these can help them expand their perspective of different cultures, time periods and ideas.
"And it makes life fun and interesting," Dhingra says.
Lehe says even though AOA began as a collaboration between the art museum and the Ohio State University College of Medicine, she believes that everyone in every field and profession could benefit from going through the AOA process on a regular basis.
"Looking closely strengthens observation skills and moves us to seek out information," Lehe says. "This is what we hope our medical team will do when we need them."
Ohio State's Humanism & the Arts in Medicine was founded in 2009 by Linda Stone, MD, and the now retired associate dean for student affairs at the College of Medicine. The program continues to engage medical learners, residents, staff, faculty and the community in cultural, artistic and health activities, performances, service and activism opportunities.
Research supports the participation in the arts because it increases the people's understanding of difficult abstractions and elevates higher-order thinking skills. The college overseeing these types of programs ensures lifelong learning throughout all areas of life.