Mission critical: Centering diversity and equity in every facet of medical education and practice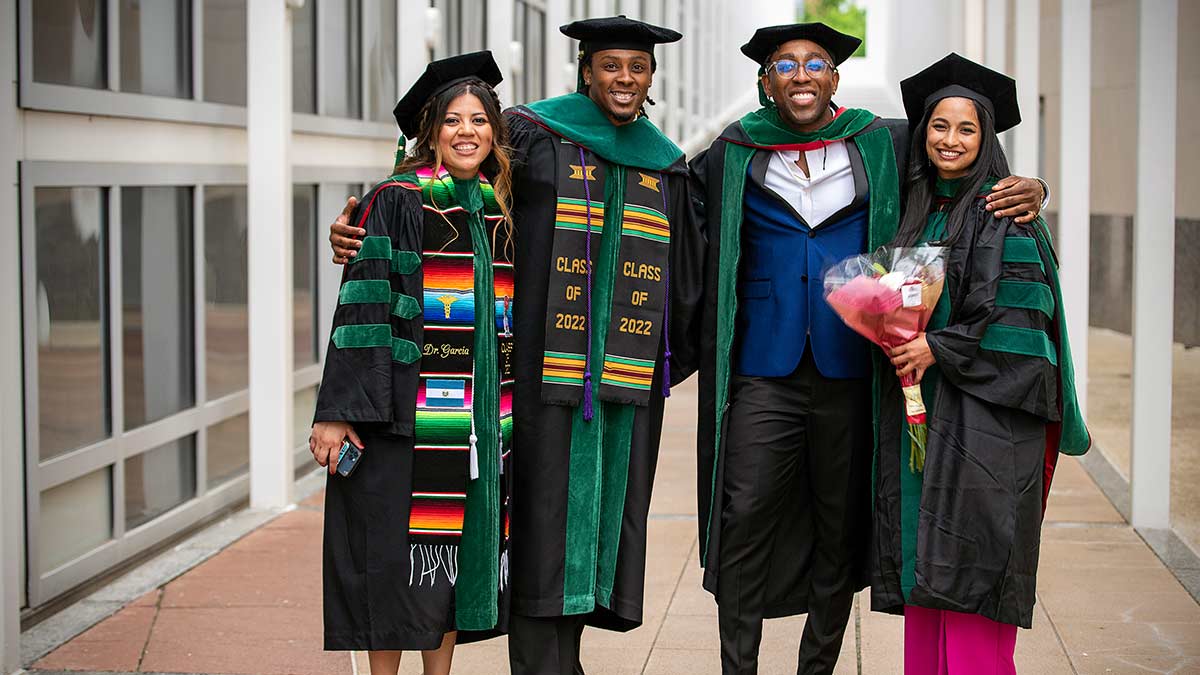 This year, as we celebrate Juneteenth at The Ohio State University College of Medicine, we also celebrate the college's intentional efforts to ensure diversity and equity are a driver of institutional excellence and an integral part of learning and practice. We're building a diverse student body and workforce that is open to learning from one another and confronting biases in order to provide equitable care to every person and community we serve.
"Juneteenth is a day to celebrate and recommit to confronting racial and health equity and health disparities," says Carol R. Bradford, MD, MS, FACS, dean of The Ohio State University College of Medicine. "I am proud of our inclusive culture and the work we have accomplished together."
The college's progress in attracting a high-achieving and diverse student body, which includes a large number of students underrepresented in medicine, is a result of holistic admissions practices. In 2021, the college's intentional recruiting strategy resulted in a 14% increase in applicants. In addition, the college is ranked the 14th most diverse medical school in the nation — the highest ranking among top-40 research schools — according to U.S. News & World Report.
In addition, more than half of incoming students are women and more than a quarter are underrepresented in medicine. For more than eight years, more than 50% of incoming classes have been women and 37% of our leaders are women.
Demicha Rankin, MD, associate dean for Admissions for the Ohio State College of Medicine says the student body, faculty and leadership embody diversity. She believes varying perspectives arevalued at the college and are imperative in training future physicians and researchers capable of addressing health care disparities and embarking on health care research that benefits all patients.
"Diversity enhances the learning experience by challenging us to consider, weigh and value the thoughts, experiences and practices of others different from ourselves," Dr. Rankin says. "Having a greater understanding and appreciation for each other's and each patient's unique genetic makeup, behavior, experiences and beliefs is also key."
Connecting with our patients
The college is building a physician workforce that is reflective of patients treated there. Studies show students trained at diverse schools are more comfortable treating patients from a range of ethnic backgrounds. In addition, patients report a greater level of satisfaction with their care when they're treated by physicians with similar ethnic backgrounds.
As an anesthesiologist, an African American woman, and a graduate of the college, Dr. Rankin has experienced this response in her patients.
"When I walk in and an African American patient sees me — someone who looks like them — they feel like they can relate to me, that we have a connection," Dr. Rankin says. "I have been explicitly told by some of my older African American patients that they are proud I am their doctor."
Anti-racism curriculum updates and integrations
The college continues to make measurable progress in building an infrastructure based on introspection and action to address negatively biased attitudes, perspectives and practices. The activation of workgroups by the Equity and Anti Racism Task Force, led by Dr. Rankin and Jennifer McCallister, MD, associate dean for Medical Education, systematically reviews and updates curriculum to examine for potential implicit bias in instruction and to incorporate the social determinants of health that impact disease management.
"This way learners have medical knowledge but also understand their patients on deeper levels," Dr. McCallister says. "All of these nuanced learning enhancements chart a course of constant improvement."
The Ohio State University Interprofessional Practice and Education (IPE) program challenges the way its seven health sciences colleges teach and provide health care. The BuckIPE Foundational Curriculum brings students from two or more health sciences professions together during their training to learn about, from and with one another, while also working together to identify and address structural racism where it exists in the community, to improve health equity.
So far this year, over 1,000 second-year learners from the health sciences have participated in Anti-Racism in Action, a curriculum that dissects the complex structures within our health care system and society that create inequity in care and outcomes. Through readings and videos, students develop a deeper understanding of racism and the complex structures within our health care system and society.
Organizational support
As an academic medical center, we are committed to creating a diverse and inclusive organization at all levels. This requires introspection to identify gaps in knowledge and practice as well as the development of action plans that address representation and create a safe and equitable environment for all.
The Ohio State University Wexner Medical Center has selected Chyke A. Doubeni, MD, MPH, to serve as its chief health equity officer and to lead the Office of Health Equity, Diversity and Inclusion.
Dr. Chyke will also serve as associate director for Diversity, Equity and Inclusion for The Ohio State University Comprehensive Cancer Center – Arthur G. James Cancer Hospital and Richard J. Solove Research Institute and will hold a faculty appointment in the college's Department of Family and Community Medicine.
Dr. Doubeni will work closely with The Ohio State University Office of Academic Affairs and will be a leader in the university's RAISE initiative focused on recruiting new faculty who have a research focus on health equity topics.


Juneteenth celebration
In addition to Ohio State's celebrations to commemorate Juneteenth 2022, the Ohio State Wexner Medical Center will host an in-person event from noon to 1:30 p.m. on Friday, June 17 at the Ross Heart Hospital auditorium with food, music, speakers and more to commemorate the end of enslaved persons and celebrate African American culture. (A livestream option is available using this link with passcode 524231.)