Ohio State joins international consortium to study effectiveness of ECMO in COVID-19 patients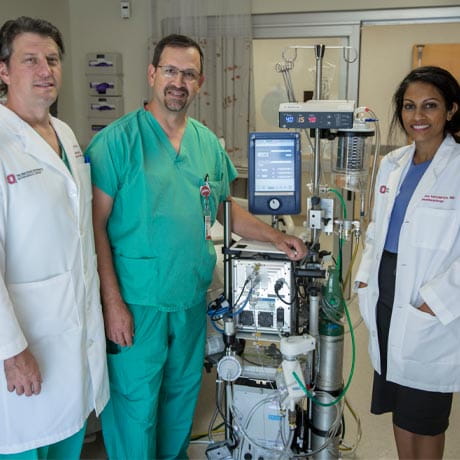 Clinicians at The Ohio State University Wexner Medical Center are optimistic about the deployment of a less publicized "weapon" to treat the sickest COVID-19 patients.
For decades, mechanical ventilation has been used to support patients with respiratory failure due to acute respiratory distress syndrome (ARDS), most recently in patients with COVID-19. An effective means of delivering oxygen to the blood, it sometimes requires very high pressures and oxygen concentrations to accomplish this in patients with ARDS. Oxygen toxicity and pressure injury to the lung tissue are both conditions that can delay and even prevent recovery.
But extracorporeal technology has made it possible to reduce the occurrence of these conditions while providing life support to patients with ARDS. Similar to a heart and lung bypass machine used in open heart surgery, this technology—extracorporeal membrane oxygenation (ECMO)—is used in long-term treatment when in intensive care units around the world when conventional therapies and medications have failed. In patients with ARDS, the ECMO machine gives the patient's failing lungs a chance to rest and recover by ensuring oxygen delivery to vital organs and carbon dioxide removal while limiting trauma-inducing ventilator settings.
ECMO works like a heart, pumping blood out of the body through a very large tube, called a cannula. The oxygenator works like the lungs, taking carbon dioxide out of the blood and adding oxygen to the blood. The oxygen-rich blood is pushed through a heater to warm the blood to body temperature before it is pumped back into the body through a return line.
"This less publicized weapon against respiratory failure is an extremely scarce resource, but we believe that some COVID patients who are failing despite maximum support with the ventilator may benefit from this life support device," says Veena Satyapriya, MD, assistant professor of Anesthesiology at The Ohio State University College of Medicine and critical care specialist and director of the Extracorporeal Life Support (ECLS) program at Ohio State Wexner Medical Center. "In fact, ECMO may benefit the patient on a ventilator by ensuring oxygen delivery and carbon dioxide removal while limiting lung damage and oxygen toxicity, which occurs with maximal ventilator settings."
ECMO treatment has gained acceptance worldwide as an effective support for ARDS. Studies over the past few years have shown a high probability of a mortality benefit at 60 days in patients with severe ARDS, solidifying its role in this patient population. More recently, its usage has received FDA approval for long-term use in COVID-19-associated acute respiratory failure and/or acute cardiopulmonary failure.
A specially trained team at Ohio State's ECLS center are able to support patients who need this therapy, allowing their lungs to rest and heal while they receive treatment for the novel coronavirus at the center's Ohio State Richard M. Ross Heart Hospital. Ohio State's program is among a few hundred in the nation and only a handful of high-volume centers in the Midwest with the technology and know-how to offer ECMO support for patients with ARDS and other cardiopulmonary disorders. Ohio State has been providing ECMO care to patients for the last 10 years, treating some of the most complicated cases that other hospitals have been unable to manage. Designed to maximize effectiveness and efficiency, the program serves as a model of care for hospitals in the region.
"We have developed some wonderful relationships with our partnering institutions in central Ohio and beyond to make sure we are all using a similar playbook when it comes to evaluating and managing patients who may require support with ECMO, appropriate procedural tactics and safe transport to the Ross Heart Hospital at Ohio State," explains Dr. Satyapriya. "Here, we can take advantage of the available resources and unique skill sets of a specially trained group of perfusionists, doctors and nurses to best serve these very sick patients who have failed conventional therapies."
Recently, Dr. Satyapriya and her team have joined an international effort to understand more about how mechanical ventilation and ECMO are currently being used to support ARDS in critically ill patients with COVID-19. A multicenter coalition of researchers from across the globe, the COVID-19 Critical Care Consortium Observational Study, has begun gathering data from more than 350 participating centers. The study seeks to describe the clinical features and severity of pulmonary dysfunction in COVID-19 patients who have been admitted to ICUs, the use of mechanical ventilation, the use and duration of ECMO, the incidences of blood clotting, hemorrhage and other physiological complications, and patient survival. The collection of data should give researchers, including Dr. Satyapriya's ECMO team, a look at how the disease has progressed over the course of the coronavirus pandemic, based on how it has been managed.
Originating in Australia, the collaborative is a response to the urgent and unmet need to collect accurate and timely information about the clinical features, management and complications associated with the critically ill COVID-19 patient.
"With the emergence of COVID-19, the world pretty much changed overnight," says Dr. Satyapriya. "We are faced with a novel new coronavirus which is both deadly and easily transmissible. The mortality remains high and this disease may be around awhile, but I'm hopeful that understanding more about it on a global level as data emerges will help us better care for our patients right here at home."