Newly invented electrical stimulation (ES) device improves nerve regeneration in humans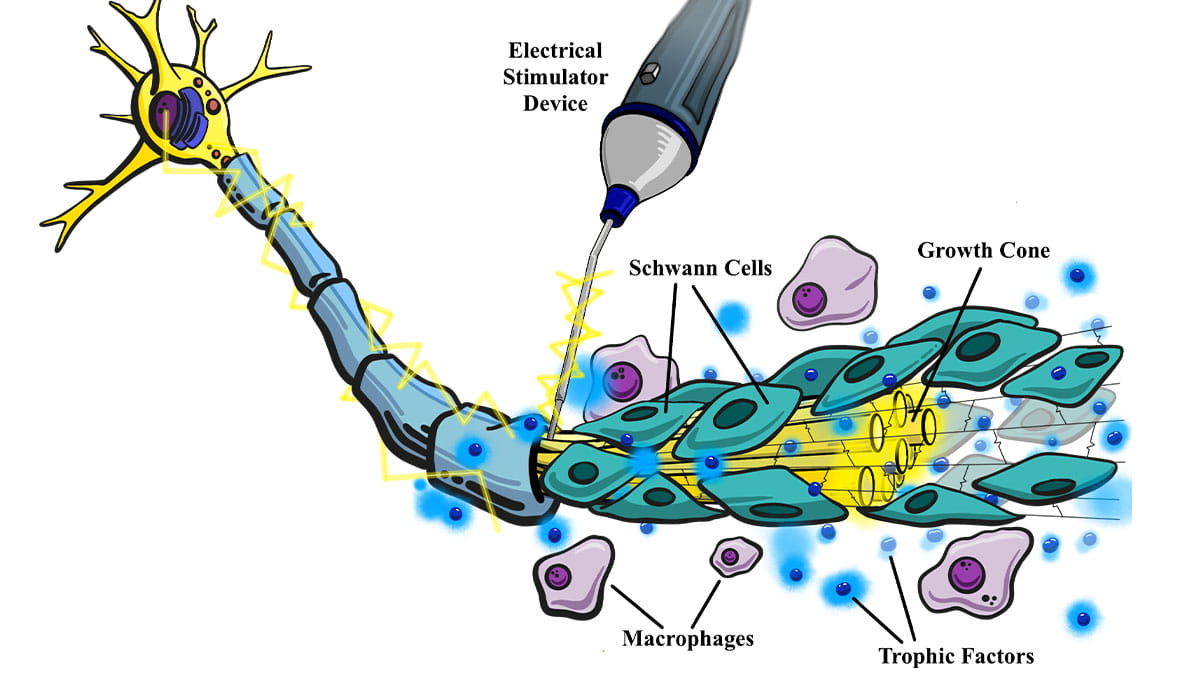 When a peripheral nerve is injured or damaged, it has the inherent ability to regrow and regenerate. Yet, according to Amy Moore, MD, professor and chair of the Department of Plastic and Reconstructive Surgery at The Ohio State University College of Medicine, the time to regrow is slow: nerves grow a millimeter a day, an inch a month and a foot and a half a year.
For Dr. Moore, one of very few peripheral nerve surgeons in the world, it is a race against time.
"Muscle cells die and can't be recovered after 18 months to two years post injury," Dr. Moore says. "We need to do repairs and adjunct therapy, like ES, to improve regeneration and function."
The science of delivering electrical stimulation (ES) intraoperatively has been around since the 1980s, when medical pioneers used it in animal models and then later in humans. ES was found to help nerves regrow more effectively and efficiently at the neuronal level. The problem was, the machine required a series of wires, which protruded from the wound and attached to the clunky machine. In time, it proved antiquated and obsolete.
So, Dr. Moore teamed up with industry to invent a handheld device.
"Checkpoint Surgical already made an FDA-approved device surgeons use today to locate nerves," Dr. Moore says. "It made sense to work with them to test it on its effectiveness in our research focused on nerve regeneration."
Three separate preclinical studies have confirmed that the form of ES with this device does in fact improve nerve regeneration after injury.
Through these preclinical studies, the device has proved safe and they have also been able to identify the ideal dosed response, which is 10 minutes. Pilot data from our clinical trial has demonstrated no negative outcomes or side effects.
"We created an attachment that can attach to a nerve and deliver 10 minutes of ES," says Dr. Moore. "We don't have to extend the length of surgery or lose time in the OR."
A review of ES research, "The Effect of Electrical Stimulation on Nerve Regeneration Following Peripheral Nerve Injury," was recently published in the journal Biomolecules. The Ohio State authors also contributed an illustration of ES that was used as this issue's cover art.
This work is supported by a multicentered grant from the U.S. Department of Defense, which includes Walter Reed National Military Medical Center, Northwestern University, Washington University in St. Louis and the Medical College of Wisconsin. It integrates research taking place at Ohio State's Military Medicine Program.
"Military war fighters and wounded warriors experience high rates of nerve injury and need an avenue to help improve outcomes," Dr. Moore says. "This is a way that we are giving back to this deserving community."