Kristine Orion, MD fuses surgical skills with artistry at Ohio States Aortic Center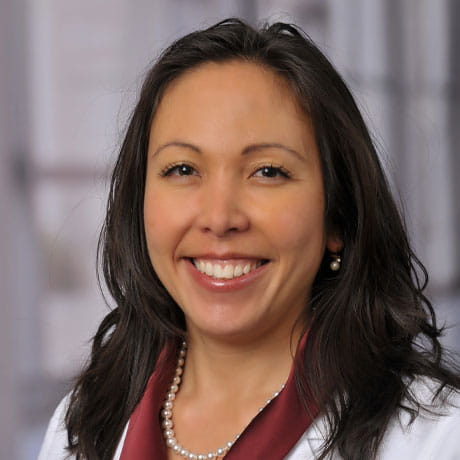 Vascular surgeon Kristine Orion, MD, is doing her part to advance the treatment of cardiovascular disease at The Ohio State University College of Medicine. Specializing in aortic surgery, Dr. Orion combines her skills and talents to repair aortic aneurysms, using both endovascular and open surgery techniques.
She is particularly interested in treating aortic aneurysms--from the most common type called abdominal aortic aneurysms (AAA) to the most complicated, which can span from the chest to the pelvis, known as thoracoabdominal aortic aneurysms. An enlarged aorta that ruptures produces massive internal bleeding, an event that can prove fatal if not caught in time. Most AAAs can be treated using minimally invasive endovascular methods, but complex cases may require open surgery.
One effective method for treating AAA uses endografts, or aortic stents, designed to be inserted through the femoral arteries and deployed within the aorta. They provide a channel for the blood to pass through easily without pushing against the walls of the weakened or damaged artery.
Custom designs
In AAAs that are not urgent or life-threatening, Dr. Orion may customize an endograft to her patient's needs. These special endografts are sized for the patient's particular anatomy and require several weeks to manufacture. And for emergency surgeries she uses off-the-shelf varieties that can be individually adapted to create a complete repair while the patient is on the operating table. She skillfully rebuilds entire sections of the aorta, along with the lesser arteries that branch from it, while carefully working around vulnerable organs nearby. As every patient is different, the procedure requires all of her skill and creativity in surgeries that could last up to 12 hours.
Dr. Orion performs her surgeries at Ohio State's Richard M. Ross Heart Hospital working alongside a team of experts who, like herself, have become so adept at performing AAAs using endografts that she is starting her FDA application for an investigational device exemption that will allow physician-modified endografts.
The Aortic Center team is blazing trails in customizing treatment options for its patients, testing new devices and perfecting their use, such as the fenestrated and chimney grafts that have been specially crafted to repair branch vessels in patients whose anatomies are not suitable for other types of grafts. The team is currently preparing to participate in clinical trials that will test newer off-the-shelf, minimally invasive devices designed to fix AAA endovascularly.
Expert teams
Strategically located in Ohio State's Ross Heart Hospital, the Aortic Center has access to the vast resources of one of the nation's top heart hospitals in the world. "We have vascular surgeons and cardiac surgeons on call 24/7 for any aortic emergency," Dr. Orion says. "We have protocols for fast communication between outside EDs and our team to get people from the helicopter pad or ambulance into an operating room at the Ross. It is truly a privilege to do these procedures in such a dedicated center, and we've made tremendous strides . . . We are well on our way to becoming a premier aortic center," she notes.
The Aortic Center is further strengthened by its connection to the Dorothy M. Davis Heart and Lung Research Institute, which offers collaboration among physicians and scientists to better understand aortic disease and develop evidence-based treatment plans for their patients.
Dr. Orion is a physician champion of the nationwide Vascular Quality Initiative endorsed by the Society of Vascular Surgery, which compiles a national database to look at outcomes across the nation for improving the quality, safety and effectiveness of vascular health care.
"We're always looking for ways to improve patient care, and this is an effective way to do it. We submit our open and endovascular aortic cases and have consistently demonstrated low mortality and morbidity rates," she explains.
About Dr. Orion
In addition to providing open and minimally invasive treatment of abdominal aortic, thoracic and thoracoabdominal aortic aneurysms, Dr. Orion treats limb salvage, carotid artery disease and thoracic outlet syndrome. She is an associate professor – clinical in the Division of Vascular Diseases and Surgery at Ohio State's College of Medicine. She also serves as director of Quality and Patient Safety and as medical director for vascular services at The Ohio State University Wexner Medical Center.
Dr. Orion came to Ohio State in 2019 from Yale University where she served as director of Quality Improvement for vascular surgery also holding the position of assistant professor at both Yale University and the West Haven VA Hospital. She continues to affiliate with hospitals across the states, including Yale-New Haven Hospital, Ohio State University Hospitals, Memorial Hospital and The James Cancer Hospital & Solove Research Institute. A dedicated surgeon and educator, she has published many works in open and minimally invasive vascular surgery. She is also an active member of the Vascular & Endovascular Surgery Society, the Society for Vascular Surgery, the Association for Academic Surgery and the Midwestern Vascular Surgical Society.
Learn more about Kristine Orion, MD
Learn more about The Ohio State University Aortic Center