Ohio State celebrates medical residency match day at the Ohio Union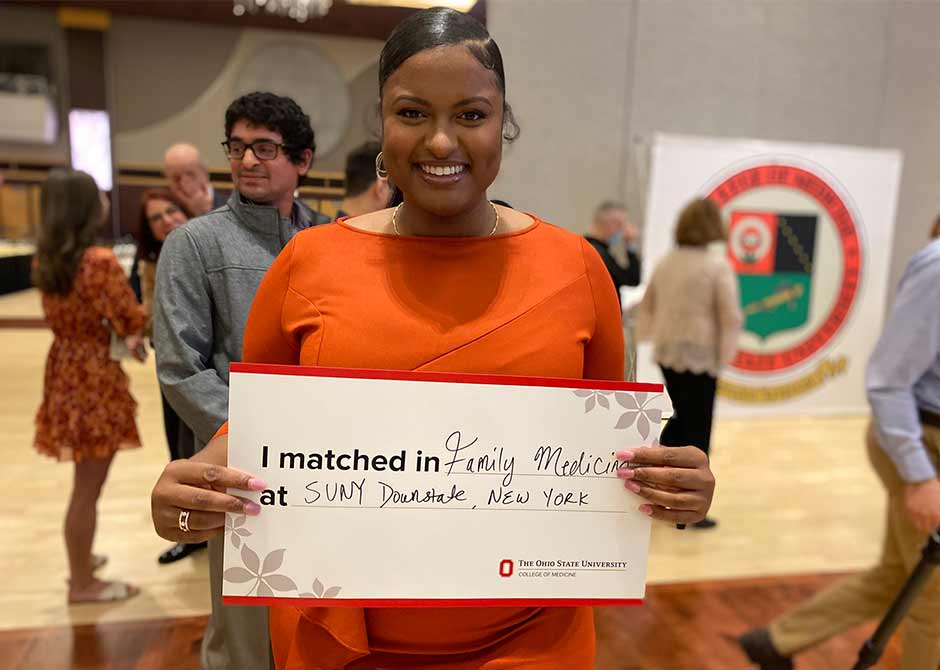 The culmination of medical school — hours of study, clinical rotations and personal sacrifice — is the grand announcement of residency position placement for medical students. Applicants and hospitals rank their order of preference, and the National Residency Matching Program runs this data through an algorithm, which works to maximize the preferences of all parties.
The Ohio State University College of Medicine students, along with friends, family, faculty and staff gathered together today at the Ohio Union for a brief ceremony and much anticipated opening of residency decision envelopes.
Carol Bradford, MD, MS, FACS, dean of The Ohio State University College of Medicine, and other leaders, shared a few words before students opened their envelopes to discover the next chapter of their medical career.
"Your success is not dictated by that envelope. Your future is determined by you," Dr. Bradford said. "You hold the power of your success. How you approach your residency, every moment of every day, will truly shape the physician you will become."
"Today is the day to realize the benefit and impact of all of your hard work," said Jennifer McCallister, MD, associate dean of Medical Education at the Ohio State College of Medicine. "As learners and as a class, you have stepped up to make a difference and you have empowered us as leaders."
After more words of praise from additional faculty members and two fourth-year medical students, the students filed over to tables to receive their envelopes. Many returned to their awaiting family and friends and others gathered in groups to open their envelops in solidarity. Respecting The Ohio State University tradition, they waited for the sound of the siren before opening the email that held their future as physicians.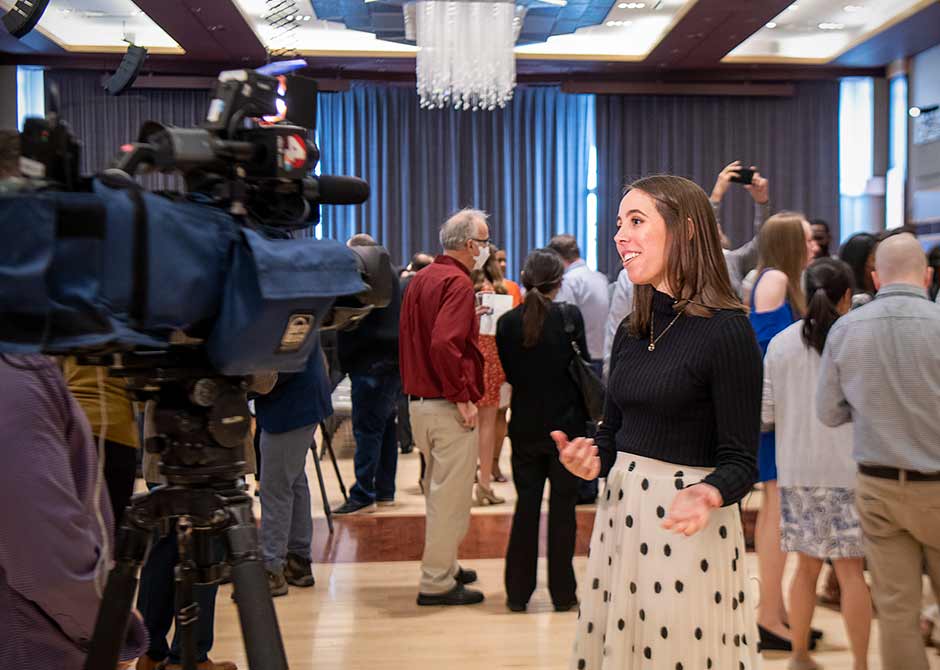 Paige Spieth, M4, opened her envelop surrounded by her parents and fellow students. She matched with her top choice — the University of North Carolina — in primary care pediatrics.
"This is the golden ticket," Spieth said. "I have wanted to be a pediatrician since I was eight years old!"
"There were close to 72,000 applicants and just over 39,000 residency positions," said Daniel Clinchot, MD, vice dean for Education at the Ohio State University College of Medicine. "196 of our students matched to 27 different specialties."
Ohio State's medical students placed across the country, with 37% placed in Ohio, 5.7% in Pennsylvania, and 5% in California and Illinois. Match Day also revealed diversity in specialty, with 49% of students entering primary care, 20% internal medicine, and 9% in emergency medicine.
After four years of medical school, many students expressed feeling well-equipped and trained to serve as residents, residents who will serve the diverse and changing needs of patients and communities.
Congratulations to The Ohio State University College of Medicine Class of 2022!