Ohio State Researchers Cross Disciplines to Establish National STOP-COVID Center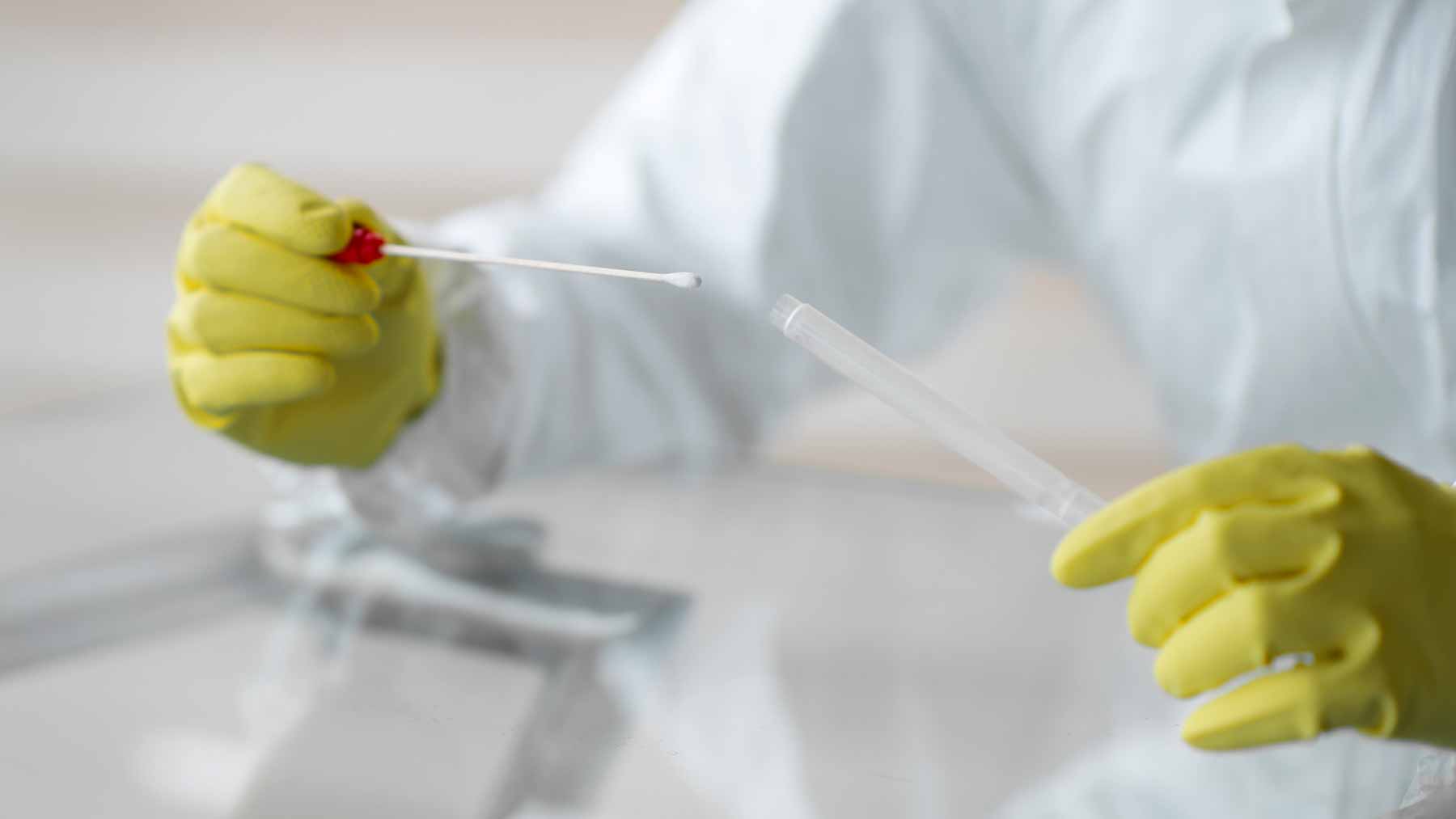 Why are some people more at risk for COVID-19 infection than others? Why do some display symptoms, while others do not? Why are some cases mild and others severe?
These and other critical questions will be addressed in a five-year, longitudinal study to be conducted by an interdisciplinary team of researchers at The Ohio State University College of Medicine and Wexner Medical Center under a $10M grant from the National Cancer Institute (NCI). Looking at a cohort of first responders—individuals who are at high risk of infection due to exposure—and their household contacts, the study aims to determine who the virus infects and the reasons for the widely varying differences in susceptibility, immune response, pathologies and severity of the disease.
The grant also establishes Ohio State as a Serological Sciences Center of Excellence, which has been named the Center for Serological Testing to Improve Outcomes from Pandemic COVID-19 (STOP-COVID). It is one of eight such centers in the nation established by the NCI to advance understanding of COVID-19 by studying the various serological humoral and cellular immune responses of individuals exposed to viral infection by SARS-CoV-2. It is through serological testing—the diagnostic examination of antibodies in blood serum—that researchers are able to study responses of the human immune system to pathogens such as SARS-CoV-2.
The study answers the need for additional serological testing, quantitative assays and longitudinal studies to better understand humoral immune responses to infection by SARS-CoV-2, as highlighted in a recent U.S. Department of Health and Human Services report on serology studies.
The STOP-COVID team will administer the study—collecting, managing and analyzing data—and then share its results with members of the other seven centers that comprise NCI's Serological Sciences Network for COVID-19, or SeroNet.
The team will also test whether vaccines currently in development against SARS-CoV-2 induce an antibody booster response in seropositive individuals with pre-existing antibodies, resulting in increased or more durable protection compared with vaccinated seronegative individuals, as well as the impact of common cold CoVs (CCCoV) and SARS-CoV-2-specific antibodies on COVID-19 protection and disease severity.
"Through the proposed work, we will understand critical aspects of disease transmission in both asymptomatic and symptomatic individuals, factors associated with protection following either natural infection or vaccination, and whether specific characteristics of the virus or infected individuals determine clinical outcomes," says immunologist Eugene Oltz, PhD, chair of the Department of Microbial Infection and Immunity at Ohio State College of Medicine and lead co-principal investigator in the study.
Working with local and state agencies, including the Columbus fire and police divisions and the Ohio Department of Health, the project brings together an interdisciplinary team of basic, translational and clinical research scientists from across Ohio State's medical center and health sciences colleges. The team includes expertise in emergency medicine, immunology, virology, pathology, infectious diseases, epidemiology, laboratory medicine, health services research, implementation science, biostatistics and bioethics. Including all of these disciplines under one center allows rapid sharing of information as new discoveries are made and translated into actionable strategies for implementation with groups at high risk from COVID-19, as well as the general public.
An expert in the molecular programs that coordinate lymphocyte development and their immune responses to pathogens, and an active participant in institutional initiatives to address the COVID-19 pandemic, Dr. Oltz will co-lead the work of the center and serve as one of four principal investigators, each of whom bring expertise in one of four "legs of the table," as Dr. Oltz describes the structure of the study.
Joining him as co-leads are Ashish Panchal, MD, a professor of Emergency Medicine who specializes in prehospital care at Ohio State Wexner Medical Center; Linda Saif, PhD, MS, National Academy of Sciences member (NAS) and world-renowned expert on coronaviruses at Ohio State's College of Food, Agriculture and Environmental Sciences and College of Veterinary Medicine; and Ann Scheck McAlearney, ScD, a professor of Family and Community Medicine at Ohio State and executive director of Ohio State's CATALYST (Center for the Advancement of Team Science, Analytics and Systems Thinking in Health Services and Implementation Science Research) with expertise in population health and applied health services research. Center activities will be coordinated by Jennifer Frey, PhD, clinical research manager in Emergency Medicine, and Alice Gaughan, MS, research manager in CATALYST.
"The center's extensive expertise in coronavirus biology and immune response, including NAS member Dr. Saif, who has studied coronaviruses for four decades, will allow us to investigate a range of potential determinants for disease severity and humoral immunity, such as underexplored roles for CCCoVs antibodies and infections," says Dr. Oltz. "To augment emergency medicine, serology and virology expertise, Dr. McAlearney's expertise in implementation science allows us to translate these discoveries for immediate use among relevant populations."
The project leverages the rich resources of a vast university and comprehensive academic medical center combined with long-established community partnerships. Coupled with these local efforts, the center's ties to national and global research efforts aim to stem the tide of COVID-19 and other pathogen-induced diseases.
A partnership with the university will make parallel virus and serology testing—some performed in an FDA-approved, in-house clinical laboratory—possible. This will drive approaches to understanding viral load and how PCR test results correlate with infectious viruses. The STOP-COVID team—in particular Dr. Lozanski and Shan-Lu Liu, MD, PhD, professor and co-director of Veterinary Biosciences—has innovated and optimized a series of basic serologic tests that will be used in the five-year study, together with new tests under development for antibodies that recognize various coronavirus antigens, as well as their capacity to neutralize the virus.
The collection of data and study samples will be available to SeroNet members for use in further investigations, as well as methods for effective communication of testing practices, results and implications, according to Dr. McAlearney.
"Importantly, answers that emerge from research at the Center to STOP-COVID will lay the intellectual foundation for understanding immunity to and pathogenesis of infections by zoonotic respiratory viruses, better preparing us for responses to future pandemics, which we will undoubtedly face," says Dr. Saif.
Dr. Panchal says, "Moreover, our rigorous study of SARS-CoV-2 transmission—including household contacts in study cohort—could become a model for future analyses of pathogen transmission that will guide mitigation strategies."
* * *
More about the partnerships and leadership
The collaborations with the Columbus Division of Fire and Division of Police were forged by Ohio State College of Medicine faculty members Daniel Bachmann, MD, associate professor of Emergency Medicine, and Gerard Lozanski, MD, professor of Pathology, who worked with Iris Velasco, industrial hygienist for the Columbus Division of Police, and Robert Lowe, MD, medical director for the Columbus Division of Fire.
In addition, the six center components will be co-led by these Ohio State faculty members: Dr. Lozanski; Dr. Liu; Dr. Saif; Anastasia Vlasova, DVM, PhD, assistant professor of Veterinary Preventive Medicine; Daniel Jones, MD, PhD, professor and vice chair of Pathology; Cynthia Sieck, PhD, MPH, associate professor of Family and Community Medicine; Richard Gumina, MD, PhD, associate professor of Internal Medicine; Soledad Fernandez, PhD, professor and vice chair of Biomedical Informatics; and Eben Kenah, PhD, associate professor of Biostatistics in the College of Public Health.