Professor helps develop new FDA-approved MRI machine that expands access to life-saving technology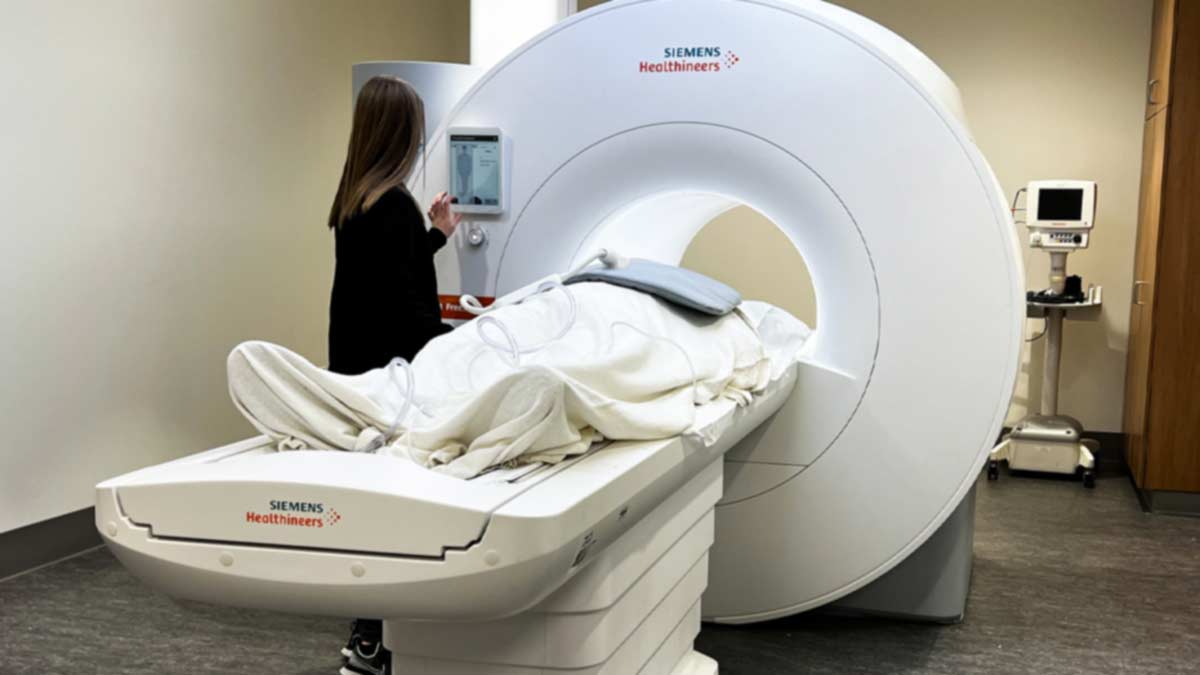 Magnetic resonance imaging (MRI) has long been used as a powerful medical diagnostic tool that provides detailed images of the brain, spine, joints, heart and blood vessels, but millions of patients have not been able to benefit from this advanced technology. Implanted devices like defibrillators and pacemakers interfere with the MRI's magnetic signal, and obese and claustrophobic patients are often unable to get into the small opening on a traditional MRI machine. If these patients can't have MRIs, their doctors can't use them to help diagnose conditions, plan treatments and determine the effectiveness of previous treatments.
Orlando Simonetti, PhD, professor in the departments of Internal Medicine and Radiology in The Ohio State University College of Medicine, has helped develop a new MRI machine built by Siemens in collaboration with Ohio State researchers in the College of Medicine and College of Engineering, which was recently approved for use in patients by the U.S. Food and Drug Administration. The Ohio State University Wexner Medical Center is the first in the nation to install this reimagined MRI machine, which has a lower magnetic field and a larger patient opening so those who were previously unable to undergo MRI have access to this potentially life-saving technology.
The idea to create the novel MRI came to Simonetti and Rizwan Ahmad, PhD, assistant professor of biomedical engineering at Ohio State and colleagues after they developed new techniques to boost the signal-to-noise ratio in existing MRI machines.
"We believed we could use this technology to create a machine with a lower magnetic field strength and still get high-quality images," said Simonetti. "Since there is less signal to work with low-field MRI, we needed to find ways to boost that signal."
In some instances, the new low-field MRI provides better imaging than a traditional MRI, especially of the heart and lungs. In addition, the low-field MRI machines can reduce the cost of MRI systems and installation, further increasing the expansion of their availability and use.
This is good news and an important advancement for all patients, but especially those with conditions like heart failure, cystic fibrosis, pulmonary hypertension and even COVID-19, who must otherwise undergo imaging that uses harmful radiation such as X-rays or CT scans.
"The air in the lungs cancels out the MRI signal at higher field strength. But at lower field strength, there's potential that we can see lung tissue more clearly with MRI," Simonetti says.
Ohio State has partnered with Nationwide Children's Hospital to study the use of this new MRI technology for kids with congenital heart disease. This patient population must undergo repeated heart catheterizations throughout their lives and up until now, the procedure required X-ray imaging to guide small metal wires. The new MRI machine does not interact with the wires, making the procedure safer and preventing these children from being exposed to radiation each time it's performed.
Simonetti is also working with experts at the Ohio State Comprehensive Weight Management, Metabolic/Bariatric Surgery Program and with heart failure specialists at the Richard M. Ross Heart Hospital, to take advantage of the larger opening of the low-field scanner to develop cardiac imaging techniques for severely obese patients. This research is funded by the National Institutes of Health.
The low-field MRI is part of Ohio State's cardiovascular imaging program located in the Wright Center of Innovation in Biomedical Imaging, led by Michael Knopp, MD, professor in the Department of Radiology at The Ohio State College of Medicine.
Simonetti and his team plan to test whether the MRI technology can also be used to image the lungs, which typically is done with nuclear imaging or X-ray CT scans.
This breakthrough will improve the diagnosis and treatment of patients in Ohio and around the world.
Dr. Simonetti has institutional research support/contracts with Siemens Medical Solutions, USA; Myocardial Solutions Inc.; and MED Institute Inc.