Student organization preps medical students to engage in legislative process
Pragi Patel and Robert Kimble, both M2s, helped found the Medical Student-Physician Action Network (MS-PAN) at The Ohio State University College of Medicine, to address what they believe is as important as the rigorous curriculum they must master to practice medicine — learning to advocate for progressive legislation in support of their future patients.
Last year, when a group of M4s approached Patel to start a student group affiliated with a Columbus-area advocacy organization, Physicians Action Network (PAN), she was intrigued. She had an interest in health policy and once she understood how PAN engaged in the legislative process on matters such as health and patient care, she was convinced that medical students would benefit from learning advocacy skills. Especially due to the evolving and changing role that physicians now play in communities.
"Our job is no longer limited to clinics and hospitals," Patel says, "but involves working with local, state and national entities to affect patient care in the long term."
With guidance from PAN, Patel and Kimble created the student-based organization, MS-PAN, with the goal of connecting students with resources and opportunities to engage with the legislative process. House Bill 248, the "Vaccine Choice and Anti-Discrimination Act," which was debated by legislators at the Ohio Statehouse this past fall, provided them with their first foray into the process. The name of the bill was intentionally vague, but its purpose wasn't — it sought to eliminate all required vaccines in Ohio.
The bill not only threatened to impact vaccination against COVID-19, but other communicable diseases as well. The students provided written testimony to lawmakers on the efficacy of the vaccines, the success of vaccines in controlling the global pandemic and how the anti-vax bill would hinder the progress vaccines had made.
Then they attended the public hearing at the statehouse, wearing their white coats, which symbolized their place in the health care field. Their presence rattled the crowds, and they were met with hostility and boos from many proponents of the bill.
"We weren't there to push a political agenda but to make sure our voices and the voices of medical scientists and researchers were heard," Kimble says. "This particular bill had the potential to affect the health of so many people in our community."
"It was intense to come face to face with so much distrust in science, medicine and in us," Patel says. "It validated that we were on the right path to getting people in health care involved to protect everyone's health."
Ultimately, the bill was dismantled. While MS-PAN acknowledges the role their student organization played was small, they say they have much work ahead. The six-member executive board continues to engage students, medical professionals and the community through testimony trainings and workshops on topics such as reproductive health and universal health care.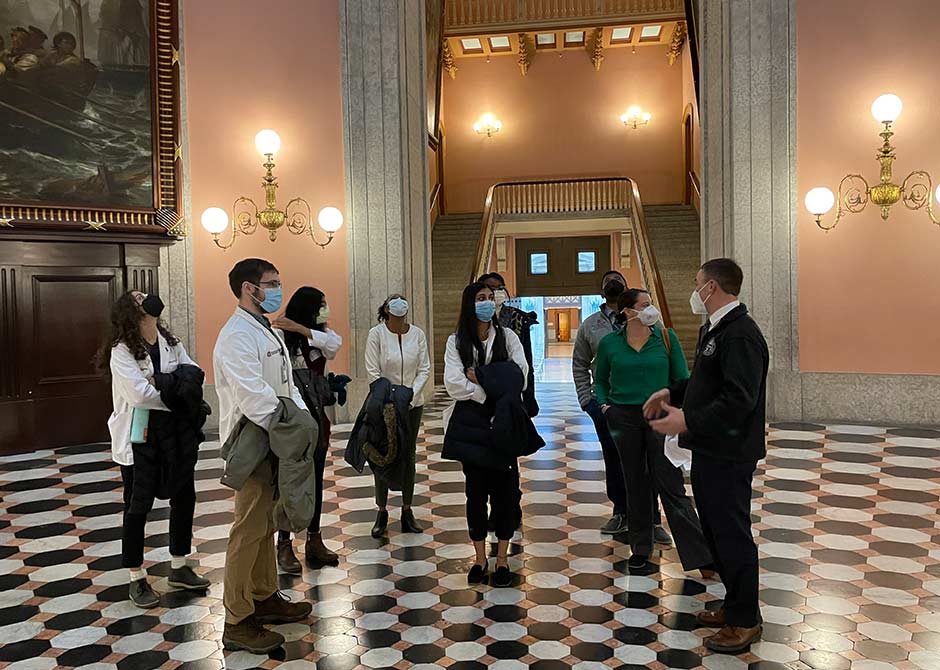 Caption: Medical students in the Ohio statehouse with Franklin County Auditor Michael Stinziano.
Just this week, a group from MS-PAN toured the statehouse, met with several sitting state representatives and heard testimony during the House Health Committee meeting. This was organized as a dry run for students new to the process.
"Getting a lay of the land in a non-stressful, unhostile environment will better prepare everyone for when they attend public hearings and provide testimony," Patel says.
Kimble says the group is emboldened to continue its work to preserve the health of patients, access to health care and the overall health of the community one issue at a time.