Understanding impact of traumatic situations key to providing trauma-informed care
Physicians trained in trauma-informed care know that patients carry some residue of trauma to their health care appointments. Whether it is physical, emotional, verbal, physical or sexual, they understand survivors need support and understanding from those around them. This includes everyone in the health care setting.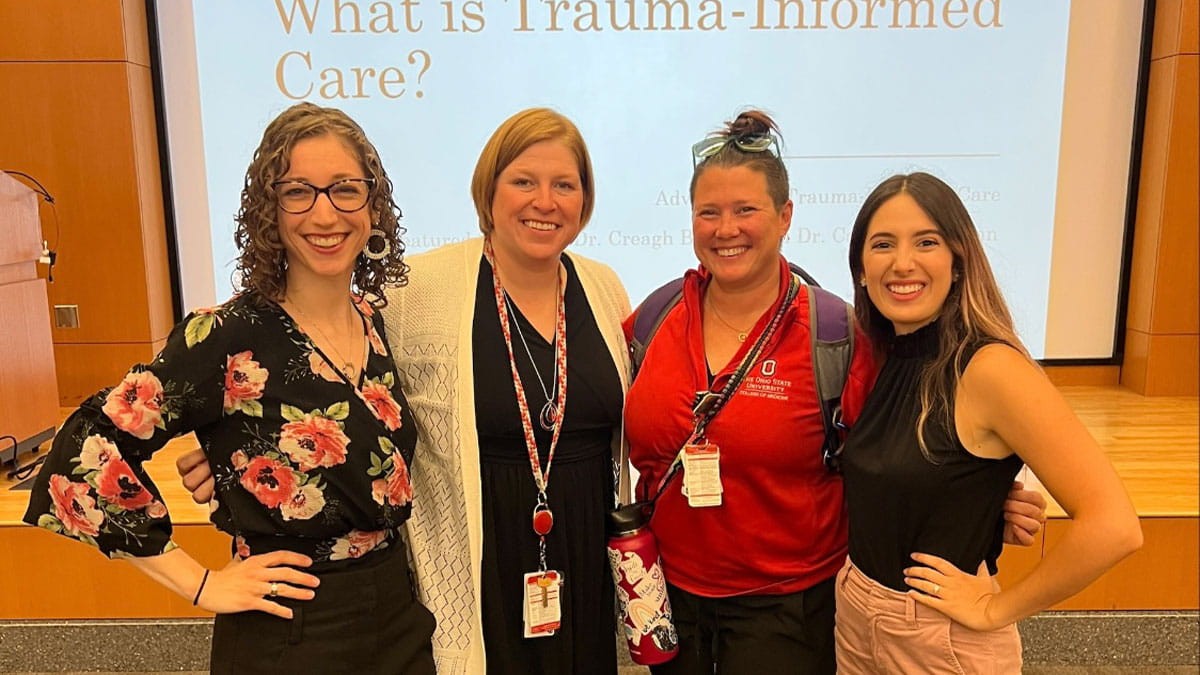 That is why the Advocates for Trauma-Informed Care at The Ohio State University have organized a Trauma-Informed Care Seminar Series to educate communities about the impact of trauma on clients, co-workers, friends and family. The organization provides resources to teach others to provide holistic healing, the kind that recognizes a patient's entire situation. This healing can then lead to effective health care services that treat the whole patient.

Creagh Boulger, MD, professor of Emergency Medicine at The Ohio State University College of Medicine, was one of two presenters at the first seminar in September 2023. Dr. Boulger said the duty of upholding the Hippocratic Oath and not doing harm is upheld by the practice of trauma-informed care.
"You make a safe place," said Dr. Boulger. "And you say, I see you, I hear you, I know where you are coming from, and I am here."

Dr. Boulger adds that training assists in being able to recognize people often experience many different types of traumas in their lives.

Carmen Quatman, MD, PhD, associate professor of Emergency Medicine and Orthopaedics, agrees. She joined Dr. Boulger at the seminar to discuss how to help patients in a traumatic situation. She, like Boulger, has experience teaching and practicing trauma-informed care and agrees that often, what people come in for at an appointment is not what they really want to see a provider for.

"It is really a time where you have an opportunity to make an impact in their lives," said Dr. Quatman. "Sharing resources and connecting them with a care coordination team can address many other issues the team isn't even yet aware of."

Providers are at the center of care and effective training is integral in ensuring trauma survivors are not mistakenly re-traumatized by the community of care.

"Our job is to be present," said Dr. Quatman. "If you can get resources, imagine the beautiful world you can create."

One such available resource is sexual assault resource cards which are now shared with providers across Ohio State. The cards, developed by Kylene Daily, Jacelyn Greenwald and Sabrina Mackey- Alfonso, students in Ohio State's Medical Scientist Training Program, ensure providers are better equipped when a survivor of sexual assault comes to them for care. The cards include state and national resources for legal assistance, community shelters and intimate partner/sexual assault hotlines and agencies. They report the idea for the pocket-sized cards was born out of the many requests for resources they received from medical students after they created and began teaching a team-based learning module that provided evidence-based, whole-person care and support for survivors of sexual assault and intimate partner violence.
Future monthly Trauma-Informed Care Seminar topics include caring for survivors in an acute setting, human sex trafficking, and considerations for marginalized populations Access October, November and December event dates, information and registration today.