College hosts Winter Forum to share and celebrate faculty and staff innovations
To share and celebrate the incredible innovation and growth taking place at The Ohio State University College of Medicine, Carol R. Bradford, MD, MS, FACS, dean of the Ohio State College of Medicine, hosted a Winter Forum on Thursday.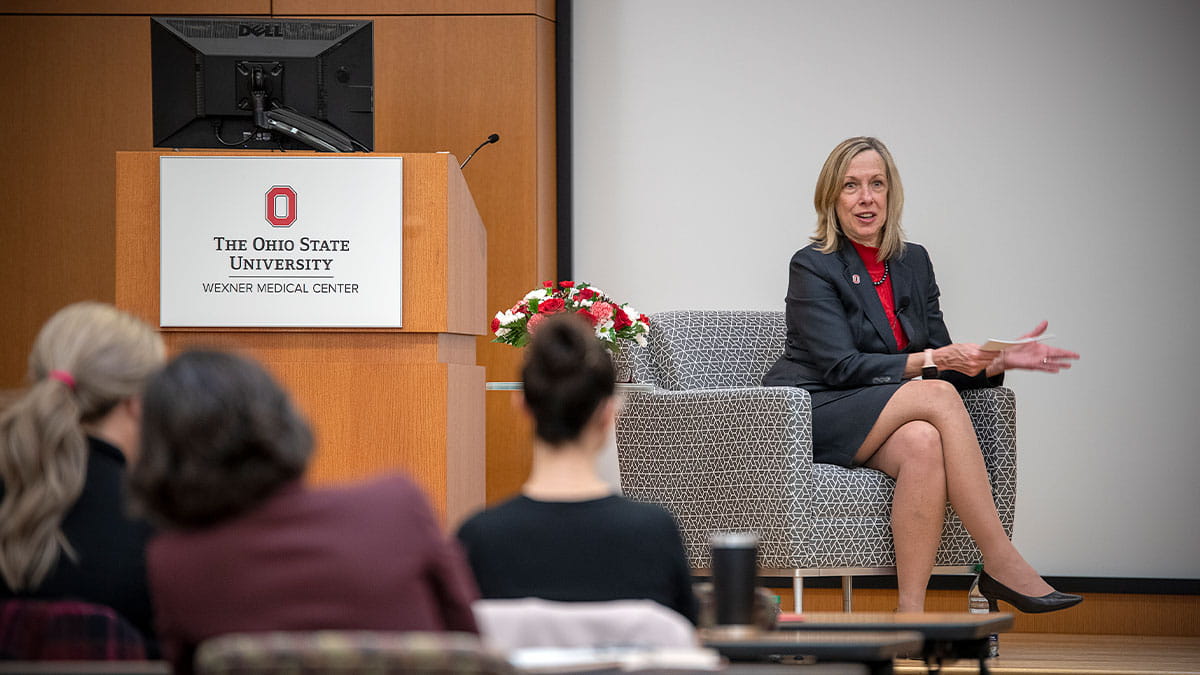 "We continue to grow our research funding and innovate in the clinical and educational space," Dr. Bradford said. "Veterans come from across the nation to receive care through our Military Medicine Program. We truly are transforming the health of our communities."

Select groups of faculty and staff joined Dr. Bradford on stage to discuss three exciting programs: the new Community Medicine MD Track, the Quality Improvement (QI) HUB and the Military Medicine Program.
Community Medicine MD Track
The Community Medicine MD Track is a collaboration between The Ohio State University Wexner Medical Center and Bon Secours-Mercy Health. It is designed to increase the number of physicians in rural areas and small towns. The first cohort will begin in 2024 and medical students will complete their first two years at the Ohio State College of Medicine and their last two years of clinical training at Mercy Health – St. Rita's in Lima, Ohio.

Jennifer McCallister, MD, professor of Internal Medicine and associate dean for Medical Education, said the program will focus on interprofessional and service-based education. Students will learn about, from and with students from a variety of health professions and other medical professionals to enhance collaboration and improve health outcomes.
"These learners will learn and practice leadership skills so they can lead in the communities they serve," Dr. McCallister said.

QI HUB
The Regional Quality Improvement Hub is a statewide effort funded by the Ohio Department of Medicaid and facilitated by the Ohio Colleges of Medicine Government Resource Center. The hub serves as a network to support and train stakeholders across the state to access, collect and analyze data to influence decision making and facilitate health improvement initiatives.

Catherine Quatman-Yates, PhD, associate professor in the Ohio State University School of Health and Rehabilitation Science, leads a team of researchers and data analysts who work with huge amounts of data for the ultimate goal of improving patient care.

"Our role is to guide the development of a standardized data set and build an accessible infrastructure," Dr. Yates said. "We will train stakeholders to access, analyze and use this data to push forward quality improvement initiatives."

"Each college of medicine in Ohio is charged with working together to ensure health systems across the state can harness data to improve the health of Ohioans," said Raquel Minarsch, DPT, clinical researcher in the School of Health and Rehabilitation Sciences.

Military Medicine Program
Today's veterans are experiencing extremity injuries and soft tissue defects that are unprecedented in their scope and volume. It takes a unique approach to address the surgical and neural reconstructive needs and deliver effective mental health services and treatments to ensure wounded warriors have optimal quality of life post-service. Ohio State is stepping up to offer a program to ensure best outcomes for our nation's service members.
"We're building a collaborative group of expert surgeons, military specialists, rehabilitation experts and mental health experts — many with combat experience themselves — to address limb reconstruction, chronic pain, nerve injury and a range of mental health conditions," said Amy Moore, MD, professor and the chair of Plastic and Reconstructive Surgery at the Ohio State College of Medicine.

Ohio State also leads in developing and testing treatments and interventions to prevent suicide and promote recovery among military personnel and veterans.

"The Suicide and Trauma Reduction Initiative for Veterans program gauges the effectiveness of existing therapies and identifies novel treatments that improve clinical outcomes and quality of life for this population," said Craig Bryan, PsyD, professor of Psychiatry and Behavioral Health. "One of our innovations is the development and validation of an ultra-brief treatment format for veterans with PTSD."

These programs serve as evidence of the college's ongoing efforts to lead life-altering biomedical discoveries and their translation into breakthrough health care.

"Patients at Ohio State benefit significantly from these discoveries and the care they receive from our brilliant and compassionate faculty physicians and health care professionals," said Dr. Bradford. "I am so proud of this incredible work."