The immune system, as Eugene Oltz, PhD, explains, is the body's most natural treatment for nearly any malady.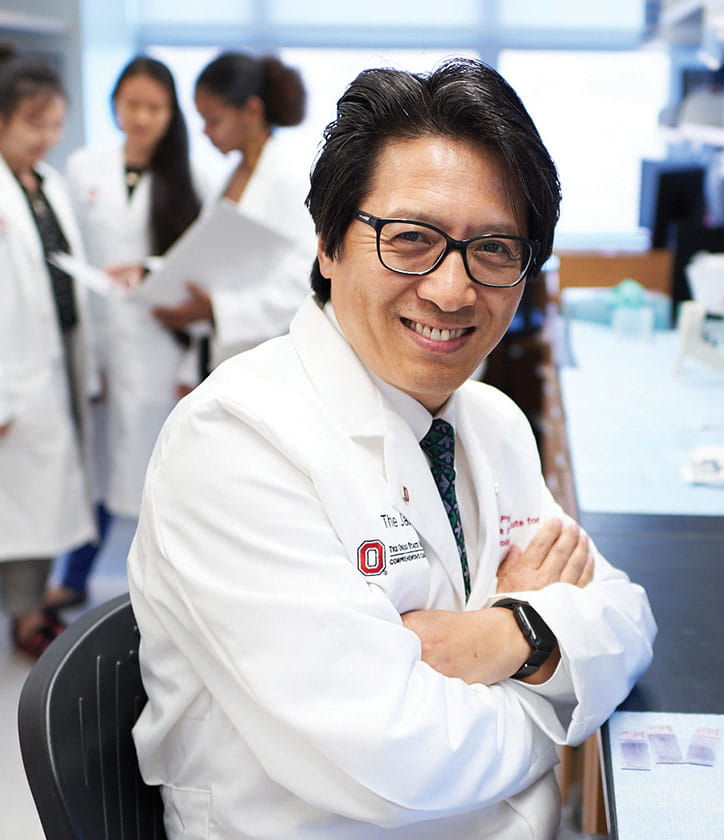 His lab at The Ohio State University Comprehensive Cancer Center – Arthur G. James Cancer Hospital and Richard J. Solove Research Institute (OSUCCC – James) is dedicated to harnessing the functions of the immune system to destroy cancer, treat autoimmune diseases and prevent infectious disease. It's just one of several ways Ohio State is investing in a medical revolution driven by immunology research.
"Advances in immunotherapy mean that there are increasingly optimistic conversations when it comes to serious diagnoses," says Dr. Oltz, who joined The Ohio State University this year as chair of its College of Medicine's Department of Microbial Infection and Immunity. "But a lot of work remains."
Throughout his career, much of Dr. Oltz's work has focused on the changes that occur in normal immune cells that lead to autoimmune diseases and cancer. The lab's current active research program also investigates the impact of DNA damage on chromosome structure and gene expression.
"We're also learning how to turn on large panels of genes that have closely related functions, with the ultimate goal of taking cells from a patient, flipping some of their 'master switches' and re-engineering the patterns of genes that they express to make them more effective therapeutics when we put them back into the patient," Dr. Oltz says.
"Insights from these studies will guide strategies to create targeted epigenetic therapeutics for cancer, autoimmunity and chronic inflammatory diseases."
Molding research leaders
Helping drive that progress is an Ohio State program that provides rigorous research training in immunology and professional career development for surgical trainees who have exceptional academic achievement, clinical skills, professionalism and leadership potential.
It's led by Ginny Bumgardner, MD, PhD, associate dean for Research Education, a professor of surgery and a transplant surgeon in the Ohio State Comprehensive Transplant Center. Dr. Bumgardner directs the Medical Student Research program, the Department of Surgery's Research Training Program and the College of Medicine's Master of Medical Science program.
Dr. Bumgardner was just awarded a $1.6 million, five-year T32 competitive renewal grant from the National Institutes of Health's National Institute of Allergy and Infectious Diseases for her project Advanced Research Training in Immunology for Surgical Trainees (ARTIST).
"These funds will support the surgeon-scientist pipeline and encourage new collaborations between Ohio State's surgery faculty and basic-scientist investigators through co-mentorship of surgical trainees investigating surgical problems with an immunologic basis," Dr. Bumgardner says. "The training program has significantly impacted the preparedness and commitment of trainees to a research career. Three ARTIST T32-supported surgery residents made the career decision to pursue a PhD."
The 2019-2024 ARTIST T32 funding cycle increases the number of postdoctoral training positions from two to four per year.
Investing in life-altering discoveries
"It's our job to find out why immunotherapy doesn't yet work as well for every diagnosis, and we can do this through collaborations between basic and clinical researchers," Dr. Oltz says. "That's one of the major missions at Ohio State: to enhance basic and translational research in immunology in multiple areas, including in Ohio State's new institute for immuno-oncology."
To Zihai Li, MD, PhD, founding director of the new Pelotonia Institute for Immuno-Oncology (PIIO), a recent public announcement and celebration of the institute's formation wasn't the beginning, but a continuation of early successful endeavors in this relatively new area of cancer research and therapy, widely considered the next frontier in cancer prevention and treatment.
"You may ask this question: 'Cancer immunotherapy—are we there yet?'" Dr. Li said at the PIIO celebration. "The answer is a resounding 'Yes!' Immunotherapy provides exciting and expanding arsenals for fighting cancer. It refuels the immune system so that it can find and destroy the sneaky cancer cells wherever they hide."
Dr. Li said immunotherapy also can stop cancer cells from developing and spreading, decreasing chances for recurrence.
"In the last five years, we've seen extraordinary results of immunotherapy for several cancer types, including lung cancer, melanoma, leukemia and others," he says. "However, there are many critical, unanswered questions remaining regarding cancer immunotherapy."
Hence the need for an institute dedicated to this modality. The PIIO at the Ohio State Comprehensive Cancer Center is a comprehensive, bench-to-bedside research initiative focused on harnessing the body's immune system to fight cancer at all levels — from prevention to treatment and survivorship.
Pelotonia, a grassroots cycling event, has raised over $202 million for cancer research initiatives, and the majority of this work will be conducted by researchers in the College of Medicine. The PIIO was made possible by a pledge of more than $102 million over the next five years. The largest portion of this pledge — $65 million — will fund the PIIO. The OSUCCC – James is also supporting the PIIO with $35 million to expand and sustain research infrastructure.
Ohio State's cancer program will add up to 32 faculty over the next five years to work within the PIIO. Multi-phase laboratory renovations will take place to create advanced cellular lab facilities, immune monitoring and discovery platforms, immunogenomics, systems immunology and other research areas for start-up initiatives and collaborations with other academic centers and industry partners.
OSUCCC Director Raphael Pollock, MD, PhD, says the potential for immunotherapy is so strong that university leaders are confident it will become another standard treatment modality for cancer, along with surgery, systemic therapy such as chemotherapy and hormonal therapy, precision or targeted therapies, and radiation therapy.
Continuing Ohio State's emphasis on immunology, the college is currently searching for a director of Transplant Immunology to complement an already robust solid organ transplantation program