Rosa Lapalombella, PhD, has led life-changing research at The Ohio State University College of Medicine and The Ohio State Comprehensive Cancer Center – Arthur G. James Cancer Hospital and Richard J. Solove Research Institute (OSUCCC – James) since 2006, after earning her PhD at the University of Bologna in her native Italy. She now calls Columbus home.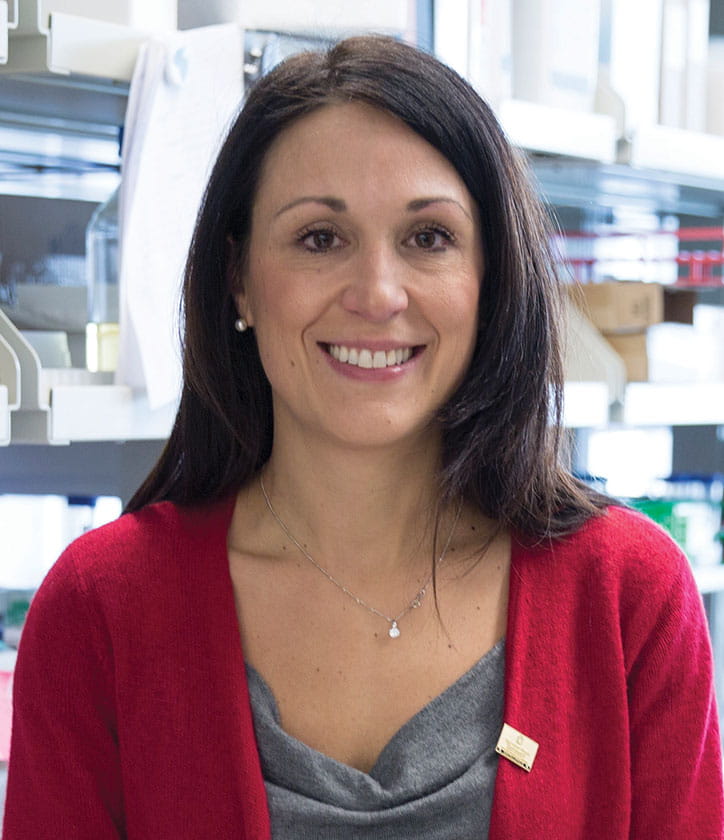 Dr. Lapalombella's work has contributed to the translation of five therapeutic agents into clinical trials for chronic lymphocytic leukemia (CLL), she's been part of 10 grant-funded research initiatives, she's a co-holder of a patent for therapeutic-agent delivery methods to treat B-cell-related disorders and she's been the recipient of numerous research awards.
She's associate director for basic research in the Division of Hematology and director of the Pelotonia Fellowship Program. Her research focuses on epigenetic alterations of cancer cells and the development of experimental therapeutics for hematologic disease.
Mentorship and prestige
"My passion for hematology and Ohio State's connection to Dr. Byrd brought me here," Dr. Lapalombella says. "They were making history with CLL treatment."
In 2006, Dr. Lapalombella took advantage of a six-month opportunity to study CLL in the lab of John Byrd, MD, a renowned cancer researcher at the College of Medicine and OSUCCC – James. Dr. Byrd has since led research teams whose work turned CLL, long considered a death sentence, into a relatively manageable illness for many patients.
"When I started at the lab, chemotherapy was the standard treatment for patients with CLL, " Dr. Lapalombella says. "The research conducted in the lab on ibrutinib has significantly changed the way patients are now treated. While these drugs don't cure CLL, patients can go on this pill and expect to live as long as they would without the disease. I wouldn't have had the chance to be a part of saving their lives if it weren't for Dr. Byrd's mentorship."
"For me," Dr. Byrd says, "one of the most important things in science is not only doing work that impacts patients' lives, but leading forth and bringing diversity to science in terms of women, people of color, people of different nationalities and economic backgrounds, and first-generation college grads like me."
Clinical trials
Since starting with Dr. Byrd's lab, Dr. Lapalombella has seen it grow from a dozen members to more than 80, and it's garnered an international reputation for its innovative research. As a faculty member at the Ohio State College of Medicine, she works with many companies to help translate their new drugs into clinical trials. For example, during a test with one company, they discovered the drug to be too toxic with their mice. Her team was able to help them formulate a new, safer drug that's now been used with more than 1,000 patients across many cancers, including those with myeloma who have failed standard therapies.
"In Dr. Byrd's lab, I've learned to use my expertise to improve patients' lives across many diseases, not just leukemia," Dr. Lapalombella says.
Paying it forward
"Under Dr. Byrd's incredible mentorship, I grew from a trainee into a tenured associate professor in the College of Medicine," Dr. Lapalombella says. "I'm now able to help students and watch them grow and learn. It's one of the most important things I do – developing future physician-scientists."