Imagine a world where cancer therapy is delivered in a fraction of a second. Sound like science fiction to you? It may be more realistic than you think.
Researchers at The Ohio State University College of Medicine are studying the safety and efficacy of delivering FLASH radiotherapy, a highly targeted form of radiation therapy, in future clinical trial participants with newly diagnosed, recurrent or advanced cancers. The trials will be the first "out-of-the-box" solution for FLASH inclusive of the most cutting-edge cancer-fighting proton device with integrated shielding in the world.
Why FLASH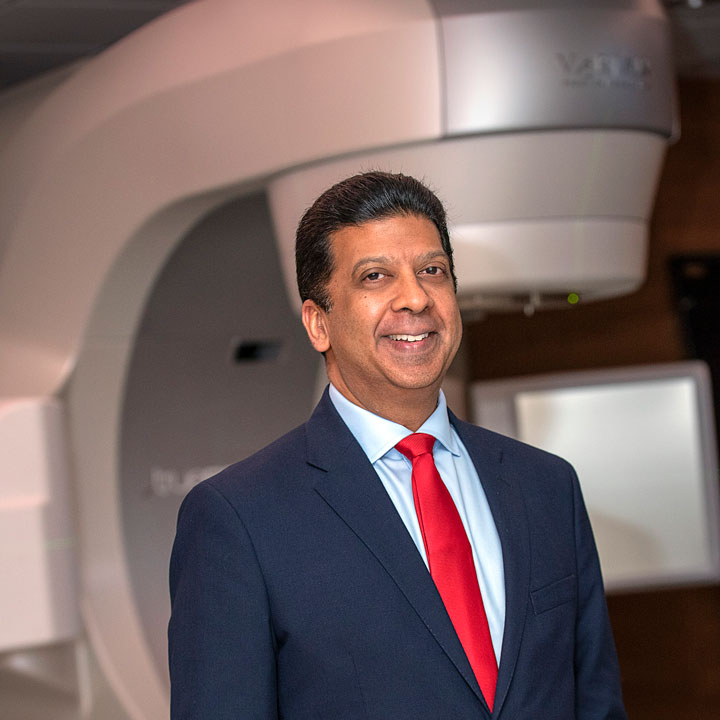 Arnab Chakravarti, MD
Chair and professor of Radiation Oncology at the Ohio State College of Medicine
Klotz Family Chair of Cancer Research and director of the Brain Tumor Program at The Ohio State University Comprehensive Cancer Center – Arthur G. James Cancer Hospital and Richard J. Solove Research Institute
Conventional radiation therapy, normally given daily over the course of six to eight weeks, poses challenges for very sick patients. That's where Arnab Chakravarti, MD, and his team come in. They're studying and testing FLASH, a therapy that boasts shorter, more intense treatments of up to 500 – 1,000 Gray (Gy) per second (conventional radiation delivers less than 1 Gy per second).
"Preclinical data show that FLASH could reduce what is typically 30 to 40 days of treatment into a single treatment," Dr. Chakravarti says. "And that single treatment could be delivered in less than one second."
How is that possible?
Proton therapy is an advanced type of radiation treatment that uses protons instead of X-rays to kill cancer cells. A machine (cyclotron) delivers high-energy proton beams painlessly through the skin from outside the body. Protons are accelerated to about two-thirds the speed of light, or more than 100,000 miles per second, to destroy cancer cells, while minimizing exposure to nearby healthy tissues. FLASH, a cutting-edge technology for the delivery of powerful, cancer-killing proton beams will be investigated, and even pioneered, at Ohio State, first in preclinical models and eventually in clinical trials, should the laboratory results appear safe and effective.
A new multi-room proton therapy center, a collaboration with Nationwide Children's Hospital, will be equipped with the first ProBeam 360° Multi-Room System to become operational in the world. It will house next-generation precision proton therapy technology which is designed to be continuously updated as technology advances.
What's next?
Ohio State researchers also plan to investigate FLASH-electrons to complement the ongoing studies with FLASH-protons, delivering dose rates of over 600 Gy per second delivered by 6 and 9 MeV electrons. This technology, delivering electrons instead of protons, represents a paradigm shift in the field of oncology, with the potential to both expand and improve the role of radiation therapy in the intra-operative treatment of cancer patients.
"Ohio State is extremely well-poised to become the global leader in the development of pan-FLASH clinical capabilities ranging from electrons to protons," Dr. Chakravarti says. "The existing data on FLASH-electrons, especially in the intraoperative radiation therapy setting, holds the potential of greatly enhancing the overall therapeutic ratio of radiation in a truly transformational manner."