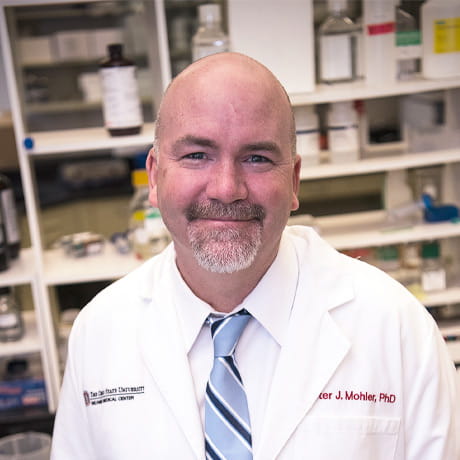 Peter Mohler, PhD - Vice dean for Research at the Ohio State College of Medicine, chief scientific officer for the Ohio State Wexner Medical Center and director of the Dorothy M. Davis Heart and Lung Research Institute
With a pandemic threatening the world's future, The Ohio State University College of Medicine faced a responsibility in 2020: to serve the public and other institutions in desperate need.
But with that responsibility came an opportunity: to maximize the college's broad expertise and resources, focusing its boundless energy on taking research discoveries from the lab and putting them into action immediately.
The resulting interprofessional collaboration among Ohio State's health science colleges—as well as with dozens of other departments at the university and with The Ohio State University Wexner Medical Center—has created solutions that are saving lives and preserving livelihoods nationwide.
"This is what distinguishes academic medical centers," says Peter Mohler, PhD, vice dean of Research at the Ohio State College of Medicine. "Their work is in the spotlight in 2020. And COVID-19 solutions are being rapidly developed at Ohio State."
Partnering for the greater good
Technology-research giant Battelle, located across the street from the Ohio State campus, was an obvious partner to improve and expand testing and personal protective equipment (PPE) use, Dr. Mohler says.
The Ohio State Wexner Medical Center was one of the first hospitals in the country to partner with Battelle to re-sterilize masks to increase the supply of PPE for front-line staff. The new machines have the capability to decontaminate up to 80,000 masks each per day, conserving critical PPE.
Ohio State researchers and clinicians also worked with Battelle to establish a lab that would create COVID-19 diagnostic testing in Ohio.
"One Sunday afternoon in mid-March, [Ohio State Wexner Medical Center CEO] Dr. Hal Paz called me and said, 'Mohler, what's it going to take to get a testing lab open?'" Dr. Mohler says. "A team of more than 100 from Battelle, that had already starting working on testing technologies, had a lab up and functioning by the end of the week."
The rapid, sensitive diagnostic test they developed with Battelle was equally swift: it could produce results in hours, helping "flatten the curve" in Ohio.
Innovating for all
Early on in the U.S. pandemic, testing sites nationwide struggled to provide enough COVID-19 tests to properly track and contain the virus, in part because testing sites were short on testing swabs and viral transport media (VTM), the sterile solution needed to hold test swabs in vials for examination.
Once the need was recognized, a multidisciplinary team led by Jacob Yount, PhD, an associate professor in the Department of Microbial Infection and Immunity, collaborated overnight to create an in-house "recipe" for the VTM.
Soon after, a collaboration among multiple Ohio State institutes and colleges produced a program to 3D-print extra testing swabs. The Food and Drug Administration quickly approved the innovations in order to spread the solutions nationwide.
The recipe and VTM supplies have been shared throughout Ohio, in New York City, in several other states and even overseas. Swabs printed through Ohio State continue to supply test kits in every corner of Ohio.
Leading research discoveries
Ohio State College of Medicine researchers are involved in more than 100 COVID-19 research projects, including a $10 million National Institutes of Health (NIH) grant to fund a Center for Serological Testing to Improve Outcomes from Pandemic COVID-19 (STOP-COVID). This transdisciplinary center's goal is to understand the interface between exposure risk, transmission, immune responses, disease severity, protection, and barriers to testing and vaccination, with the goal of improving population health and clinical outcomes. The center will utilize state-of-the-art serological and molecular tests, developed at Ohio State, in a longitudinal study of Columbus-area first responders, a group at continual high risk of SARS-CoV-2 exposure, as well as their household contacts.
In addition, Ohio State is participating in large, multicenter, inpatient and outpatient COVID-19 clinical trials, including the BLAZE-1 and ACTIV-2 trials to study the world's first neutralizing antibody treatment for COVID-19, and the 30,000-person phase III vaccine trial for the Oxford University-produced AstraZeneca vaccine. COVID-19 clinical trials at Ohio State address the entire spectrum of COVID-19 disease from prevention of infection, to treatment of mild and moderate disease, to treatment and prevention of complications in severely ill patients.
COVID-19 projects aren't detracting from other key research areas. The College of Medicine has also led breakthroughs in gene therapy, cancer treatment and nerve fiber regeneration.
"The speed at which COVID-19 solutions have developed here has been a fascinating whirlwind, and it speaks volumes about what we're capable of in the future," Dr. Mohler says. "This pandemic will end, and we haven't lost sight of other medical areas that need our attention. We have a responsibility to continue to innovate."