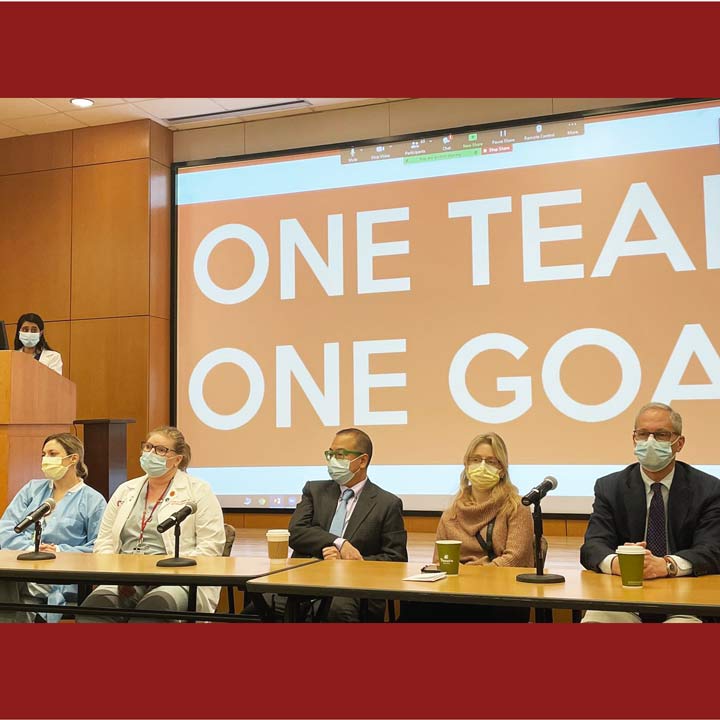 Just one day can change a surgeon's perspective. This is why The Ohio State University Department of Surgery is continually upgrading and evolving our curriculum and mixing up learning formats to keep our faculty, fellows and residents engaged.
One recent, well-received training opportunity was our Surgical Education Day, which we hosted on Feb. 23, 2022. This intentional departure from daily routines was designed to stir up new learning and give all participants the opportunity to learn from each other and share diverse experiences.
Organized by Emily Huang, MD, MAEd, assistant director of the residency program, and Phoenix Chen, PhD, MS, research assistant professor in Surgical Education and Research and senior director of Education Science, the day featured the George M. Curtis Visiting Professor in Surgical Education, Roy Phitayakorn, MD, director of Medical Student Education and Surgery Education Research at Massachusetts General Hospital, and associate professor of Surgery at Harvard Medical School.
The evening before the event, Ohio State faculty, fellows and senior residents enjoyed a workshop presented by Dr. Phitayakorn titled "Teaching Under Pressure," and participants learned and practiced tips for good teaching even in hurried or socially difficult situations. It proved a tremendous reminder of our central role as educators in every circumstance.
The next morning, Surgical Education Day kicked off with a robust education morbidity and mortality (M&M) conference, where faculty and residents collectively worked to brainstorm ways to improve preparation, teamwork, teaching and feedback in operative and ward scenarios. Cases were presented by General Surgery resident Kejal Shah, MD, and discussed with panelists Dr. Phitayakorn; Ohio State General Surgery Residency program director, Mark Arnold, MD; chief resident Anahita Jalilvand, MD; and special guests Ellen Essex, RN, and Jody Krumlaw, who represented our OR nurses and scrub techs.
This was followed by "Striving for Emotionally Intelligent Teamwork," a Department of Surgery Grand Rounds presentation by Dr. Phitayakorn, which reminded us how professional success is only enhanced by better personal skills, empathy and respect. Next was a symposium featuring department scientists who shared their completed research and work-in-progress, including vascular surgeon Michael Go, MD; colon and rectal surgeon Syed Husain, MBBS; surgical oncologists Valerie Grignol, MD, and Aslam Ejaz, MD; and General Surgery residents Dathe Benissan-Messan, MD, Jennifer Underhill, MD, Ruth Ackah, MD, and Rami-James Aoun, MD.
"But the learning didn't stop there," says Dr. Huang. Following a group lunch, the General Surgery residents joined in a surgical education journal club on resident clinical autonomy with Dr. Phitayakorn. "At the end of the day, I believe every attendee realized the power of continued curiosity and the value of cooperation and collaboration," she says. "I think we succeeded in planting an expectation and a desire for continual, lifelong learning."