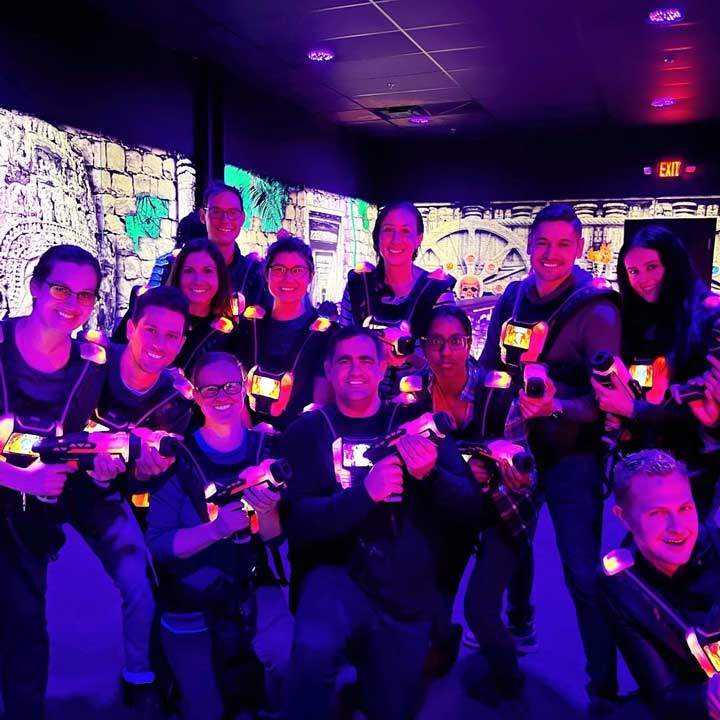 Long duty hours and stress are inherent during residency years.
"If we want to make meaningful differences in the wellness of our residents, we have to pinpoint the things that may make a resident's job harder and fix it for them if we can," says Kelly Haisley, MD, clinical assistant professor of Surgery in the The Ohio State University College of Medicine. "In addition, the wellness program provides a department-sponsored way to plan fun events that build comradery and give residents a chance to recharge."
One such activity, Resident Appreciation Day, was held May 2022 at Cedar Point, the famed amusement park in Sandusky, Ohio. Residents were given a full 24 hours off from any clinical duties and traveled together on a charter bus. They were provided free park tickets, drinks, ride wristbands and dinner.
"Cedar Point was a great success, and we look forward to making it an annual event," Dr. Haisley says. She credits the cooperation of the Department of Surgery attendings and fellows, as well as significant support from the Advanced Practice Providers (APP) teams who generously covered resident services for the day.
"Because so many stepped up to help cover and we had done such careful planning, including the addition of two extra trauma attendings to make sure all contingencies were covered, the day went off without any issues," she says. "About 30 of our 50 residents and their families, partners and kids were able to enjoy the day."
Another significant wellness event held annually is a post-American Board of Surgery In-Training Examination (ABSITE) group outing to Scene 75 in Columbus, the largest indoor entertainment center in the country with go-carts, laser tag, batting cages, arcade games and food.
"These high-stake exams are always a cause of significant stress, so helping our residents celebrate their completion is important," Dr. Haisley says.
Although some residents have to be on call during the event, the program does make sure that anyone unable to attend one year is given scheduling priority for the next year's event.
Even if a resident has to miss one of these two larger events, additional wellness activities can fill the gap. As examples, Department of Surgery faculty host a Halloween Office Trick or Treat, as well as a Resident Thanksgiving for anyone without a place to go for the holiday, with one faculty member offering their home and others bringing food. In addition, every resident receives a gift from a Secret Santa — an attending who volunteers — and the surgery residents participate in multiple kickball and softball tournaments throughout the year.
Dr. Haisley explains that an original endowment from the Zollinger Society Resident Wellness Fund helped establish the wellness program and has funded some of the activities since.
"We're also incredibly fortunate that our faculty continue to contribute their own time and money," she says. "In the grand scheme of expenses, our wellness efforts aren't extravagant, but they are incredibly important, and keeping these initiatives going for 50 residents every year is critical."
If you'd like to lend your support to the Zollinger Society Resident Wellness Fund at Ohio State's Department of Surgery, it's considered a tax-deductible charitable contribution, and donating is easy —simply click here.