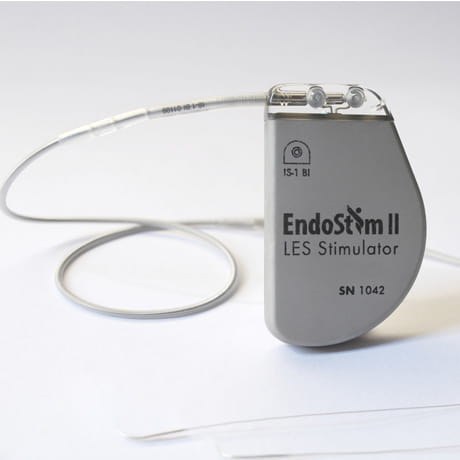 The Ohio State University Wexner Medical Center is one of only 22 study locations participating in an FDA clinical trial to test the effectiveness of a Lower Esophageal Sphincter (LES) Stimulation System in treating gastroesophageal reflux disease (GERD). The device, called EndoStim®, is a small neurostimulator that is implanted under the skin of the abdomen. Leads from the stimulator are then placed on the LES so mild electrical signals can be delivered to the LES to restore normal function.
This double-blinded, randomized control trial will place the device in all study patients. After surgery, patients are randomized into a control group (no electrical stimulation) or treatment group (active electrical stimulation) for six months of evaluation. After the six-month period, all patients will receive electrical stimulation therapy for the remainder of the study.
So far, Ohio State has implanted five devices in patients and is closely following the study participants. Kyle Perry, MD, esophageal surgeon and associate professor in Ohio State Wexner Medical Center's Division of General and Gastrointestinal Surgery, is a principal investigator in the study and is hopeful that this device will provide long-term relief for patients whose GERD does not respond well to proton pump inhibitors (PPIs). EndoStim® could also be a good alternative to the more invasive, traditional surgical option of fundoplication.
Patients will continue to be monitored for five years after the device implantation. It is hoped the device will be fully available in the United States after this trial is completed.
Ohio State Wexner Medical Center provides a multidisciplinary esophageal clinic for comprehensive treatment of patients suffering from GERD. The team of gastroenterologists, esophageal surgeons, nurse practitioners and clinical providers conducts thorough testing and evaluation to personalize treatment to each patient.
Photo courtesy of EndoStim®