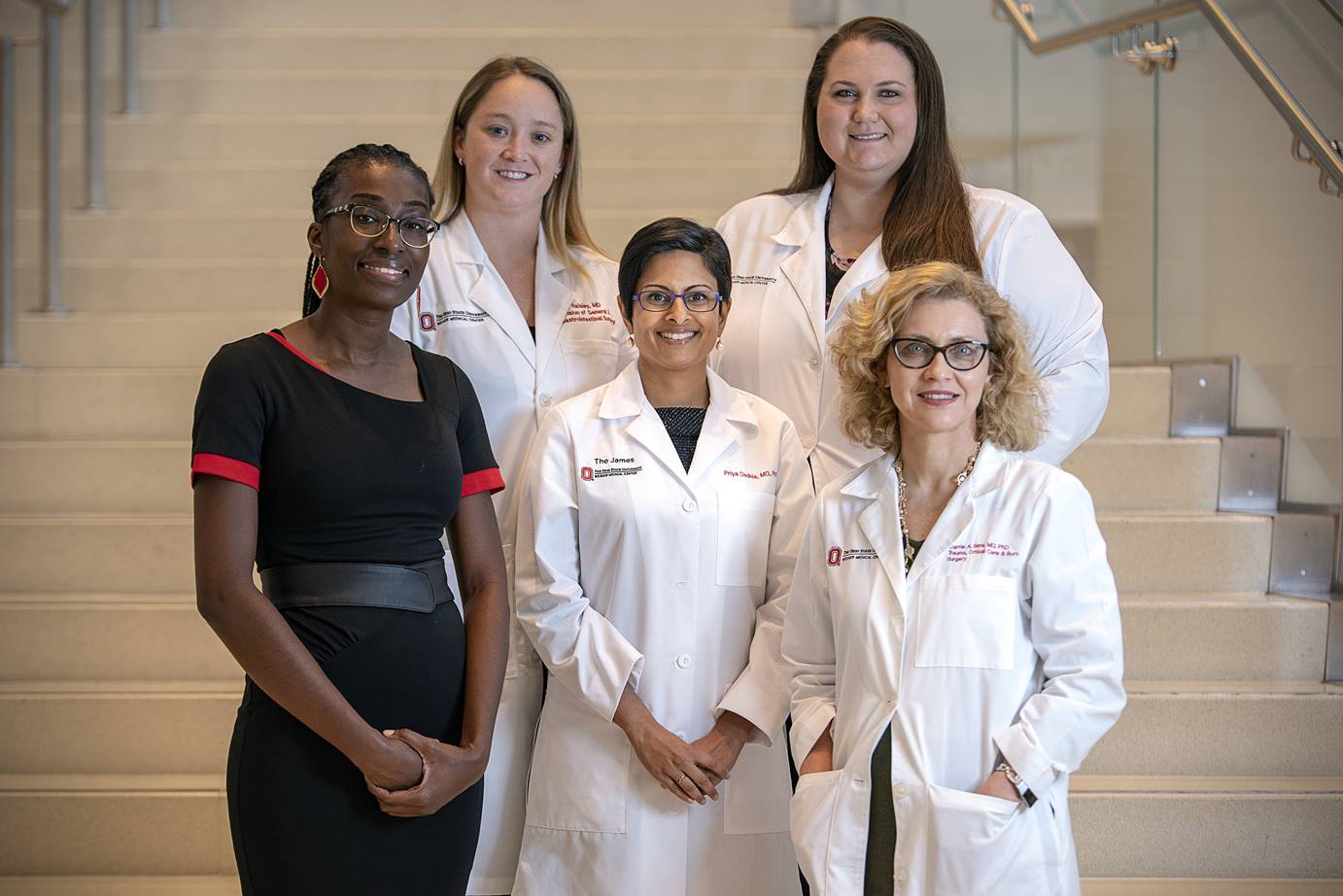 One element of the Department of Surgery's strategic plan is to "foster and cultivate women leaders in surgery." We're making real progress and believe diversity of gender, perspective and experiences enriches our collaboration and improves the care we provide overall.
Some of our most recent hires include:
Director of Trauma, Critical Care and Burn: Carrie Sims, MD, PhD, FACS
Accomplished surgeon and established researcher with a basic science laboratory focused on mitochondrial dysfunction in late-stage hemorrhagic shock. Dr. Sims has given nearly 50 invited lectures, published 68 articles in peer-reviewed research publications and co-authored 85 abstracts.
First recipient of the Olga Jonasson, MD, Professorship in Surgery, which recognizes surgeons dedicated to encouraging and enabling female surgeons to realize their professional and research goals.
The professorship honors Dr. Jonasson, a renowned transplant surgeon and immunology researcher who was named chair of the Department of Surgery at the Ohio State College of Medicine in 1987, making her the first woman in the United States to head an academic surgery department at a co-educational school of medicine. "I am thrilled to be joining the Ohio State Trauma division and extraordinarily honored to be the first Olga Professor," says Dr. Sims. "I am passionate about mentoring, sponsoring, promoting and advocating for women in medicine—and to represent Dr. Jonasson's legacy is truly amazing."
Breast surgeon and associate professor of Surgery: Bridget Oppong, MD, FACS
Specializes in advanced breast surgery with research focused on disparities in the breast cancer care continuum, from screening to treatment. Is also investigating the impact of breast tumor biology and patient characteristics on breast cancer outcomes.
Colorectal surgeon and assistant professor: Lisa Cunningham, MD
Treats the full spectrum of colon and rectal pathologies, including cancer, inflammatory bowel disease, pelvic floor dysfunction and benign anorectal disease. Research focuses on quality improvement and patient outcomes in colorectal surgery, as well as on robotic surgery education and training.
Esophageal surgeon and assistant professor of Surgery:Kelly Haisley, MD
Specializes in foregut and esophageal diseases and will be an integral part of launching the Comprehensive Esophageal Health Center, a multidisciplinary effort to improve access and care for patients with esophageal diseases. Research interests are in education science and surgical health services.
Endocrine surgeon and assistant professor: Priya Dedhia, MD, PhD
Uses human organoid technology to generate insulin-producing cells to study the molecular basis of thyroid cancer and parathyroid disease. Her work has been published in 24 peer-reviewed journals, and she has made numerous presentations at invited seminars.
Breast oncology surgeon and assistant professor: Samilia Obeng-Gyasi, MD, MPH
Sees patients with benign breast disease and breast cancer with research focused on improving healthcare delivery and understanding socioeconomically based healthcare disparities among patients presenting with breast disease.