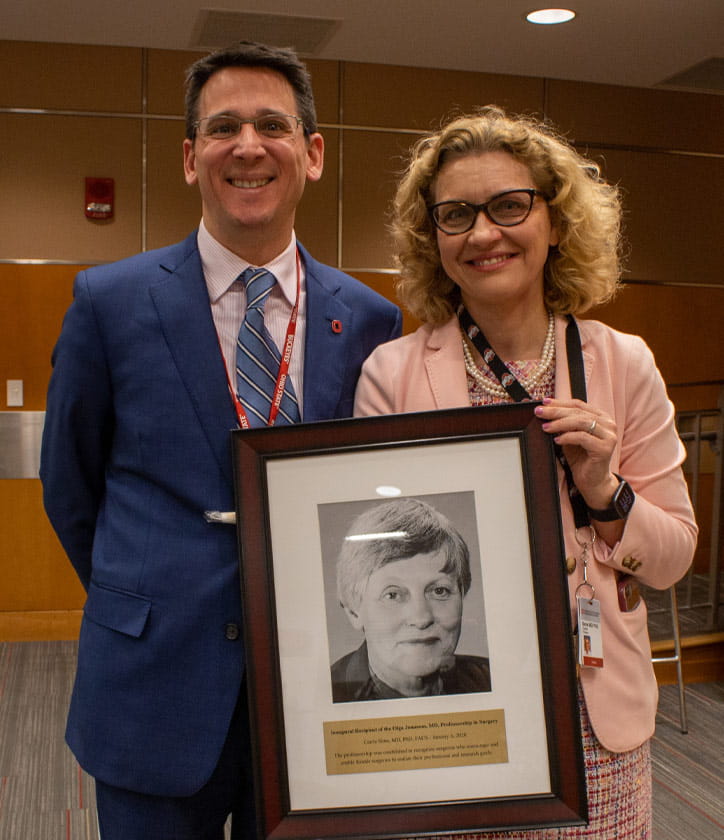 Faculty and staff celebrated the inaugural Olga Jonasson, MD, Professorship in Surgery in February. The professorship, awarded to Dr. Carrie Sims, was established to recognize surgeons who are dedicated to encouraging and enabling female surgeons to realize their professional and research goals.
The professorship honors Dr. Olga Jonasson, a renowned transplant surgeon and immunology researcher who was named chair of Ohio State's Department of Surgery in 1987, making her the first woman in the United States to lead an academic surgery department at a co-educational school of medicine. The evening celebrated the legacy of Dr. Jonasson and women leaders in medicine and surgery.
Gail Besner, MD, director of the Division of Pediatric Surgery, spoke about how Olga Jonasson was a wonderful mentor. When Dr. Besner was a young faculty member just starting her career, Dr. Jonasson took her under her wing and provided her with the support she needed to obtain her first externally funded grant, an American College of Surgeons Faculty Fellowship Award. "When one thinks back upon their career, there are hopefully a few key individuals who did a few key things that really enabled their success. Olga Jonasson was one of those individuals for me," says Dr. Besner.
Amalia Cochran, MD, vice chair of Education, highlighted the legacy of Olga Jonasson for women in surgery and women at Ohio State Surgery. While Dr. Jonasson was the first woman chair of an academic department of surgery, 33 years later we have more than 20 women at the helm of surgical departments. Most importantly, she was always incredibly committed to the next generation, be it through her influence on medical students and residents or her ability to sponsor young faculty with burgeoning research careers.
Clara Lee, MD, director of Women in Medicine and Science, discussed the gender gap in surgery and shared the statistic that in 2008, 8% of full professors of surgery were women. That number had grown to 9.8% in 2018. At this rate, it would take until 2096 for full professors to reach equal gender proportions.
Kelley Griesmer, president and CEO of The Women's Fund of Central Ohio, talked about genius. "History is replete with genius women who have powerfully impacted the world around us, and yet the grand majority of them are entirely invisible to our culture because our shared definition of genius implicitly expects a genius to be a man," Kelley says.
One way to eradicate this implicit bias is to create the same celebrity around female geniuses that we readily create around male geniuses. By recognizing the extraordinary accomplishments of Dr. Jonasson and by bestowing a fellowship honoring her on a visionary leader like Dr. Carrie Sims, we not only see, but also honor, respect and amplify, their genius so that our definitions change and others are inspired to recognize their own genius through their example.
For more information on how to support the Olga Jonasson, MD, Professorship in Surgery and to help open the doors to women in surgery, click here.