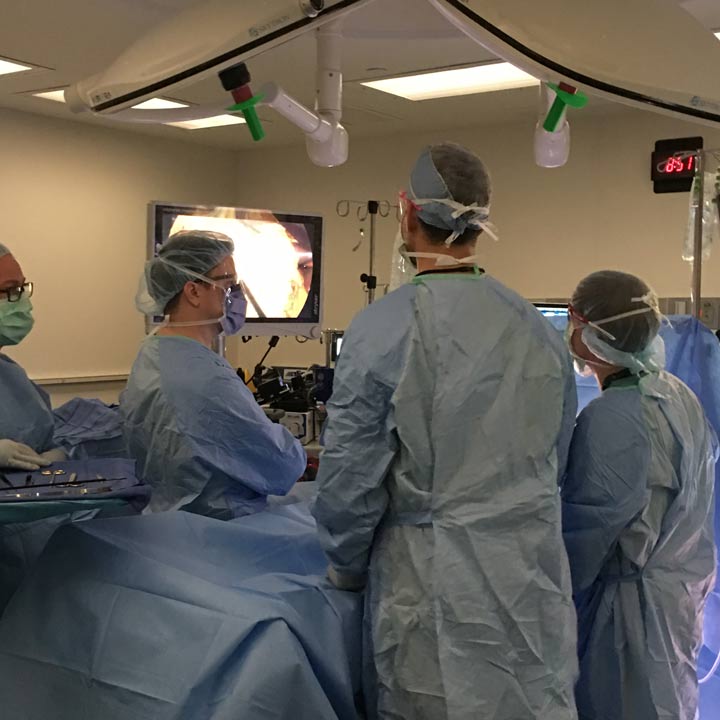 The Ohio State University College of Medicine's OR Coaching program was launched in April 2018, and the addition new faculty coaches in July 2020 now allows more chief residents and PGY4 residents access to this beneficial training.
"Participating residents can expect multisource feedback (i.e., coach, attending surgeon and resident self-reflection) within three days of a coaching surgery case," explains Phoenix Chen, PhD, MS, senior director of Education Science and research assistant professor in Surgical Education and Research. "Active faculty observation during a procedure, as well as more timely feedback and constructive ideas for improvement, allows us to quickly redirect bad habits before they become ingrained and also reinforce or expand on good techniques. The procedure-specific feedback is extremely helpful for quick proficiency development by predicting resident entrustment in future similar cases, and our focus on preoperative preparation really creates independence."
An evaluation of institutional data reveals concrete benefits to both faculty and the chief residents and PGY4 residents being trained.
According to research by Dr. Chen; Alan Harzman, MD, FACS; and E. Christopher Ellison, MD, FACS, the Ohio State College of Medicine's OR Coaching program has enhanced chief residents' surgical competencies and practice readiness.

Five of the six (83.3%) chief surgical residents who received full OR coaching for one year reached the learning curve's proficiency plateau for chole, inguinal hernia and colectomy upon graduation.
Of the nine chief residents who received partial coaching, two (22.2%) reached proficiency plateau in these three procedures.

Two additional studies of the program by the same research team plus Amalia Cochran, MD, FACS — one published in the Journal of Surgical Education and the other in the American Journal of Surgery — found improved operative efficiency as measured by OR time and residents' opportunities for independent practice in the OR.

Compared to their previously uncoached counterparts, chief residents who received OR coaching for one year showed:

A decrease in mean operative time from 204.39 minutes to 174.38 (p=0.0008, d=0.44) during complex cases
An increase in mean operative times from 126.23 minutes to 145.96 (p<0.0001, d=0.33) for noncomplex cases

OR coaching also fostered mutual trust between faculty and residents, leading to increased operative efficiency.

For the 2018-19 chief residents, this trust was associated with significantly shorter operative times in matched complex cases (r=-0.58, p=0.0047).
A similar trend was observed in noncomplex cases (r=-0.29, p=0.18).