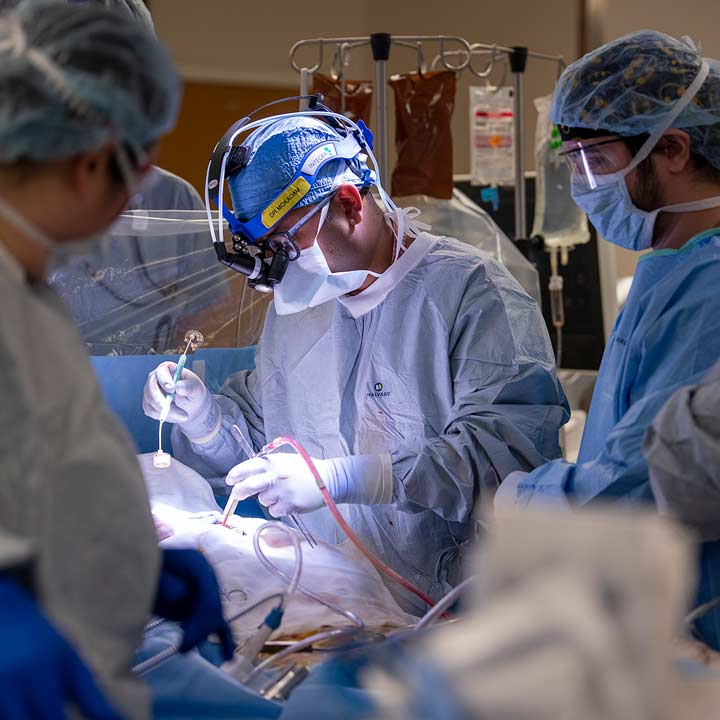 "We know our operative coaching provides a tremendous benefit: acceleration of our surgery residents' readiness to serve our communities independently," says Xiaodong "Phoenix" Chen, PhD, MS, senior director of Education Science and Research associate professor of Surgical Education and Research in the Ohio State Department of Surgery. "Nevertheless, we continually monitor and evaluate our processes to make sure we're optimizing residents' learning in the operating room. Research gives us an unbiased view of the program."
The Operative Coaching Project was started by Dr. Chen and E. Christopher Ellison, MD, Professor Emeritus of Surgery. The training format allows dedicated observation of a resident during surgery in the operating room (OR) by an experienced surgeon or "coach," who then provides procedure-specific suggestions, as well as constructive comments related to the resident's performance, such as OR management skill, small procedural changes and potentially negative habits that can be corrected before becoming ingrained.
"While the attending surgeon provides valuable feedback, they can't concentrate exclusively on the resident throughout the case, so having a coach's observation only maximizes our training efficacy," Dr. Chen says.
Following a coaching session, the attending surgeon, coach and resident each fill out what's known as the Surgical Entrustable Professional Activities (SEPAs) evaluation form to assess the resident's operative performance and entrustment of independent practice. Research conducted by Ohio State in 2019 confirmed the evaluation tool's validity based on 40 individual cases performed by 10 residents and 11 attending surgeons.
"Knowing our team was using a reliable evaluation system that leads to enhanced resident autonomy and competencies only reinforced our confidence in the process," Dr. Chen says.
A second study was launched to evaluate the effect of the Operative Coaching Project on general surgery chief residents' operative efficiency, which was measured by operative times.
"We hypothesized that as resident entrustment of independent practice rose, they would become more efficient," Dr. Chen says. "We did find that operative coaching helped decrease the residents' average OR time by 30 minutes on complicated cases. However, for simple cases, the time didn't decrease — interestingly, this might be due to attendings allowing residents more time to slow down and lead simple cases so they could benefit from more deliberate practice of independent skills.
"We know that operative time has cost implications, but this research insight has allowed us to balance time, or operative efficiency, with crucial independent skill development for our residents."
When first established, the Operative Coaching Project included 12 coaching sessions for common index surgical procedures, including laparoscopic cholecystectomy, inguinal hernia, ventral hernia, laparoscopic colectomy, robotic cholecystectomy, robotic inguinal hernia, open colectomy, total thyroid and parathyroid.
"Although our faculty, coaches and residents come from diverse cultural backgrounds, we know they are busy, so we've since explored using a smaller number of sessions while still providing the benefit we want," Dr. Chen says. "Our PGY4 residents now have one to two coaching sessions a year, while our PGY5 chief residents complete six coaching sessions. At the same time, we've built more flexibility into the procedure selection. If we have a resident interested in gastrointestinal surgery, they may prefer more coaching sessions of such procedures, while another resident intent on colorectal surgery may choose a difficult colectomy case for coaching. We absolutely want the experience to match their goals."
The department's most recent research related to operative coaching involved the review of 267 articles to identify five implementation requirements — people, processes, technology/support resources, physical resources and organizational systems — for the three major types of OR coaching models: in-person, video-assisted and video-based.
"Because implementation requirements as they relate to institutional organizational capacity differ by model, our hope is that our review will help other residency education leaders evaluate and determine which of the three coaching models is feasible and sustainable for their own program to optimize their residents' readiness of independent practice," Dr. Chen says.
If you'd like to learn more about Ohio State's OR Coaching Project or would like Dr. Chen's perspective based on her research and program experience, you can reach her at xiaodong.chen@osumc.edu.