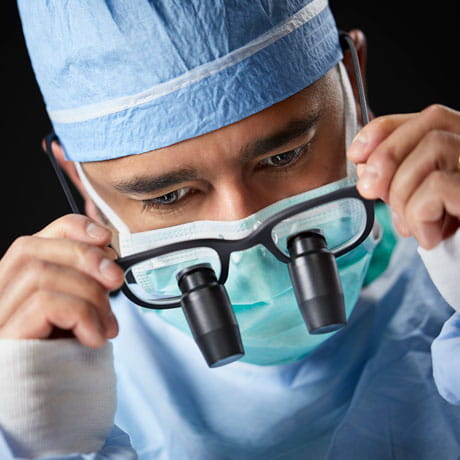 Our department boasts a leadership team that contributes extensively to many prominent medical associations, organizations and research projects, both nationally and internationally. This includes two of our nationally recognized surgeons, our director of surgical oncology and our vice chairs for Education as well as Quality and Patient Safety, all of whom joined our ranks in the past year.
Ohio State's Newest Notable Leaders
Amalia Cochran, MD, vice chair for Education
Oversees the department's ACGME accreditation, coordinates residency and fellowship training programs, cultivates research opportunities for trainees and leads our new Department of Surgery Education Council.
Vice president of the Association of Women Surgeons
President of the Association for Surgical Education
Member of the ACS Board of Governors
Fellow of the American College of Surgeons (ACS) and the American College of Critical Care Medicine
Stacy Brethauer, MD, FACS, FASMBS, vice chair of Quality and Patient Safety and professor of surgery in the Division of General and GI Surgery
Fulfilled every leadership board position and many committee member positions for the American Society for Metabolic and Bariatric Surgery (ASMBS), the largest national society for his specialty.
Nationally renowned bariatric surgeon recruited from the Cleveland Clinic
Nahush Mokadam, MD, FACC, FACS, the Gerard S. Kakos MD and Thomas E. Williams, Jr., MD, PhD, Professor and division director for Cardiac Surgery.
International leader in heart failure who specializes in heart transplants and ventricular assist devices
Clinical, technical and research expertise that makes him a true triple threat in cardiac surgery
Clinical trial experience that will help expand the availability of novel and innovative cardiac treatment options at Ohio State
Benjamin Poulose, MD, MPH, the Robert M. Zollinger Chair of Surgery, funded by the LeCrone-Baxter Memorial Fund, and director of the Division of General and Gastrointestinal Surgery
President of Americas Hernia Society (AHS)
Abdominal wall core reconstruction specialist
Clinical leader in applying minimally invasive techniques to hernia repair, a national thought leader around quality and safety and an expert researcher who routinely works with the Food and Drug Administration
Allan Tsung, MD, the John L. Marakas Nationwide Insurance Enterprise Foundation Chair in Cancer Research, and director of Surgical Oncology
President of the Society of University Surgeons
Leadership roles for the Society of Surgical Oncology, the Society of Asian Academic Surgeons, the Americas Hepato-Pancreato-Biliary Association and the American Association for the Study of Liver Diseases
Clinical interests centered on the evaluation and management of patients with liver, bile duct and pancreas cancers
Expert in laparoscopic and robotic surgery