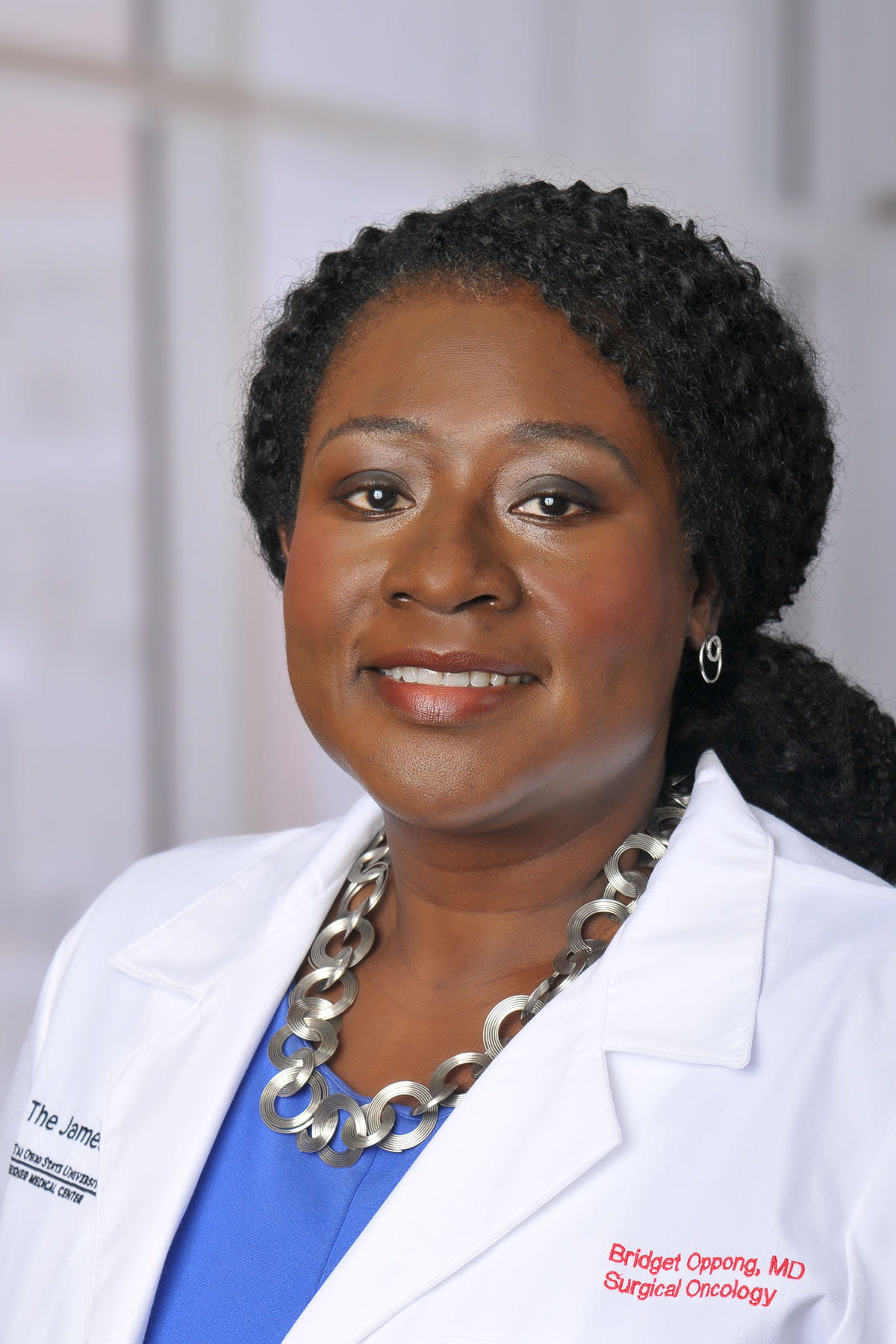 Bridget Oppong, MD, FACS, joined the Division of Surgical Oncology as associate professor Aug. 1. She is a breast surgical oncologist and specializes in advanced breast cancer surgery, including nipple-sparing mastectomy, sentinel node biopsy and oncoplastic techniques.
Dr. Oppong was born in Ghana and grew up in the Bronx. Learning about the healthcare systems in New York and Africa motivated her to pursue medicine."
I saw very clear healthcare needs in both places," she says. "Sometimes we'd be visiting family back in Ghana and they would tell stories about people—often young people—dying of unknown causes because they didn't have access to proper care. Hearing stories like this made me want to help."
Her interest in international breast health and improving cancer care in developing countries inspired her to conduct breast cancer screenings and provide surgical interventions to women in Africa.
"Working in these communities is a huge passion of mine," she remarks. "I've done previous missions that have laid the groundwork for better care, and now my goal is to ensure that these systems are sustainable—that when I and other physicians leave, operations can still continue effectively."
Dr. Oppong earned her medical degree at the University of Rochester School of Medicine and Dentistry. She completed a general surgery residency at the University of Rochester and a breast surgery oncology fellowship with Memorial Sloan Kettering Cancer Center's Department of Surgery. Prior to Ohio State she was at the Reston Hospital Center in Virginia, where she served as co-director of the Reston Breast Care Specialists.
Dr. Oppong's research focuses on disparities in the breast cancer care continuum, from screening to treatment. She is also interested in investigating the impact of biology in regard to breast tumors (triple-negative subtype) and patient characteristics such as metabolic syndrome on breast cancer outcomes.
"Different groups have different experiences with breast cancer," she explains. "For example, mortality rates are 40% higher in black women. I'm examining what gives rise to these types of disparities so that we can develop strategies to address them."
No two cases of cancer are the same, and Dr. Oppong makes it a point to remember this when seeing patients.
"I always try to give care that is as individualized as possible," she says. "There's so much more to consider than just the tumor—there's a patient's family support, their financial support, their lifestyle. The process should be holistic because cancer impacts many aspects of a patient's life."
Dr. Oppong is excited to be part of the dedicated community at Ohio State.
"People here are so passionate about what they do and have created a culture where everyone feels like they matter. They aren't just providing patients with a service, but with genuine care, and that is very inspiring."