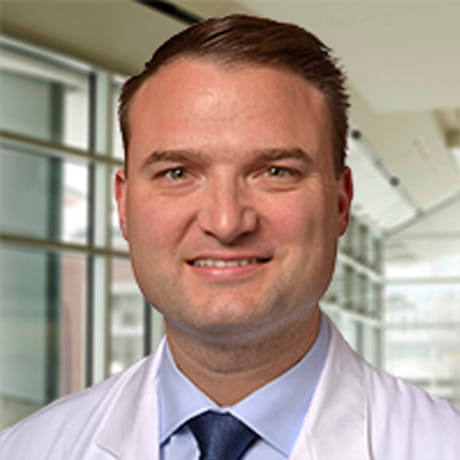 Jordan Cloyd, MD, is a surgical oncologist at The Ohio State University Comprehensive Cancer Center – Arthur G. James Cancer Hospital and Richard J. Solove Research Institute and an assistant professor in the Division of Surgical Oncology at The Ohio State University Wexner Medical Center. Dr. Cloyd first became interested in medicine after volunteering as a first responder in high school.
"There were no health care providers in my family, so that was my first exposure to the medical profession," Dr. Cloyd says. "I found that I enjoyed patient care and later discovered that a career in surgical oncology was a way in which I could continue to help people while also conducting research and solving complex problems."
Dr. Cloyd received his medical degree from the University of California San Francisco. He completed his residency at Stanford Hospital and Clinics in Palo Alto, California, and served a fellowship in surgical oncology at the MD Anderson Cancer Center in Houston, Texas.
As a surgical oncologist, Dr. Cloyd cares for patients with gastrointestinal, hepatopancreatobiliary, neuroendocrine, and peritoneal surface malignancies. His primary research interest is in multimodality therapy and multidisciplinary care, focusing on how different treatment approaches can be combined to provide patients with the best possible outcomes. His research has appeared in journals such as
Cancer, Annals of Surgery
, and
JAMA Surgery
.
When seeing patients, Dr. Cloyd reminds himself to make the decisions he would want for his own loved ones.
"I try to identify the best possible options for each of my patients and make choices as if they were members of my own family," he explains. "I think it is important to take a collaborative and compassionate approach to patient care— ensuring that patients understand their treatment plans and are informed about the process."
Dr. Cloyd is grateful to be a part of the Ohio State Wexner Medical Center community and to work with people who are dedicated to providing the best possible care for patients.
"We have a great team who are extremely passionate about what they do," he says. "I am proud to work alongside them at one of the leading cancer centers in the country. Go Bucks!"