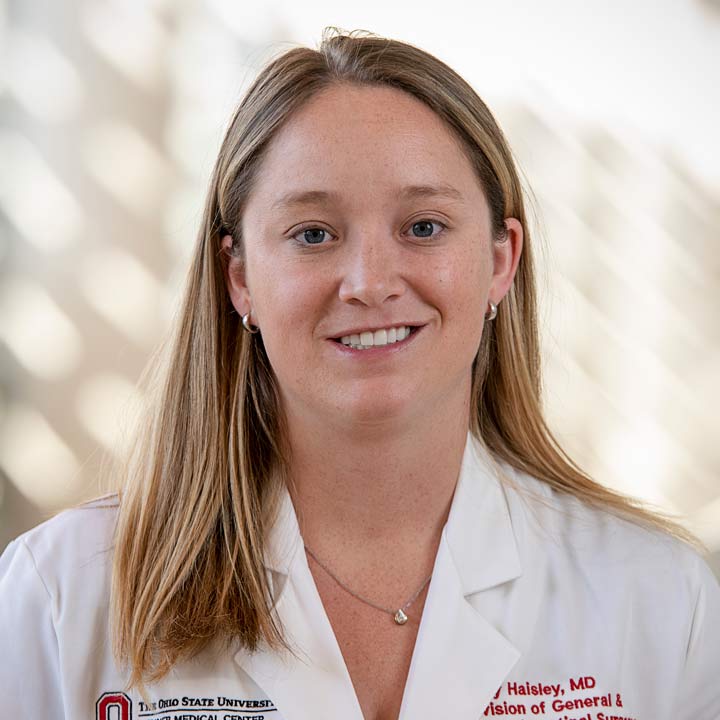 Dr. Kelly Haisley's clinical care concentrates on patients with esophageal diseases, both malignant and benign, and foregut diseases. She was inspired to go into surgery by her mother, a doctor in their small town of Sun Valley, Idaho.
"My mom did a lot of good for the community," Dr. Haisley explains. "People would stop her at the grocery store and thank her for saving a loved one's life. I wanted to be like her."
Dr. Haisley joined Ohio State from The Oregon Clinic at Providence Portland Medical Center, where she was a minimally invasive, advanced GI and foregut surgery fellow.
"I'm a Pacific Northwesterner and never pictured myself leaving, but as soon as I met the people at Ohio State, I knew this was where I wanted to be," she says. "They are so genuinely caring and dedicated to their work, and I knew I could learn and contribute a lot here."
In her role at Ohio State, Dr. Haisley is helping launch our new Comprehensive Esophageal Health Center, based at our New Albany Outpatient Care, set to open in 2021. This new center is a multidisciplinary effort focused on facilitating access and care for patients with esophageal diseases. She also conducts research on esophageal diseases, clinical outcomes and resident education.
When seeing patients, Dr. Haisley ensures that they understand all of their treatment options and choose the best one for their lifestyle and goals.
"I always take time to explain the pros and cons of each treatment so that my patients can make an informed decision about what's best for them," she says. "We owe it to them to make sure they fully understand the risks of different procedures and deliver care that improves their quality of life."
Teaching residents is also one of Dr. Haisley's passions, and in 2018, she won a national Outstanding Resident Teacher Award from the Association for Surgical Education. Additionally, she serves as a wellness champion for the Department of Surgery, helping organize events that bring the department together: everything from a peloton race to a "Masked Singer" competition with attending physicians.