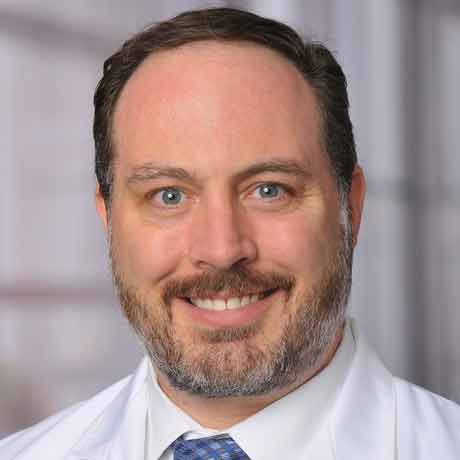 Stacy Brethauer, MD, is a bariatric surgeon, medical director for Supply Chain, vice chair of Quality and Patient Safety and a professor of Surgery in the Division of General and Gastrointestinal Surgery at The Ohio State University Wexner Medical Center. Dr. Brethauer previously practiced at the Cleveland Clinic before joining Ohio State in March 2019.
Dr. Brethauer's interest in medicine began when he was in high school.
"I always knew I wanted a career in science or biology—it was my favorite subject in school," he says. "And growing up in a small rural town in Colorado, we were friends with the family physician who let me shadow his practice. I then started shadowing surgeons as well and realized surgery was the perfect mix of my academic and clinical interests."
Dr. Brethauer completed his undergraduate degree at the University of Colorado, Boulder. He was then commissioned as an officer in the Navy and completed his medical degree at the Uniformed Services University of Health Sciences in Bethesda, Maryland. After serving as an Air Wing Flight Surgeon aboard aircraft carriers for three years, he completed his residency in general surgery at the Naval Medical Center San Diego. As a Navy surgeon, Dr. Brethauer was stationed in Okinawa, Japan, and then deployed with the Marines to Iraq with a forward surgical unit. Upon leaving the Navy, he completed his fellowship in minimally invasive and bariatric surgery at the Cleveland Clinic.
"The time I spent treating soldiers and Marines in combat zones in Iraq and other places around the world really shaped who I am as a surgeon," he explains. "It was a very challenging but rewarding experience and really helps to keep things in perspective."
As a bariatric surgeon at Ohio State, Dr. Brethauer performs procedures such as gastric bypass and sleeve gastrectomy to treat obesity and associated conditions such as diabetes, high blood pressure and sleep apnea. When seeing patients, he always tries to treat them as if they were members of his own family.
"I get to know my patients' fears and concerns about surgery. They know I care about their experience and will do everything I can to make sure they have a great outcome. These life-changing surgeries are often a big leap for patients, and embarking on one requires a lot of courage, so I try to make the process as positive as possible."
The relationship between bariatric surgery and diabetes and other metabolic diseases is the focus of Dr. Brethauer's research.
"A lot of our patients achieve remission from these conditions after undergoing surgery, and I'm interested in exploring what the mechanisms are, particularly for diabetes."
And as medical director for Supply Chain, Dr. Brethauer works to involve physicians in the process of sourcing and purchasing medical supplies. "Clinical integration into supply chain is an emerging model that will engage physicians and reduce variation in the system, and I want Ohio State to be a national leader in this space.
"It's important to get doctors involved in this area that has traditionally been left to the business side of medicine," he explains. "Ultimately, these are the tools that physicians and surgeons will be using every day, and it is critical to have their input to get the best tools at the best prices. Having physicians at the negotiating table makes a huge difference in getting the best value."
"I'm very excited to be here. It's a great place to work and I'm continually inspired by everyone's commitment to improving patients' lives."