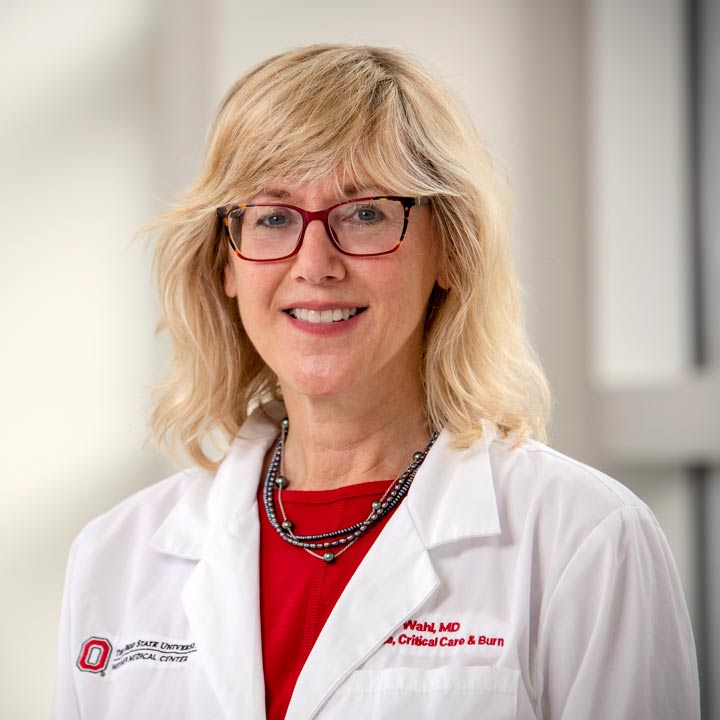 Wendy Wahl, MD, is a professor in the Division of Trauma, Critical Care and Burn, as well as medical director for the Surgical Intensive Care Unit, program director for the Surgical Critical Care Fellowship and interim burn director at The Ohio State University Wexner Medical Center.
Dr. Wahl was inspired to go into medicine by role models from her childhood.
"My dad was a surgeon, and I always admired my pediatrician growing up," she explained. "They were so committed to taking care of others and made me want to do the same."
Dr. Wahl recently joined Ohio State from Saint Joseph Mercy Health System, where she was medical director of Surgical Quality, vice chair of Surgery and a member of the Trauma and Surgical Critical Care team. Prior to Saint Joseph, Dr. Wahl was the director of the Trauma - Burn Intensive Care Unit at the University of Michigan for several years.
"I came to Ohio State because I admire its dedication to patients and have always been impressed by the scope and impact of the work done here."
As Surgical ICU medical director, Dr. Wahl supervises Surgical Intensive Care Unit patients and provides operational management, financial management and leadership functions within the service. As program director, Dr. Wahl oversees postgraduate medical education training, and in her role as director of Burn Services, she manages medical care within the burn services at Ohio State University Hospital.
When seeing patients, Dr. Wahl says, "I always just remind myself that every patient deserves our absolute best, and I try to use all available resources to provide them with exceptional care."
Dr. Wahl looks forward to continuing her work with the dedicated team at Ohio State.
"This is a big place with lots of inspiring projects going on. I'm excited to challenge myself here and to work with so many talented professionals to improve the lives of patients."