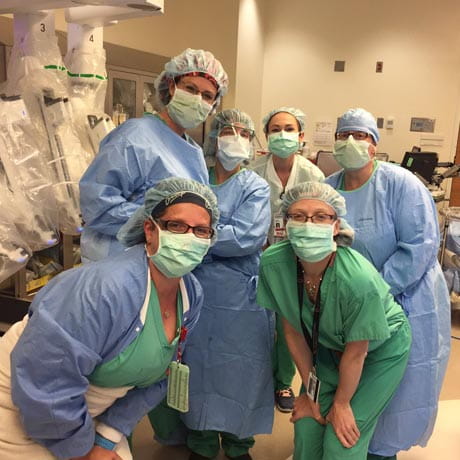 Ohio State Wexner Medical Center's commitment to robotic surgery is yielding results, with patients receiving the advantages of shorter hospital stays, less blood loss, reduced pain and quicker recovery. Ohio State Wexner Medical Center surgeons routinely use robotics for a wide range of procedures, and each division is using the da Vinci
®
Surgical System to improve patient outcomes in many ways.
Below are a few of the ways Ohio State surgeons are improving patient outcomes:
Robotic pancreaticoduodenectomy: The OSUCCC – James and the Department of Surgery recently launched a robotic pancreaticoduodenectomy, or "Whipple" program, and Ohio State has already become one of the nation's highest-volume providers of this promising treatment.


Colon and rectal procedures: Robotic surgery is the fast-growing program within the Division of Colon and Rectal Surgery and is routinely used for colectomies, lower anterior resections (LAR) and other disease treatments.


Robotic certification in general surgery. Ohio State Wexner Medical Center offers residents the most robust general surgery robotics training in the nation, with an opportunity to earn robotic certification. Following installation of the medical center's fifth robotics system, residents have increased training time and general surgery chief residents can now perform 40-70 robotic surgeries during their rotation.


Top 10 and growing in robotic thoracic surgery. Ohio State Wexner Medical Center is home to the fastest-growing robotic surgery program in the country for general thoracic surgery and now ranks in the top 10 for volume. Procedures include complex pulmonary resections, esophageal surgery, lobectomies and more. Because of this volume, Ohio State Wexner Medical Center has become a destination for specialists interested in our thoracic surgery fellowship. In both 2017 and 2018, an Ohio State cardiothoracic resident has been awarded the prestigious American Association of Thoracic Surgery (AATS) Graham Thoracic Robotic Fellowship.