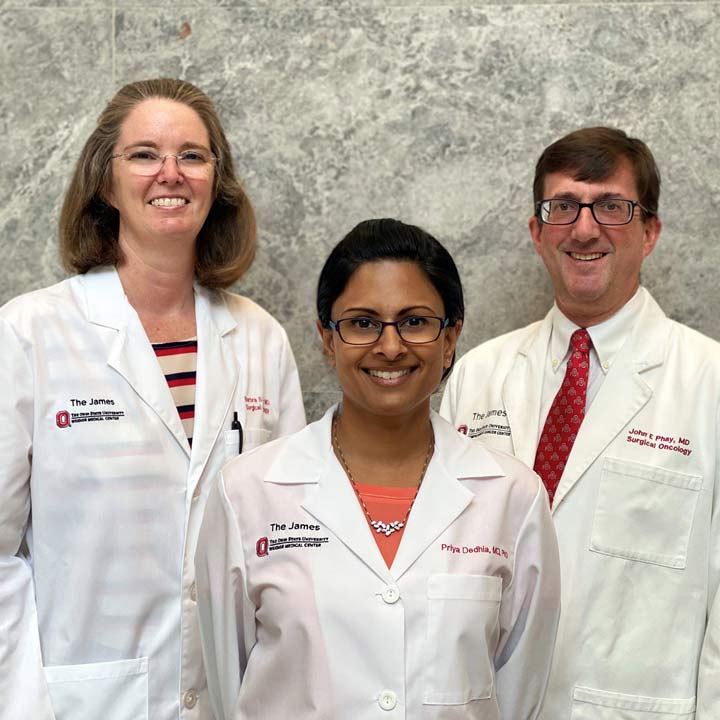 In our Comprehensive Adrenal Program (CAP), clinical care pathways are focused on preventing endocrine-driven complications, and ongoing research helps patients access the latest results-based care. Our dedicated focus on adrenal conditions is of particular advantage for patients with rare diseases that few other physicians regularly treat.
CAP's multidisciplinary team includes specialists from The Ohio State University Comprehensive Cancer Center – Arthur G. James Cancer Hospital and Richard J. Solove Research Institute (OSUCCC – James) and from The Ohio State University Wexner Medical Center.
Basic science research—led by CAP co-director and endocrinologist Lawrence Kirschner, MD, PhD, and surgeon Priya Dedhia, MD, PhD, an expert in organoid-based research—is an important defining feature of CAP, along with clinical and translational research. "Patients diagnosed with adrenocortical carcinoma frequently search nationally for experts to treat their cancer and work with their local team to provide the best care possible," says John Phay, MD. "The Comprehensive Adrenal Program offers patients that expertise, collaboration and access to clinical trials."
Surgeon and CAP co-director Barbra Miller, MD, notes, "A multidisciplinary approach like we have here at the OSUCCC – James is key to helping patients navigate complex evaluations and decisions regarding care for rare disease processes, especially when it comes to adrenal cancer."
Patients with such a rare disease often travel to Columbus from a far distance. In those cases, CAP works closely with Ohio State's Destination Medicine Program to provide them seamless care.