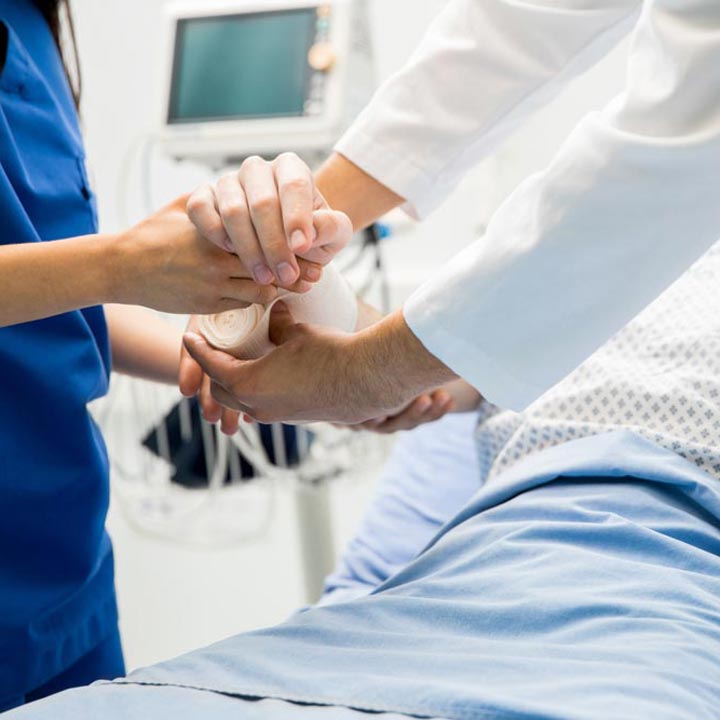 Already a national leader in complex burn care, the Comprehensive Burn Center at the Ohio State Wexner Medical Center is actively or soon to be recruiting for potentially transformative clinical trials in burn repair and recovery. Several options of biodegradable, synthetic skin and a pineapple-based debridement gel are among the promising treatment options being studied.
There are approximately 120 burn care facilities in the United States, and of those, only 64 are ABA verified — that places Ohio State in rare company. "We're determined to evolve standards of care for our patients," says Nicole Bernal, MD, FACS, director of Ohio State's Comprehensive Burn Center, "and we believe these studies can lead to some impressive advancements. The companies we're working with have partnered with us on previous successful research, so continuing to the next phase of discovery is exciting. Of the two studies already launched, we've already seen evidence of faster recovery, reduced pain and improved outcomes."
NovoSorb® BTM
Large total body service area (TBSA) burns make up a small percentage of the cases treated at burn centers, but their severity warrants unwavering research. Based on 10 years of data collected by the ABA, patients with TBSA burns greater than 60% suffered a 65% mortality rate. "Of course, such large TBSA burns also create an unbelievable amount of physical and mental challenges, even when a patient survives," says Dr. Bernal. "In these difficult cases, we believe an approach that utilizes a synthetic dermal matrix with sealing membrane to stage autografting will be a gamechanger."
NovoSorb BTM is a revolutionary biodegradable temporizing matrix that helps regenerate new tissue for wound closure and reconstruction of complex wounds. It was developed in Australia and is already FDA-approved for wound care. The goal of this research is to advance efforts for FDA approval for burn care.
For the BTM study, Ohio State researchers are enrolling patients with larger second- or third-degree burns that cover 5-50% of the body and extend down to muscle, bone or tendons. Treatment is randomized across study patients, and recovery will be tracked for one year. Patients will either receive the current standard of care, which involves the temporary use of cadaver skin followed by a graft with their own skin, or they'll be treated using BTM.
BTM's silicone cover acts like fake skin. It comes in large flexible sheets, and it's easy to apply. Unlike cadaver skin, there's no chance of rejection. Because it so effectively seals and protects the exposed areas of the body, pain is reduced, as is the risk of infection. "Once a patient is ready for a graft, the silicone cover is simply removed, and we can graft right over what remains," says Dr. Bernal. "Our expectation is that there will be less scaring, better mobility and improved outcomes in the long run."
"Ohio State surgeons already have experience using BTM for deep wounds," says Dr. Bernal, "so we fully expect some equally impressive outcomes with burns, and we're incredibly optimistic about this study in particular."
She notes that among the group of participants already treated with BTM at Ohio State, there have been no infections once the sheets were adherent and neovascularization was complete, and the exposed tendon, muscle and bone remained well-hydrated and viable. In addition, the dermal matrix was ready for grafting by 17-21 days, and patients benefitted from less fluid loss and better pain control throughout the day, including during therapy and wound care.
One recent success story deserves particular mention. "We just had a patient with burns covering approximately 50% of her body, 30% of which were full thickness," says Dr. Bernal, "and we treated her using BTM."
Just over 50 days after her admission, this same patient walked out of the hospital on her own.
As is the tradition for long-term patients, the woman was clapped out by the team that coordinated her in-patient care as she passed through the halls of the Ohio State Wexner Medical Center one last time.
"It's stories like this that remind us of our 'why,'" says Tova Myers, MHI, BSN, RN. "We all recognize times have been different over the past few years, but what we do here everyday matters. We get the privilege of affecting and changing people's lives. I got the honor of helping clap her out yesterday, and the tears from everyone involved was truly heartwarming."
NexoBrid®
The primary challenge with any full-thickness burn is the removal of eschar — the burned layers of both the epidermis and dermis — while minimizing harm to surrounding healthy tissue. As Dr. Bernal explains, surgical removal of eschar results in at least some loss of healthy skin. "A scalpel can only cut in a line," she says, "and there are no burns that are uniform. We want to keep every single cell of healthy skin that we can, so finding another way to remove eschar represents a significant step forward."
In simplest terms, NexoBrid is a debridement gel that utilizes enzymes found in pineapples. These concentrated proteolytic enzymes are then enriched in bromelain to produce a topically applied product that removes eschar in four hours without harming the surrounding healthy tissue. It's already approved internationally for deep partial and full thickness burns but is in registration stage in the U.S.
For this clinical trial, Ohio State is also recruiting patients with deep second- or third-degree burns, but the burns are smaller than those being treated in the BTM trial, instead covering 1-30% of the body.
Every study participant will be treated with the appropriate amount of NexoBrid, which will be scraped off the wound after four hours. This may or may not be followed by a skin graft. Individual recovery and results will be tracked for one year.
Ohio State has already enrolled and treated three patients. All healed within one week. None required surgery or a skin graft. Instead, their treatment with NexoBrid was followed by the use of RECELL®, an autologous cell harvesting device that was part of a previous burn study at Ohio State and is now part of the medical center's burn protocol. With RECELL, a small sample of the patient's own healthy skin is added to a suspension that when sprayed on the burn provides the cells necessary to regenerate the outer layer of natural, healthy skin. It is FDA approved for direct application to acute partial-thickness thermal burn wounds in patients 18 years of age and older or for application in combination with meshed autografting for acute full-thickness thermal burn wounds in pediatric and adult patients.
"We believe this advancement in care can lead to significant reduction in required surgeries, so we're thrilled to be able to offer this option to our patients," says Dr. Bernal. "Upon final approval, NexoBrid can also become an important therapy to improve burn care in the U.S., where we only have about 200 fellowship-trained burn surgeons nationwide."
Upcoming studies
Details are being finalized for two additional Ohio State burn studies as well, with recruitment to begin this year. Both involve new products that offer an alternative to traditional grafting. The Permaderm® trial for patients with partial thickness, second-degree burns will test the use of an absorbable collagen substrate that incorporates cell populations grown from a small full-thickness sample of the patient's skin. This live skin substitute mimics the structure of normal skin and falls off as the burn heals. The Permaderm product being tested at Ohio State is an improved version of earlier substrates, with better flexibility and adhesion to support healing over larger areas.
The second upcoming test is for StrataGraft®, a bi-layer skin grown in the lab, expected to be advantageous because it's thicker than other synthetic skin options, making it easier to handle and more protective. Ohio State will be recruiting patients who have TBSA burns of 2-49%, including areas of full thickness that would typically be treated with surgical excision and autografting.
Each participant will receive a different treatment on randomized, similar wounds. One burn area will be repaired using a traditional meshed autograph; the second burn area will receive meshed autograph with a StrataGraft covering. Recovery and results will be tracked for approximately 14 months.
Patient referral
Physicians can refer patients to The Ohio State Wexner Medical Comprehensive Burn Center by calling 614-293-BURN (2876) or visiting or visit wexnermedical.osu.edu/healthcare-professionals/refer-a-patient.
For more information or questions about the center, contact Beth McGuire, associate director of the Trauma Burn Program at beth.mcguire@osumc.edu. The Comprehensive Burn Center offers both inpatient and outpatient services for all burns, from large to small, with special emphasis on third-degree burns; burns to the face, hands, feet, genitalia, perineum and joints; electrical and lightning strike burns; chemical burns; and burns in patients with comorbid conditions.
If you have a patient interested in enrolling in one of the four studies reviewed above, or if you have any questions about these clinical trials, please contact Dr. Bernal at nicole.bernal@osumc.edu.