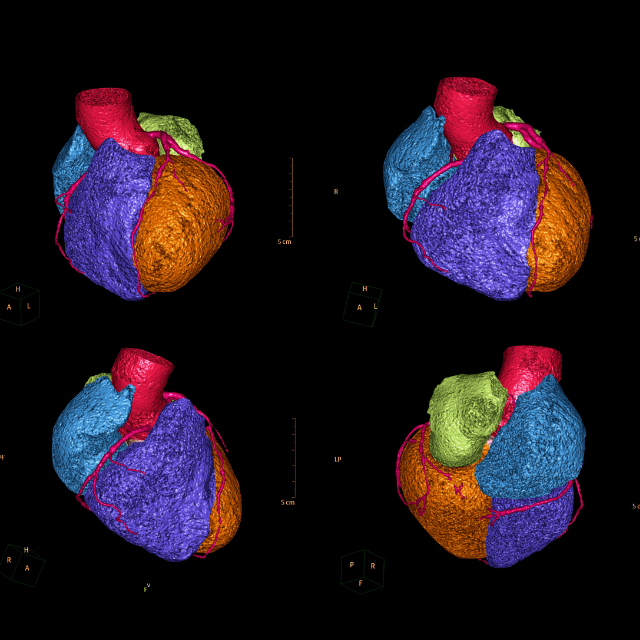 "We offer a wide array of open and endovascular surgeries for aortic disease at Ohio State, including treatment of aneurysms of the aorta and its branches," says John Bozinovski, MD, a cardiac surgeon and investigator in several of the Ohio State Aortic Center's promising multicenter trials. "Our surgical team holds both national and international patents, and our commitment to research, including these multicenter studies, has led to important improvements in patient care. Our participation affords us a leadership position in the future of heart and vascular care."
Dr. Bozinovski highlights four current studies at Ohio State:
TITAN SvS (surgery versus surveillance) – Left untreated, the asymptomatic condition of ascending thoracic aortic aneurysm risks progressing to rupture or dissection. "Current guidelines, which are based on limited data, call for surgical intervention if the aneurysm has a diameter equal to or greater than 5.5 centimeters," Dr. Bozinovski says. "However, the reality is that the majority of aortic dissections occur at diameters less than 5.5 centimeters — which could mean many patients who might benefit from surgery are inappropriately denied surgery at an earlier time.
"Ultimately, we know that more data translates to more confidence in surgical guidelines. Our surgical techniques have improved over the years so that risks of surgery are at historic lows. Some have taken this to mean we should be offering surgery for smaller-sized aortas, despite the relatively weak evidence supporting this change. Our hope with this study — the first randomized trial of its size — is that we can appropriately evaluate whether we should change our current practice guidelines and offer surgery sooner or keep our current guidelines."
Commence, a randomized controlled trial comparing tepid to warm hypothermic circulatory arrest for aortic arch surgery – While aortic arch surgery for aortic disease has become more common, there's significant risk when systemic blood flow is stopped to facilitate operating in a bloodless field while trying to limit brain, kidney and other organ injury with hypothermic circulatory arrest.
"Uncontrolled studies have suggested the safety of operating at warmer temperatures, but there are simply too many remaining variables that need to be investigated before this can be a reliable, evidence-based guideline," Dr. Bozinovski says.
As a participating center, Ohio State will be part of this single-blind, two-arm randomized control trial comparing mild (32 °C) versus moderate (26 °C) hypothermic cardiac arrest in patients undergoing hemiarch surgery with antegrade cerebral perfusion.
"Equipped with this eventual study data, we hope to provide the best evidence to date for temperature management guidelines so that we can reduce complications, increase aortic surgery survival rates and improve quality of life outcomes," Dr. Bozinovski says.
The GORE® EXCLUDER® Thoracoabdominal Branch Endoprosthesis (TAMBE) – This new type of ready-made stent graft holds significant promise as a game changer, and Ohio State is one of a few hospitals participating in the clinical trial to gain FDA approval for TAMBE.
"Until now, we've had to rely on custom-made devices, which means patients have had to delay surgery for these life-threatening aneurysms," Dr. Bozinovski says.
With the vascular surgery division leading this trial, he participated in Ohio State's first TAMBE surgery in October 2020. That patient required just three small incisions and was hospitalized for only six days — an important advancement compared to the large incision and 10 to 14 days in the hospital for traditional open aortic repair surgery. Dr. Bozinovski says, "As we gain even more experience, I think outcomes will only continue to improve."
The TAMBE study concludes this year. You can see more details about the minimally invasive procedure in this video.
A Prospective and Retrospective, Multi-Centre, Post-Market, Non-Interventional Study of Terumo Aortic Knitted and Woven Grafts, and Cardiovascular Patches (PANTHER) – Ohio State's vascular surgery division is leading the medical center's participation in this 10-year study of outcomes with Dacron grafts implanted in the aortic position.
"By partnering with industry to collect extensive patient data both before and after graft placement, we'll have the reliable information needed to more accurately assess commercially available grafts with regard to safety and performance," Dr. Bozinovski says. "This may also spark further collaborative efforts with industry in product development or products assessment."