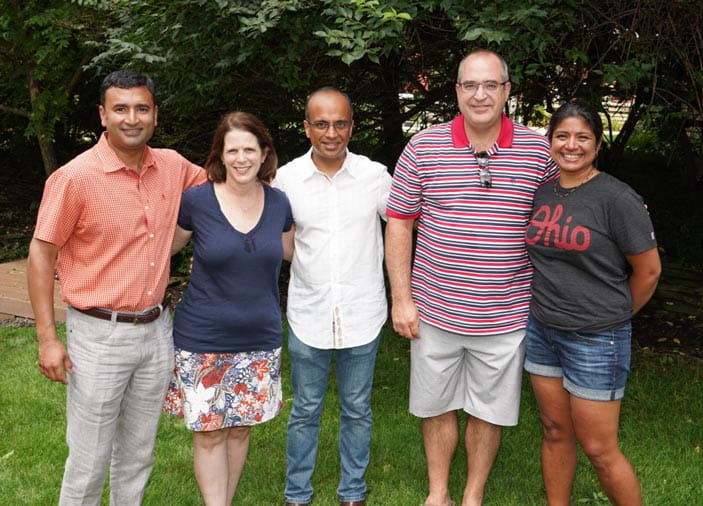 Pictured from left to right: Nahush Mokadam, Amalia Cochran, Benjamin Poulose, Timur Sarac and Heena Santry
Timur Sarac, MD
, is the new director of the Division of Vascular Diseases and Surgery and founding director of the Aortic Center. At the new center, he'll establish teams of vascular and cardiac surgeons to repair the most challenging aortic aneurysms. Sarac returns to Ohio from Yale University. He was previously a surgeon at the Cleveland Clinic.
Benjamin Poulose, MD, MPH
, is the new director of the Division of General and Gastrointestinal Surgery and the Robert M. Zollinger Chair of Surgery. Dr. Poulose is a skilled surgeon who specializes in abdominal wall core reconstruction. He is a clinical leader in applying minimally invasive techniques to hernia repair, a national thought leader around quality and safety, and an expert researcher who routinely works with the Food and Drug Administration.
Nahush Mokadam, MD, FACC, FACS
, is the new director of the Division of Cardiac Surgery and The Gerard S. Kakos, MD, and Thomas E. Williams Jr., MD, PhD, Professor. Dr. Mokadam is an international leader in heart failure, specializing in heart transplants and ventricular assist devices. Dr. Mokadam's clinical, technical and research expertise combined with his experience in the area of clinical trials will further expand the availability of novel and innovative cardiac treatment options offered at Ohio State Wexner Medical Center.
Heena Santry, MD
, is the vice chair of Health Services Research and the director of the Center for Surgical Health Assessment, Research and Policy (SHARP). Dr. Santry oversees, directs and leads health-services research by mentoring faculty and residents, developing research programs and contributing to publications. A self-described "half surgeon, half social worker," Santry is a pioneer among surgeons for her consideration of biopsychosocial factors that influence surgical outcomes.
Amalia Cochran, MD
, is the vice chair for Education. She oversees the department's ACGME accreditation, as well as coordinates residency and fellowship training programs in conjunction with the various program directors. She is responsible for cultivating research opportunities for trainees and leading a new Department of Surgery Education Council. She is also the director of the Comprehensive Burn Center, the region's only adult burn center.