MD Camp 2023 is scheduled for Monday, June 12th - Friday, June 30th, 2023. The application is available below.
Summer Camp for High School Students Interested in Medicine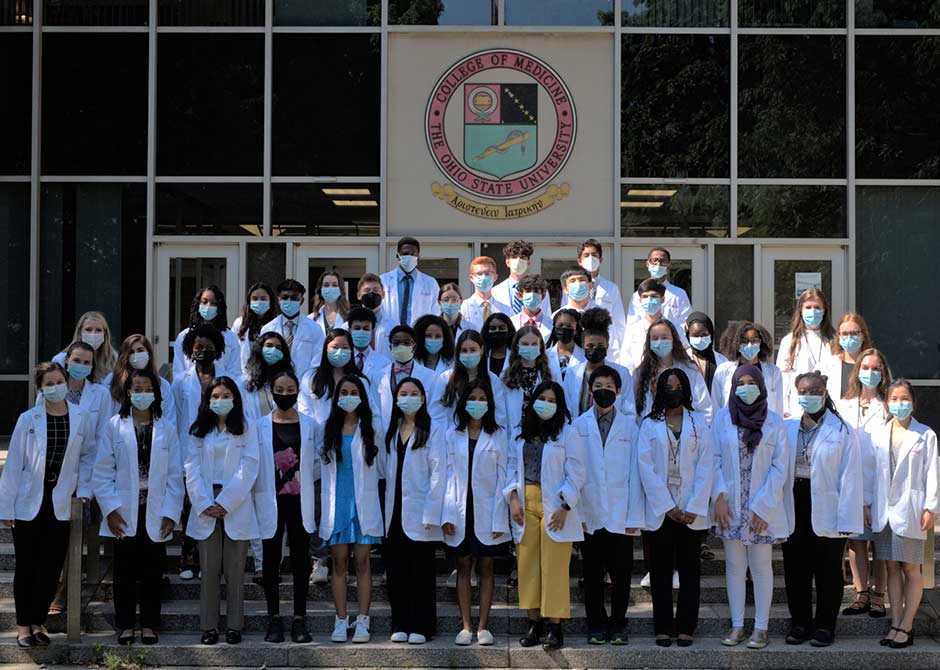 MD Camp, sponsored by The Ohio State University Area Health Education Center, is an intensive, three-week summer day camp providing participants an experience in the rigors of medical school. MD Camp students will have the opportunity to shadow clinicians and researchers at The Ohio State University Wexner Medical Center and at Nationwide Children's Hospital. By the end of MD Camp, students will have a greater grasp of what a career in medicine is like and how to go about becoming a successful physician.
MD Camp is open to rising high school sophomores, juniors and seniors who are interested in pursuing careers in the health professions, including biomedical research. We typically accept students who are considered traditionally underrepresented in medicine, which can include women and individuals from socio-economic and/or educationally disadvantaged backgrounds.
Ultimately, MD Camp strives to inspire students to pursue a career in medicine by challenging them intellectually and facilitating their academic and social development.
Program Curriculum
MD Camp is administered by rising second-year medical students. During the three-week camp, MD Camp participants learn from Ohio State College of Medicine faculty, staff and medical students through:
Lecture Component: Medical school faculty will give lectures covering a diverse range of topics and pathologies, from head-and-neck anatomy to the physiological changes that lead to heart attack. Students will also hear lectures about issues that face the medical community every day, including ethics, and the health disparities in underserved populations in the United States.
Problem-based Learning: Students will work out complex clinical cases in a group-discussion format.
Research: Students will gain hours of research experience while participating in one of the many ongoing medical research projects at Ohio State or Nationwide Children's Hospital. They will learn about the research process and some of the most important techniques used in research, such as PCR, flow cytometry, western blotting, etc. At the end of MD Camp, students will be given the opportunity to teach what they've learned to their fellow classmates as part of a poster or PowerPoint presentation.
Community Project: Students will give back to their community by spending an afternoon participating in a community service project.
Clinical Workshops: Students will learn and practice common procedures in medicine, such as phlebotomy, suturing, intubation, taking a basic history of a patient, use of the stethoscope, and much more.
Clinical Shadowing: Students will shadow physicians in a hospital setting in different specialties, such as pediatrics, internal medicine, family medicine, etc. Students will observe rounds, discuss cases, and get a feeling for what an average day is like for a physician. Students will also be able to watch a live surgery through a video conference setting, where the surgeon will give insights during the surgery to the students while operating.
Clinical Skills Assessment: Students will learn how to diagnose and treat a select number of common clinical pathologies. In the finale of the clinical component of the curriculum, students will be presented with a common clinical scenario. They will use their knowledge gained from lectures, shadowing and clinical workshops to assess and treat standardized patients presenting one of these pathologies.
Guest Speakers: Selected physicians, health care workers, and other speakers will be brought in to discuss a wide range of topics and to interact with MD Camp students. From these speakers, students will acquire a greater depth of understanding and appreciation of what the pursuit of medicine will entail.
How to Apply
To be competitive, it's recommended that a student have:
A cumulative grade point average at least a 3.0 and a math and science GPA of 3.3 or higher.
Two letters of recommendation with at least one from a mathematics or science teacher. Both letters of recommendation should be signed by the recommenders, preferably on school letterhead.
A completed application, which includes scholastic and extracurricular activities, essays and financial information, submitted in a timely fashion for scholarship consideration.
The application deadline for MD Camp 2023 is March 31st, 2023 11:59 P.M. EST. Letters of recommendation are also due March 31st, 2023 11:59 P.M. EST.
Instructions for MD Camp Applicants
Instructions for MD Camp Applicants
Financial Assistance
Tuition is $325. Applicants are awarded full and partial scholarships based on financial need and quality of application.
Follow our Instagram: @mdcamp