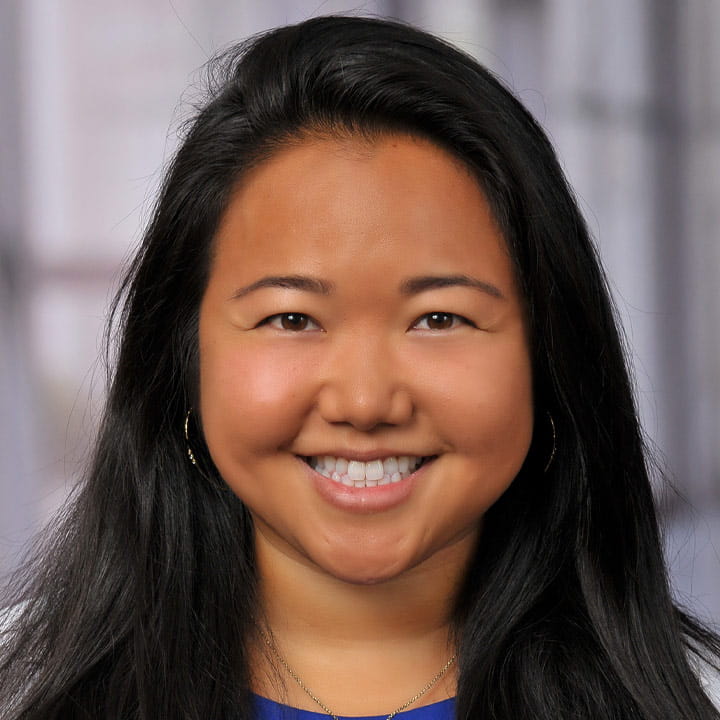 Clinical Office
Ohio State Family Medicine at Worthington
160 W. Wilson-Bridge Road
Suite 100
Worthington, Ohio 43085
Phone: 614-293-2850
Fax: 614-293-2849
I was born in Madison, Wisconsin, but lived mostly in Illinois. I attended the University of Illinois at Urbana-Champaign for my undergraduate training in Molecular and Cellular Biology and Chemistry and attended the University of Illinois College of Medicine for medical school. I, then, attended residency at The Ohio State Family Medicine Residency, where I had a wonderful experience so I decided to continue to practice in the Columbus-area at the Ohio State Family Medicine Worthington location. I will also be providing Hospital Care at the Ohio State East Hospital with our residency inpatient service.
In my free time, I enjoy spending time with friends and traveling. I also like to remain active with sand volleyball, biking, and taking walks along the MetroPark trails. I'm a passionate learner of horticulture and gastronomy. I also enjoy watching all sports, but football is my favorite. Go Packers!
I'm in the process of obtaining my MBA from the Ohio State Fisher College of Business and plan to graduate in May 2020. I also enjoy volunteering at a variety of athletic events around Columbus and at the Columbus free clinics.
Research, Education, Clinical Interests
As a family medicine physician, I'm passionate about getting to know my patients as well as providing excellent patient-centered care through their whole lifespan. My clinical focus is in preventative care, chronic disease management (including diabetes, high blood pressure, high cholesterol, and weight management), pediatrics/adolescent health, women's health (including prenatal), and mental health.
My goal is to form a partnership with my patients to make sure we address all aspects of their health and well-being: physical health, mental/emotional health, and social health. I believe that with shared decision-making and individualized care, my patients and I can work towards all their health goals and to achieve the healthiest version of themselves.
Education and Training
MD: University of Illinois College of Medicine
Postgraduate Education/Training: The Ohio State University Family Medicine Residency
Residency: The Ohio State University Family Medicine Residency
Select Publications
Fu, Chelsea, Radish, Aaron, Kumar, James. "Poppers! A Case of Amyl Nitrite Abuse and the Possible Side Effects." Clinical Vignette. Published in Carle Selected Papers 2016.
Sun, Guoqiang, Fu, Chelsea, Shen, Caroline, and Shi, Yanhong. "Histone Deacetylases in Neural Stem Cells and Induced Pluripotent Stem Cells." Journal of Biomedicine and Biotechnology 2011: 1-6. Print. doi: 10.1155/2011/835968.
Sun, GuoQiang, Ye, Peng, Murai, Kiyohito, Lang, Ming-Fei, Li, Shengxiu, Zhang, Heying, Li, Wendong, Fu, Chelsea, Yin, Jason, Wang, Allen, Ma, Xiaoxiao, and Shi, Yanhong. "MiR-137 Forms a Regulatory Loop with Nuclear Receptor TLX and LSD1 in Neural Stem Cells." Nature Communications 2 (2011): 529. Print. doi: 10.1038/ncomms1532.
Awards and Honors
The Ohio State Family Medicine Ambassador Award, 2017, 2018, 2019
The Ohio State Family Medicine Resident of the Quarter (4th Quarter 2016, 1st Quarter 2018)
The Ohio State Family Medicine Residency Intern of the Year, 2017
Allen Pearl Award: Excellence in Clinical Dermatology, 2016
Gold Humanism in Medicine Honor Society Member, 2015
AAFP Foundation Family Medicine Leads Scholarship, 2015
Allan E. Crandell Compassionate Care Award & Scholarship, 2015
Society and Memberships
Ohio Academy of Family Physicians
American Academy of Family Physicians