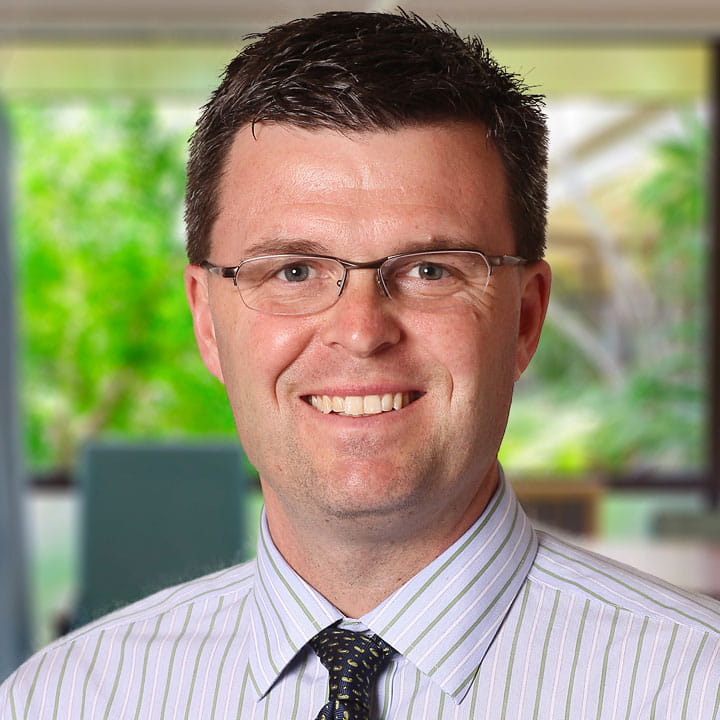 Director, Sports Medicine Division
Physician Lead of Clinical Operations, Sports Medicine Physician Practices
Head Team Physician, Department of Athletics

Clinical Office
The Jameson Crane Sports Medicine Institute
2835 Fred Taylor Drive
Suite 2000
Columbus, Ohio 43202
Phone: 614-293-3600
Fax: 614-293-2910
Pager: 614-293-PAGE ext 2480

I played football at The Ohio State University from 1989 to 1993. The physicians who cared for me when I was a student-athlete inspired me to pursue a career in medicine. I specialize in sports medicine, which focuses on providing care for injuries and medical conditions that affect a patient's ability to be active throughout his or her lifetime. These include acute sports injuries, overuse sports injuries and chronic musculoskeletal conditions.

I believe in providing personalized care that focuses on treatment that addresses a patient's medical needs and individual goals. As a former athlete, I believe in working as a team with a patient to achieve the best approach and treatment for each individual. I'm passionate about my career because I am able to work with patients to help them remain active and healthy across their lifetime. What I enjoy the most is when I am able to help athletes of all skill levels return to the activities that they enjoy.
Research, Education and Clinical Interests
The focus of my research has been on outcomes-based studies that affect the field of sports medicine. I have used my training from obtaining my MPH with a focus on clinical investigations to examine clinical outcomes in sports medicine topics such as ACL reconstruction, metabolic syndrome in collegiate football players and resource utilization among collegiate athletes. I have published on these efforts and continue work in these areas. I have worked with the Multicentered Orthopedic Outcomes Network (MOON) research consortium analyzing data regarding an ongoing prospective cohort regarding ACL reconstruction, outcomes, risk factors and risk factor modification. I have also published numerous studies on the prevention of injury in athletes and continue to study the epidemiology of injury and prevention of injury in collegiate athletes.

I have also focused scholarly work on instructing sports medicine fellows in writing systematic reviews and publishing and presenting original researching. In my years as director of the Primary Care Sports Medicine Fellowship, we have had multiple systematic reviews published with fellows. During this same time period, there have been an additional 30-40 publications and presentations at national meetings involving our fellows. Every fellow in our program since my time as director has had at least one per reviewed presentation at a national sports medicine meeting and at least one peer reviewed publication submitted or accepted.

I plan to continue outcomes based research in the future and will be collaborating with others in sports medicine on risk factor evaluation for injury based on pre-participation examination and interventions to decrease injury risk. I also have ongoing projects with MOON continuing to study long term outcomes following ACL reconstruction.
Education and Training
MD: Northwestern Ohio Universities College of Medicine
Residency: Family medicine, Toledo Hospital
Fellowship: Primary care sports medicine, Toledo Hospital
Active Funding
Co-investigator, NIH, U.S. Department of Health and Human Services: Functional evaluation to predict lower extremity musculoskeletal injury, 2013 – 2018
Select Publications
MARs Group, Magnussen RA, Borchers JR, Pedroza, Huston LF, et al. Risk Factors and Predictors of Significant Chondral Surface Change From Primary to Revision Anterior Cruciate Ligament Reconstruction: A MOON and MARS Cohort Study. Am J Sports Med. 2017 Dec;1-8. DOI: 10.1177/0363546517741484.
Krill MK, Borchers JR, Hoffman JT, Krill ML, Hewett TE. Effect of position, time in the season, and playing surface on Achilles tendon ruptures in NFL games: a 2009-10 to 2016-17 review. Phys Sportsmed. 2017 Sept;45(3):259-264.
Onate JA, Everhart JS, Clifton DR, Best TM, Borchers JR, Chaudhari AM. Physical Exam Risk Factors for Lower Extremity Injury in High School Athletes: A Systematic Review. Clin J Sports Med. 2016 Nov;26(6):435-444.
Willigenburg NW, Borchers JR, Quincy R, Kaeding CC, Hewett TE. Collegiate Rugby Has Lower Injury Incidence Than American Football: Response. Am J Sports Med. 2016 Jun;44(6):NP28-9.
Willigenburg NW, Borchers JR, Quincy R, Kaeding CC, Hewett TE. Comparison of Injuries in American Collegiate Football and Club Rugby: A Prospective Cohort Study. Am J Sports Med. 2016 Mar;44(3):753-60.
Geissler KE, Borchers JR. More than meets the eye: a rapidly progressive skin infection in a football player. Clin J Sport Med. 2015 May;25(3):e54-6.
Wertz J, Galli M, Borchers JR. Achilles tendon rupture: risk assessment for aerial and ground athletes. Sports Health. 2013 Sep;5(5):407-9.
Borchers JR, Best TM. Common finger fractures and dislocations. Am Fam Physician. 2012 Apr 15;85(8):805-10.
Chaudhari AM, McKenzie CS, Borchers JR, Best TM. Lumbopelvic control and pitching performance of professional baseball pitchers. J Strength Cond Res. 2011 Aug;25(8):2127-32.
Borchers JR, Kaeding CC, Pedroza AD, Huston LJ, Spindler KP, Wright RW; MOON Consortium and the MARS Group. Intra-articular findings in primary and revision anterior cruciate ligament reconstruction surgery: a comparison of the MOON and MARS study groups. Am J Sports Med. 2011 Sep;39(9):1889-93.
Editorial Activities
Journal Editorial Board, The Physician and Sports Medicine, 2009 - present
Medicine and Science in Sport and Exercise, 2007 - present
Journal reviewer, Sports Review Journal, 2015 - present
Manuscript reviewer, Journal of Athletic Training, 2010 - present
Associate editor, Clinical Journal of Sports Medicine, 2009 - present
Professional Memberships
American College of Sports Medicine
American Medical Society of Sports Medicine
American Academy of Family Physicians
Ohio Academy of Family Physicians