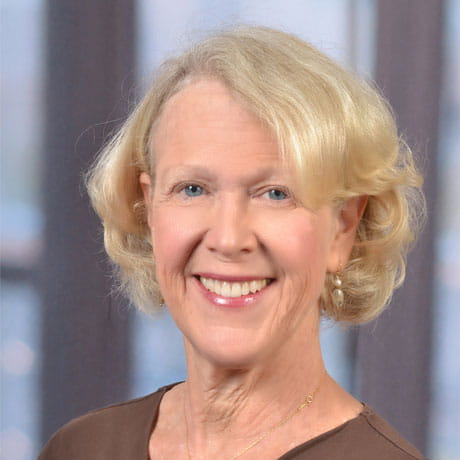 Adjunct Professor, College of Nursing
Adjunct Professor, College of Education and Human Ecology

Northwood-High Building
2231 N. High Street
Suite 261
Columbus, Ohio 43201
Phone: 614-293-3644
Fax: 614-293-2715
Maryanna.Klatt@osumc.edu

Dr. Klatt's research focus has been to develop and evaluate feasible, cost-effective ways to reduce the risk of stress-related chronic illness for both adults and children. Trained in mindfulness and a certified yoga instructor through Yoga Alliance, she combines these two approaches in a unique approach to stress prevention and reduction. Her adult program, Mindfulness in Motion, is delivered at the worksite, while the program for children, Move into Learning is a classroom based intervention. Both programs combine yoga, mindfulness and relaxing music. Specifically, her research has shown that nurses working in a surgical intensive care unit reduced their stress by 40% (shown in their salivary amylase), university faculty and staff slept better, Scandinavian bank employees significantly reduced their perceived stress, cancer survivors and their caregivers became significantly more resilient, while inner-city third graders significantly improved in hyperactivity and cognitive inattention – behaviors often related to stress. Dr. Klatt has shown that mindful awareness interventions produce an average of 4000.00 annual cost savings for adult participants up to five years post intervention. In 2011, she delivered a TEDX Columbus talk on her work with stress reduction and resiliency building.
Research, Education and Clinical Interests
Dr. Klatt's greatest contribution to curriculum development at OSU has been her creation of the undergraduate educational minor, Integrative Approaches to Health and Wellness (INTHLTH-MN), housed within the College of Medicine, and she has created four courses within the minor. These include The Evolving Art and Science of Medicine (College of Medicine), Body/Mind Goes to School (College of Education and Human Ecology), Yoga: Theory and Practice (College of Arts and Science) and an honors course, Mindful Resilience: From the Individual to the Organization that was designed to teach resiliency skills to pre-professionals.

Dr. Klatt also teaches a freshman seminar, The Mindful College Student, to provide students early coping strategies to sustain a successful academic career at OSU. Students across disciplines at The Ohio State University have reaped the benefits of Dr. Klatt's energy and enthusiasm both in person and through her curriculum development that will outlive her employment as a faculty member.

The strongest pedagogical technique that Dr. Klatt utilizes in the classroom is the creation of community amongst students. It is important to her to balance technological innovation (that has the potential for human isolation) and the joy that is possible through human, in-person connection. That said, Dr. Klatt recognizes the capacity for innovative web based practices that can support and scale what happens in the classroom. Thus, her educational mindfulness intervention, Mindfulness in Motion (MIM), is a hybrid program, including weekly in-person classroom sessions with daily online practices. The Department of Family and Community Medicine hosts the online learning platform website that enables Dr. Klatt's students to individually access written tips, her audio and video practices and hot links that extend classroom teaching: https://mindfulnessinmotion.osu.edu/home. This site is customized for four types of students – college students, healthcare professionals, busy working adults and cancer survivors. Stress reduction and resiliency building have been the foci of Dr. Klatt's teaching and research career. One hundred sixty-three learners have been through her MIM educational innovation in the past year, and over 700 learners since its inception. It is currently offered to the community at Ohio State's Center for Integrative Medicine and at Healthy New Albany.
Current Research Projects
Dr. Klatt's recent focus has been to reduce burnout and increase resilience for working healthcare professions, with a specific interest in developing and evaluating enhanced emotional/cognitive and movement programming using mindfulness interventions to change healthcare professionals' re-activity to stress. She believes that both the organization and the individual need to attend to, and be responsible for, creating healthy work environments. Working with the Graduate Medical Education Office, she is researching the effectiveness of MIM for interprofessional healthcare professionals to reduce burnout and increase resiliency.

Additionally, Dr. Klatt is actively constructing and delivering mindfulness training modules, which includes context specific yoga stretching and relaxation for health care working professionals. The focus of this research is the impact on the risk of work-related musculoskeletal disorders among radiographers, ultrasonographers and radiation therapists. Her goal is to keep healthcare professionals engaged by teaching them how to focus on patient-centered, relationship-based care via mindful awareness, proper body alignment and worksite stress reduction techniques. Her expertise is in designing mindful movement content that can be uniformly delivered in healthcare educational programs.
Education and Training
PhD: Social and cultural foundations in education, The Ohio State University, Columbus, OH, 2002
MA: Medical ethics, University of Virginia, Charlottesville, VA, 1991
BA: Psychology, Kenyon College, Gambier, OH, 1982
Postgraduate Education and Training
Mindfulness-based stress reduction in mind-body medicine, Center for Mindfulness, University of Massachusetts Medical School, MA, 2003
Integrative Yoga Therapy Teacher Training Program, Yoga Alliance, 500-hour certification, 2008
Mindfulness in medicine training, University of Rochester School of Medicine, 2010
Summer seminar on contemplative education, Smith College, 2015
Professional Memberships
Member, Academic Health Centers for Integrative Medicine Steering Committee, 2004 - present
Member, Medicine and the Arts Board, The Ohio State University College of Medicine, 2012 - present
Member, North American Primary Care Research Group, 2014 - present
Select Publications

Active Funding

Awards and Honors

Editorial Activities

National Positions