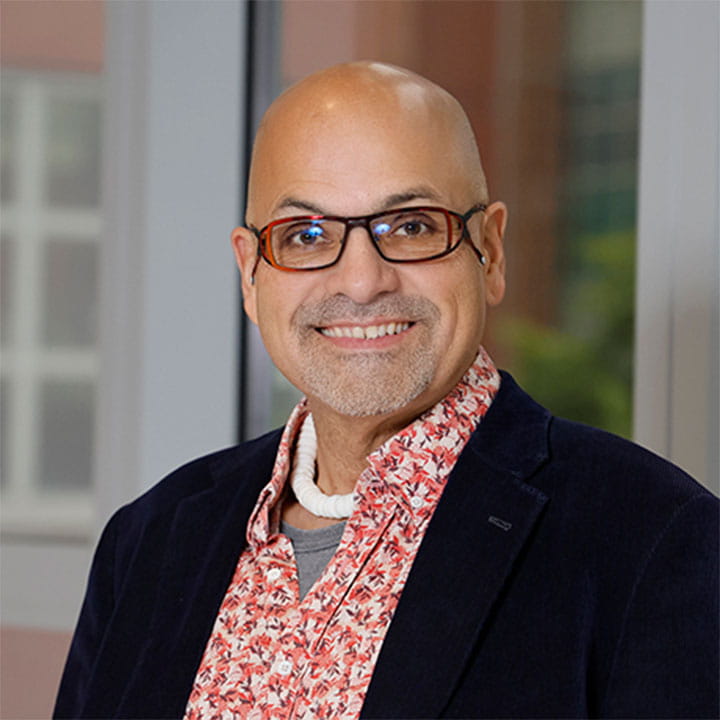 College of Medicine and Wexner Medical Center | CRIO & Associate Dean for Research Information Technology
The Center for clinical and Transitional Science (CCTS) | Director of Biomedical Informatics
The Center for the Advancement of Team Science, Analytics and Systems Thinking (CATALYST) | Core Member Department of Family and Community Medicine and Department of Biomedical Informatics | Professor
Research Information Technology and Center for Biostatistics
530 West Spring Street
Suite 275
Columbus, Ohio 43215
Phone: 614-333-6636
Timothy.Huerta@osumc.edu
Dr. Huerta is a Professor of family medicine in Ohio State's College of Medicine and brings both breadth and depth of experience in quantitative methods, health services research and multidisciplinary collaboration. Dr. Huerta is a well-published, nationally recognized expert on the use of survey data to advance discovery and has been published in a diverse set of journals. Dr. Huerta also has a long history of engaging clinical practitioners in translating the value of research to practice, and he has been recognized nationally for his work in both mentorship and teaching.
Prior to joining the faculty at Ohio State, Dr. Huerta was the director of the Center for Healthcare Innovation, Education and Research at Texas Tech University, where he developed the infrastructure currently in use throughout the province of British Columbia for the online delivery of continuing medical education in the area of community oncology. Finally, Dr. Huerta has a long history outside of academia developing tools and technologies that support both research and practice.
Research, Education and Clinical Interests
Dr. Huerta is a nationally recognized expert on issues related to hospital productivity and process with extensive expertise in the area of outcomes as it relates to electronic health records (EHRs), health information technology (HIT) and meaningful use. In particular, his interest in non-parametric approaches to the assessment of outcomes vis-à-vis frontier methodologies has been useful in gaining a greater understanding of how the explosion of investment in HIT has impacted both research and practice. He has conducted a number of studies looking specifically at adoption of EHR technology and the differences that exist based by medical focus.
Recently, Dr. Huerta has taken his knowledge and experience with large dataset analysis to address impactful areas of research. In this context, he has also worked to engage junior researchers to help them develop their research agendas and this has diversified the focus of his work beyond efficiency, including some of the first work on the use of social media by hospitals through the development of objective metrics and automated assessment and evaluation tools. Dr. Huerta has spent a great deal of time focused on the experience that people have when seeking service – including in the domain of social media. He co-developed automated tools to create objective assessment of the usability experience of individuals seeking information online. Further, he has worked with that data across a number of domains, including patient satisfaction, patient safety and facility efficiency.
Education and Training
PhD: Public administration, University of Southern California
Area concentrations: public management, organization theory and behavior
MS: Public administration, California State University, Los Angeles
Research emphasis: Public policy and organization theory
BA: Chemistry, California State University, Los Angeles
Research emphasis: biochemistry and biophysics
Faculty fellow: Public health cyber infrastructure, University of Illinois, Urbana-Champaign
National Center for Supercomputing Applications (NCSA)
Post-doctoral research fellow: University of British Columbia, Faculty of Medicine
School of Population and Public Health, Department of Health Care and Epidemiology
Editorial Activities
Editorial boards
Associate editor, Education in the Health Professions
Associate editor, Journal of Healthcare Management
National Positions
National organizations
Academy of Management, chair, membership committee, Healthcare Management Division
North American Primary Care Research Group
Family Practice Oncology Network
American Medical Informatics Association
National Council on Administrative Fellowship's Benchmarks and Metrics subcommittee
American College of Healthcare Executives
Academy Health
Healthcare Information and Management Systems Society
American Society of Quality
National Association of Parliamentarians
Review panels
Standing reviewer, Agency for Health Research and Quality
Awards and Honors
Myron Fottler Outstanding Service Award, Academy of Management, Health Care Management Division, 2015
Excellence in Teaching Award, Academy of Management, Health Care Management Division, 2014
Current Research Projects

Select Publications