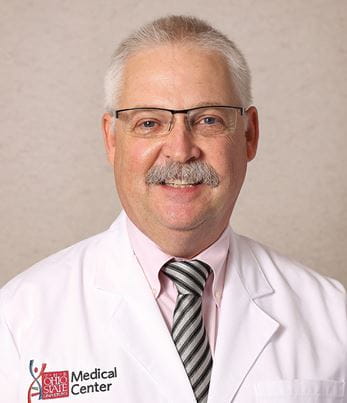 John Christman, MD
Academic/Clinical Roles
The John A. Prior Professor of Medicine, Surgery and Anesthesiology
Section of Pulmonary, Critical Care and Sleep
Department of Medicine
College of Medicine
501 Davis Heart and Lung Research Institute
473 West 12th Avenue
Columbus, OH 43210
Phone: 614.247-7707
Fax: 614.293.4799
john.christman@osumc.edu
Biography
2018- 2020 OSU Director Center for Lung Research
2013-2017 Director, Critical Care Signature Program, Ohio State University Wexner Medical Center, Columbus OH
2013-2018 Chief, Section of Pulmonary, Allergy, Critical Care, and Sleep, Ohio State University, Columbus OH
2004-2013 Attending Jesse Brown Veterans Affairs Medicine Center, Chicago IL
2004-2013 Attending University of Illinois Hospital and Clinics, Chicago IL
2004-2013 Chief, Section of Pulmonary, Critical Care, and Sleep Medicine, University of Illinois, Chicago IL
1997-2004 Chief, Section of Pulmonary and Critical Care Medicine, Veterans Affairs Medical Center, Nashville, TN
1996-1997 Acting Chief, Section of Pulmonary and Critical Care Medicine, Veterans Affairs Medical Center, Nashville, TN
1988-2004 Attending in Medicine, Vanderbilt University Hospital, Nashville, TN
1988-2004 Attending in Medicine, Veterans Affairs Medical Center, Nashville, TN
1988-1997 Director, Medical Intensive Care Unit, Veterans Affairs Medical Center, Nashville, TN
1988-2000 Medical Director, Respiratory Therapy and the Pulmonary Diagnostic Laboratory, Veterans Affairs Medical Center, Nashville, TN
1988-2004 Staff Physician, Pulmonary Disease Section, Nashville VA Medical Center, Nashville, TN
1990-1994 Research Associate, Veterans Affairs Medical Center, Nashville, TN
1984-1988 Directors Committee for Respiratory Care Service, Medical Center Hospital of Vermont, University of Vermont College of Medicine, Burlington, VT
1984-1988 Director, Medical Intensive Care Unit, Medical Center Hospital of Vermont, University of Vermont College of Medicine, Burlington, VT
1984-1988 Attending in Medicine, Medical Center Hospital of Vermont, University of Vermont College of Medicine, Burlington, VT
1985-1986 Attending, Surgical Intensive Care Unit Physician Group, Medical Center Hospital of Vermont, University of Vermont College of Medicine, Burlington, VT
Research Interests
Epigenetic and Transcriptional regulation of the Macrophage inflammatory phenotype in ARDS and severe asthma.
Current Research
R01HL137224-05A1 (PI: Christman) 01/01/2018 – 03/31/2027
Regulation of the macrophage inflammatory phenotype in ARDS
In this proposed research, we will examine the role of NFAT on EV lipid and protein content and their role in mediating permeability pulmonary edema (ARDS) in the clinically relevant mouse models. Our supportive data show that NFATc3 regulates expression of cytoplasmic phospholipase A-2 (cPLA2) and cyclooxygenase-1 (COX-2) that are associated with changes in the lipid content of EVs and that NFATc3 dependent proteins and lipids disrupt the permeability barrier in culture pulmonary microvascular endothelial cells.
Education and Training
MD: Indiana University School of Medicine, Indianapolis, IN
Residency: Internal Medicine Residency, Indiana University Medical Center, Indianapolis, Indiana
Fellowship: Pulmonary & Fellowship, Pulmonary Medicine, University of Vermont College of Medicine, Burlington, VT
Fellowship: Fellowship, Critical Care Medicine, University of Pittsburgh, Pittsburgh, PA
Honors and Awards
Top Chemistry Award, Merck Pharmaceuticals, Indiana University 1973
Phi Beta Kappa 1974
Fellow in the American College of Chest Physicians 1981
Veterans Affairs Career Development Award, Research Associate 1990
The Harry L. Davis, M.D. Memorial Award in recognition of outstanding achievement in the field of pulmonary medicine. American Lung Association of Tennessee 1992
President's Citation for outstanding contribution to the Society of Critical Care Medicine in 1997, 1998
Department of Veterans Affairs 25 years of Service Award 2013
John A. Prior Professorship, the Ohio State University, Columbus OH 2015
Fellow in the American Thoracic Society 2018
Select Publications (list of high impact pubs)
Google Scholar i10-index 156, h-index 64/17,127 citations¬; Scopus193 documents, h-index 53/10418 citations)