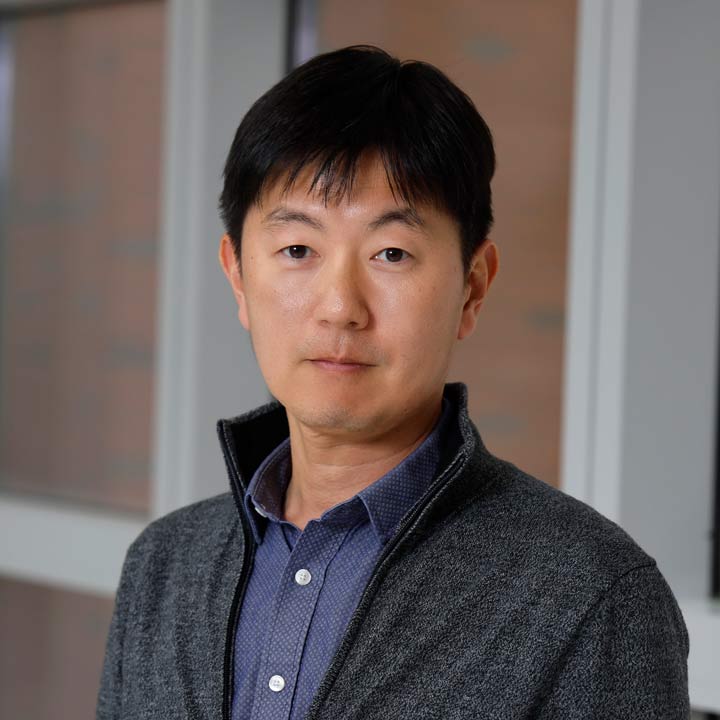 Division of Pulmonary, Critical Care and Sleep Medicine
473 West 12th Avenue, Columbus, OH, 43210
614 292 3834
sangwoon.chung@osumc.edu
Sangwoon Chung received his undergraduate and Master of Science degree at Pusan National University in South Korea prior to obtaining a Ph.D. in Pharmaceutical Sciences from Kanazawa University in Japan. Dr. Chung joined Dr. Christman's lab group at the University of Illinois at Chicago as a Postdoc Researcher, and in 2013 he moved with Dr. Christman to the Davis Heart and Lung Research Institute at the Ohio State University. Since joining The Ohio State University, he has developed expertise in many areas of pre-clinical animal models and subsequent analysis to define the role of alternatively activated macrophages in asthma pathogenesis.
Research Interests
Role of macrophages in asthma pathogenesis
Mechanism of electronic-cigarette-induced lung injury
The role of macrophages in ARDS and lung inflammation
Current Research
Defining a novel therapeutic tool using optimized exosomes-cellular components that exist outside the cell-to provide pre-clinical evidence for mitigating the inflammatory asthmatic features for neutrophilic severe asthma patients.
Sex-specific difference on mitochondrial dysfunction after Electronic-cigarette exposure that contributes to increased asthma exacerbations.
The hypothesis that recruitment and polarization of macrophages are important in airway inflammation in order to design new and effective treatments.
Active Funding
OSU Bridge Award (PI)
The Ohio State University, Department of Internal Medicine Pilot Funding Program
Sex difference in adverse effects of electronic-cigarette (EC) with asthma

Catalyst Award (PI)
American Lung Association
Preventing neutrophilic inflammation in severe asthma by targeting ETosis

NIH R01 (Co-I)
Regulation of the Macrophage Inflammatory Phenotype in ARDS

Education and Training
Post-doctor fellows, Department of Environmental Medicine, University of Rochester Medical Center / Department of Medicine, University of Illinois at Chicago
Ph.D., Kanazawa University, Japan
Selected Publications and Presentations
Nirujogi TS, Kotha SR, Chung S, Reader BF, Yenigalla A, Zhang L, Shapiro JP, Wisler J, Christman JW, Maddipati K, Parinandi NL, Karpurapu M. Lipidomic Profiling of Bronchoalveolar Lavage Fluid Extracellular Vesicles Indicates Their Involvement in Lipopolysaccharide-Induced Acute Lung Injury. J Innate Immun. 2022:1-14.
Chung S, Lee YG, Karpurapu M, Englert JA, Ballinger MN, Davis IC, Park GY, Christman JW. Depletion of microRNA-451 in response to allergen exposure accentuates asthmatic inflammation by regulating Sirtuin2. Am J Physiol Lung Cell Mol Physiol. 2020;318(5):L921-L930.
Nie Y, Nirujogi TS, Ranjan R, Reader BF, Chung S, Ballinger MN, Englert JA, Christman JW, Karpurapu M. PolyADP-Ribosylation of NFATc3 and NF-κB Transcription Factors Modulate Macrophage Inflammatory Gene Expression in LPS-Induced Acute Lung Injury. J Innate Immun. 2021;13(2):83-93.
Dougherty PG, Karpurapu M, Koley A, Lukowski JK, Qian Z, Srinivas Nirujogi T, Rusu L, Chung S, Hummon AB, Li HW, Christman JW, Pei D. A Peptidyl Inhibitor that Blocks Calcineurin-NFAT Interaction and Prevents Acute Lung Injury. J Med Chem. 2020;63(21):12853-12872.
Kim JY, Bai Y, Jayne LA, Hector RD, Persaud AK, Ong SS, Rojesh S, Raj R, Feng MJHH, Chung S, Cianciolo RE, Christman JW, Campbell MJ, Gardner DS, Baker SD, Sparreboom A, Govindarajan R, Singh H, Chen T, Poi M, Susztak K, Cobb SR, Pabla NS. A kinome-wide screen identifies a CDKL5-SOX9 regulatory axis in epithelial cell death and kidney injury. Nat Commun. 2020;11(1):1924.
Reader BF, Sethuraman S, Hay BR, Thomas Becket RV, Karpurapu M, Chung S, Lee YG, Christman JW, Ballinger MN. IRAK-M Regulates Monocyte Trafficking to the Lungs in Response to Bleomycin Challenge. J Immunol. 2020;204(10):2661-2670.
Chung S, Kim JY, Song MA, Park GY, Lee YG, Karpurapu M, Englert JA, Ballinger MN, Navjot P, Chung HY, Christman JW. FoxO1 is a critical regulator of M2-like macrophages activation in allergic asthma. Allergy. 2019;74(3):535-548.
Lee YG, Reader BF, Herman D, Streicher A, Englert JA, Ziegler M, Chung S, Karpurapu M, Park GY, Christman JW, Ballinger MN. Sirtuin 2 enhances allergic asthmatic inflammation. JCI Insight. 2019;4(4).
Moon HG, Kim SJ, Jeong JJ, Han SS, Jarjour NN, Lee H, Abboud-Werner SL, Chung S, Choi HS, Natarajan V, Ackerman SJ, Christman JW, Park GY. Airway Epithelial Cell-Derived Colony Stimulating Factor-1 Promotes Allergen Sensitization. Immunity. 2018;49(2):275-287.e5.
Chung S, Lee TJ, Reader BF, Kim JY, Lee YG, Park GY, Karpurapu M, Ballinger MN, Qian F, Rusu L, Chung HY, Unterman TG, Croce CM, Christman JW. FoxO1 regulates allergic asthmatic inflammation through regulating polarization of the macrophage inflammatory phenotype. Oncotarget. 2016;7(14):17532-46.
Chung S, Ranjan R, Lee YG, Park GY, Karpurapu M, Deng J, Xiao L, Kim JY, Unterman TG, Christman JW. Distinct role of FoxO1 in M-CSF- and GM-CSF-differentiated macrophages contributes LPS-mediated IL-10: implication in hyperglycemia. J Leukoc Biol. 2015;97(2):327-39.