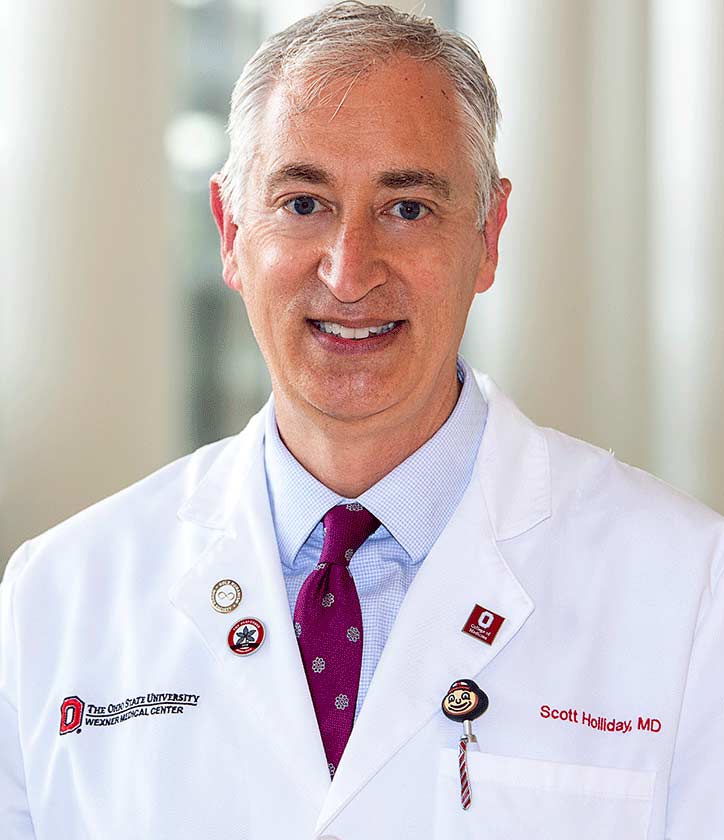 Associate Dean for Graduate Medical Education

Ohio State University Wexner Medical Center
Department of Internal Medicine / General Internal Medicine
125 Doan Hall
410 W. 10th Ave,
Columbus, OH 43221

Scott.Holliday@osumc.edu
614-293-7326

Dr. Scott Holliday, as the Associate Dean of Graduate Medical Education, focuses his work on developing the careers of young residents. Throughout his own career Dr. Holliday has taught many courses at The Ohio State University.

Dr. Holliday is currently involved with multiple research studies, including looking at ways to promote empathetic communication of medical residents. He is also interested and actively involved in looking at ways to reduce the burnout of doctors, ultimately providing better quality patient care. Dr. Holliday works with his research team to re design the education programs to aid resident satisfaction.


Education and Training

General Academic Medicine Faculty Development Fellowship: University of North Carolina at Chapel Hill

Combined Internal Medicine-Pediatrics Residency: The Ohio State University and Nationwide Children's Hospital

MD: The Ohio State University College of Medicine


Honors and Awards

Awardee: America's Best Doctors

Induction into The Arnold P. Gold Humanism Honor Society: Arnold P. Gold Foundation

Leonard Tow Excellence in Humanism Award: The Ohio State University College of Medicine

Forty Under 40 Award


Selected Publications and Presentations

Stefan MS, Blackwell JM, Crawford KM, Martinez J, Wu Sung S, Holliday SA, Landry M, Lavine N, Lerfald N, Morris JL, Greene S, Cykert S. "Patients' attitudes toward and factors predictive of human immunodeficiency virus testing of academic medical clinics." Am J Med Sci. 2010 Oct;340(4):264-7.

O'Toole JK, Friedland AR, Gonzaga AM, Hartig JR, Holliday S, Lukela M,Moutsios SA, Kolarik R. "The practice patterns of recently graduated internal medicine-pediatric hospitalists." Hosp Pediatr. 2015 Jun;5(6):309-14.

Holliday S, Mahan J, Donthi R, Mihalov L, Ledford C. "Integrating Professionalism into the Curriculum: Professionalism as a Measurable and Teachable Skill". [Seminar Presentation] Association of Pediatric Program Directors 2007 Annual Meeting Toronto, Ontario; Canada
Holliday S, Lucarelli M. "Teaching Resident Adoption of Quality Improvement in Continuity Clinics" [Workshop Presentation]Association of Program Directors in Internal Medicine Spring Conference 2012, Baltimore, MD

Holliday S. Presidential Address on the State of Med-Peds, Med-Peds Program, Director's Association Annual Meeting, 2011 Miami, FL

Holliday S. "Med-Peds Residency Programs Update" National Med-Peds Resident Association Annual Meeting, 2011 Boston, MA

Holliday S, Update on Common Pediatric Infectious Diseases Pediatric Emergency Medicine Conference, 2010 Columbus, OH

Holliday S, "Managing Adults in Pediatric Hospitals: A Med-Peds Opportunity" Indiana University School of Medicine in conjunction with the National Med-Peds Resident Association, Midwest Regional Meeting, 2011 Indianapolis, IN

Holliday S, Mahan J, Reed S, Donthi R. "Burnout in Students and Residents: Constructing a Program to Focus on Diagnosis, Prevention and Effective Intervention" Central Group on Educational Affairs, a regional organization of the Association of American Medical Colleges (AAMC), 2013 Cincinnati, OH