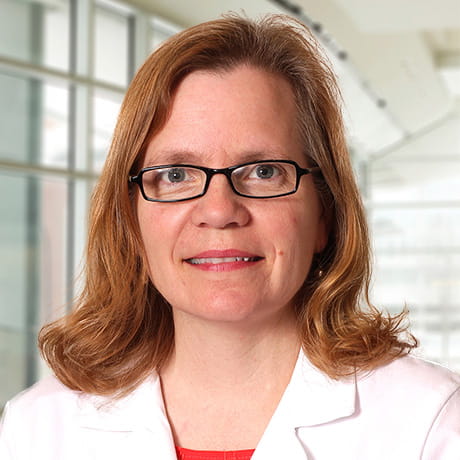 Associate Professor
College of Medicine
Department of Microbial Infection and Immunity
Center for Microbial Interface Biology
Molecular Virology, Immunology and Medical Genetics
Neuroscience
Biomedical Research Tower 684
460 W. 12th Ave.
Columbus, OH 43210
614-688-5647
Amy.Lovett-Racke@osumc.edu
Research Interests
Multiple sclerosis
Neuro-immunology
Experimental autoimmune encephalomyelitis
T cells
Research Lab Goals
The primary goal of Dr. Lovett-Racke's research is to understand the role that T cells play in the onset and progression of multiple sclerosis to understand the cause of disease and develop therapies to treat the disease.
Current Research
Characterizing the T cells that cause damage to the central nervous system in multiple sclerosis. She is focusing on the characterization of the T lymphocytes responsible for damaging the brain and spinal cord in multiple sclerosis. T lymphocytes are a type of white blood cell that helps to destroy cells or tissues that the immune system identifies as foreign. The myelin sheath is recognized as foreign in patients with MS, and therefore T cells specific for attacking myelin are thought to play a large role in disease progression. Her research has shown that although all individuals have T lymphocytes specific for attacking myelin, these cells are only active in MS patients. As a result, she has hypothesized that these T lymphocytes are a critical pathological cell in this disease, and that these cells represent an attractive target for future therapeutics. To avoid targeting the essential T lymphocytes needed to fight off natural infections, she has focused on eliminating critical proteins for myelin-specific T lymphocytes. One of these targets is T-bet, which is necessary for the transcription of the myelin-specific T lymphocytes. She has developed a small interfering RNA (siRNA), a molecule that silences the effect of T-bet, and thus diminishes the numbers of myelin-specific T lymphocytes and used it to prevent and treat experimental autoimmune encephalomyelitis (EAE), a mouse model of MS. They are also analyzing several novel proteins in pathogenic T cells as potential therapeutic targets for multiple sclerosis.
Determining the role that miRNA play in multiple sclerosis. In their attempts to understand how T cells, which normally protect us from infection, become pathogenic in multiple sclerosis patients, they are analyzing miRNAs which regulate how genes/proteins are expressed in cells. They have found that miRNAs are differentially expressed in the T cells of multiple sclerosis patients, which alters how T cells function in multiple sclerosis patients. Some of these miRNAs promote the development of pathogenic T cells and prevent the development of regulatory cells that should prevent immune responses to self tissues. Thus, miRNA may be a susceptibility factor for the development of multiple sclerosis and may be potential therapeutic targets.
What is the role of vitamin D in protecting the central nervous system from injury during early life? It is well-established that early life events contribute to the onset of multiple sclerosis in young adults. Insufficiency has been an environmental factor that has been associated with susceptibility to multiple sclerosis. They analyze the role of vitamin D in neurons to determine if vitamin D plays a role in protecting the developing central nervous system from injury and, thus, may protect individuals from developing multiple sclerosis. To do this study, they have developed a mouse with an inducible deletion of the vitamin D receptor specifically in neurons so that we can determine if vitamin D in early life compared to adult life enhances susceptibility to central nervous system autoimmunity.
Research Techniques
Primary cell culture
PCR
Cloning
Immunocytochemistry
Flow cytometry
ELISA
Western blot
Experimental autoimmune encephalomyelitis
Active Funding
Co-investigator, National Institutes of Health, R01, Immune regulation of neuronal injury and repair, January 2013–December 2017
Principal investigator, National Multiple Sclerosis Society, Defining the role of miRNA in defective Tregs in multiple sclerosis, October 2014–September 2017
Co-principal investigator, Strategic Pharma-Academic Research Consortium, Microbiome marker discovery in multiple sclerosis using metagenomic sequencing technology, January 2015–December 2016
Education
PhD: University of Texas Health Science Center, Houston
Postgraduate Training: National Institutes of Health, Bethesda, MD
Postgraduate Training: Washington University School of Medicine, St. Louis
Honors
National Multiple Sclerosis Society Research Volunteer Hall of Fame Award, 2015
Ohio State University Faculty Recognition Award, 2015
OSU College of Medicine Distinguished Educator Award, 2013
Harry Weaver Neuroscience Scholar Award, National Multiple Sclerosis Society, 2004-2009
Lucille P. Markey Special Emphasis Pathway in Human Pathobiology Fellowship, Lucille P. Markey Foundation, Washington University School of Medicine, 1995-1997
Intramural Research Training Award, National Institutes of Neurological Disorders and Stroke, National Institutes of Health, 1993-1995