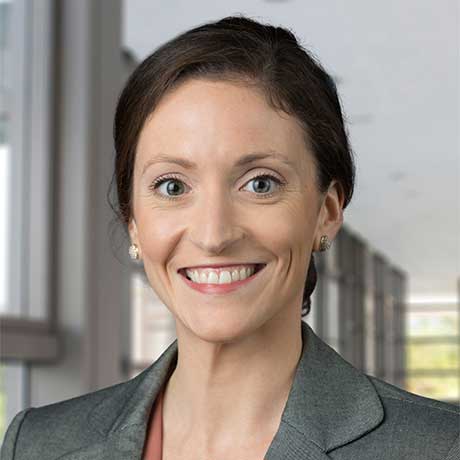 Associate Professor
College of Medicine
Department of Neurological Surgery
In 2018, Dr. Drapeau joined The Ohio State University College of Medicine as an assistant professor. She is also a faculty member at Nationwide Children's Hospital, where she serves as the co-director of the craniosynostosis program in the Center for Complex Craniofacial Disorders, the Neurology/Neurosurgery Inpatient Floor medical co-director and the neurosurgery quality improvement leader. Additionally, she is board-certified for neurosurgery by the Royal College of Physicians and Surgeons of Canada.
Dr. Drapeau completed her medical training and her master's degree in pharmacology at the University of Sherbrooke in Quebec, Canada. She then completed her fellowship in pediatric neurosurgery at Nationwide Children's Hospital and received a diploma in specialized studies from the clinician investigator formation program at the University of Sherbrooke. Currently, she is involved in numerous research projects focusing on craniosynostosis, health-related quality of life of families and patients with craniosynostosis, quality improvement and safety in neurosurgery, pediatric brain tumors, intra-arterial chemotherapy in pediatric patients and more.
Research Interests
Craniosynostosis
Health-related quality of life of families and patients with craniosynostosis
Quality improvement and safety in neurosurgery
Blood-brain barrier and pediatric malignant primary tumors
Education
MD: University of Sherbrooke (Quebec, Canada)
MSc: Pharmacology, University of Sherbrooke (Quebec, Canada)
Diploma: Specialized studies as clinician investigator, University of Sherbrooke (Quebec, Canada)
Residency: Neurosurgery, University of Manitoba
Residency: Neurosurgery, University of Sherbrooke
Fellowship: Pediatric Neurosurgery, Nationwide Children's Hospital, The Ohio State University
Professional Memberships
CNS SANS Committee, Pediatric Neurosurgery Questions
Member, American Association of Neurological Surgeons
Member, Congress of Neurological Surgeons
Member, Women in Neurosurgery, AANS/CNS section
Member, Pediatric Neurosurgery, AANS/CNS section
Honors and Awards
Valedictorian, Faculty of Medicine and Health Sciences, University of Sherbrooke, 2016
Finalist, Jean De L. Mignault prize, Faculty of Medicine and Health Sciences Merit Gala, University of Sherbrooke, 2016
Recipient, Resident Traveling Fellowship Award, Pediatric Section of the American Association of Neurological Surgeons/Congress of Neurological Surgeons, 2014
Recipient, "First place for short oral presentations," 6th Scientific Day of the Sherbrooke Neurosciences Center, University of Sherbrooke, 2014
Recipient, "First place awarded by the jury," Conference of the Association of Neurosurgery of Quebec, 2014
Recipient, Basic Sciences Research Award, 16th Scientific Day of the Department of Surgery, University of Sherbrooke, 2014
Recipient, Scholarship for the formation of resident physicians in health research (phase 1) of the "Fonds de recherche du Québec – Santé," 2014:
Recipient, "Centre de Recherche Clinique-Étienne-Le Bel" Award for oral presentation, 5th Scientific Day of the Sherbrooke Neurosciences Center, University of Sherbrooke, 2013
Recipient, Basic Science Research Award, 15th Scientific Day of the Department of Surgery, University of Sherbrooke, 2013
Funding:
Research Grant, AANS/CNS Pediatric Section of Neurological Surgery, 2018
Grant for research in surgery, Department of Surgery, University of Sherbrooke, 2014-2015
Grant for research in surgery, Department of Surgery, University of Sherbrooke, 2013-2014
Grant for research in surgery, Department of Surgery, University of Sherbrooke, 2012-2013