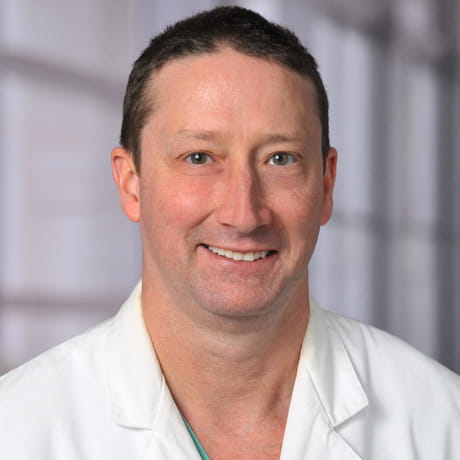 Assistant Professor
Vice Chair of Clinical Quality & Operations

College of Medicine
Department of Neurological Surgery

Clinic
D3 McCampbell Hall
1581 Dodd Drive
Columbus, OH 43210
614-293-0689

Office
N1018 Doan Hall
410 W. 10th Ave.
Columbus, OH 43210
Phone: 614-293-0689
Fax: 614-366-3388
Ciaran.Powers@osumc.edu
Dr. Powers started as an assistant professor here at OSUWMC in July 2010. He was recruited here to be an endovascular neurosurgeon.
Research interests
Early changes in intracellular signaling pathways following subarachnoid hemorrhage
Neurocognitive outcome following subarachnoid hemorrhage
Active Funding
Dr. Powers secured an internal grant from the Center for Clinical and Translational Science (CCTS) for translational research and an external grant from the Brain Aneurysm Foundation. He has used these grants to generate data on changes in microRNA levels in the cerebrospinal fluid (CSF) of patients with aneurysmal subarachnoid hemorrhage. Grant funds have supported the Laser Capture Core Facility for RNA isolation and analysis.
Education
MD/PhD: Georgetown University Medical Center; graduated cum laude. Doctoral Dissertation in Tumor Biology: "Pleiotrophin Signaling Through PTNR in Glioblastoma Multiforme"
Residency: Neurological Surgery, Duke University Medical Center
Fellowship: Neurointerventional Radiology, University of Wisconsin
Fellowship: Neurointerventional Radiology, Duke University Medical Center
Honors and News
Editorial Activities
Neurosurgery, 2010-present
Journal of Neurosurgery, 2010-present
British Medical Journal, 2012-present
Awards
Outstanding Achievement in Patient Service, 2010
Excellence in Teaching Award. The Ohio State University Department of Neurological Surgery, 2010-2011
The Lawrence Mervis, M.D. Teacher Of The Year Award. The Ohio State University Department of Neurological Surgery, 2010-2011