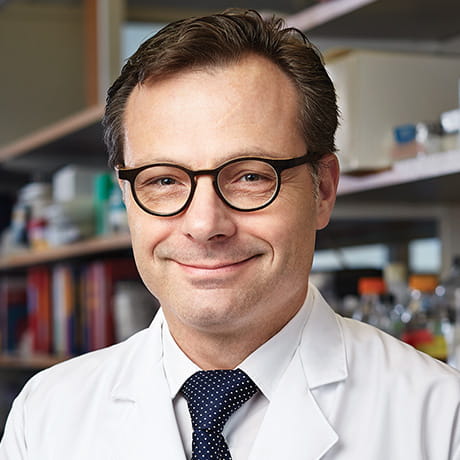 Professor
William E. Hunt, MD & Charlotte M. Curtis Chair in Neuroscience
College of Medicine
Department of Neurology, Department of Physical Medicine and Rehabilitation, Department of Neuroscience
Faculty, Chronic Brain Injury
Biomedical Research Tower
460 W. 12th Ave. 6th Floor
Columbus, OH 43210
Phone: 614-685-9278
Fax: 614-293-9020
jan.schwab@osumc.edu
Research Interests
Protection of the intrinsic recovery potential after spinal cord injury
Resolution of inflammation in the lesioned central nervous system (CNS)
Control of the CNS on the immune system
Improving the predictive value of animal models for clinical translation
Current Research
Dr. Schwab's research aims to better understand and treat the maladaptive immune response after spinal cord injury (SCI). This is composed of the systemic SCI-induced immune deficiency syndrome (SCI-IDS) and the developing post-traumatic autoimmunity. Both maladaptive neuro-immunological syndromes are associated with inferior repair and a target to improve neurological recovery.
Research Techniques
Clinical trials
Design and conduction of diagnostic and interventional mono-/and multicentric randomized trials in patients following spinal cord injury
Preclinical trials
Statistical analytical approaches to detect inflated effect size and confounding bias (Meta-analysis, Egger Regression, Trim and Fill Imputation)
Experimental models
SCI-models (contusion, transection)
Pneumonia model (Streptococcus pneumoniae)
Peritonitis model
Cell and molecular biology
Gene expression analysis (qPCR, Western blot)
FACS analysis
Immunohistochemistry
Single and double labeling
Education
MD: Eberhard-Karls-University Tubingen, Germany
PhD: Max-Planck Graduate Research School Tubingen, Germany
Postgraduate Training
Postdoctoral Fellowship: Developmental Neurobiology, Dr. Alain Chédotal, CNRS Paris, France;
Basic Immunology, Dr. Charles Serhan, Harvard Medical School
Group Leadership Training: Experimental Neurology, Charité – School of Medicine, Berlin, Germany
Clinical Training: Neurology, Charité – School of Medicine, Berlin, Germany;
Department of Spinal Cord Injury, Trauma Hospital Berlin
Dr. Schwab is partially funded by the Chronic Brain Injury program, a part of Ohio State's Discovery Themes Initiative.