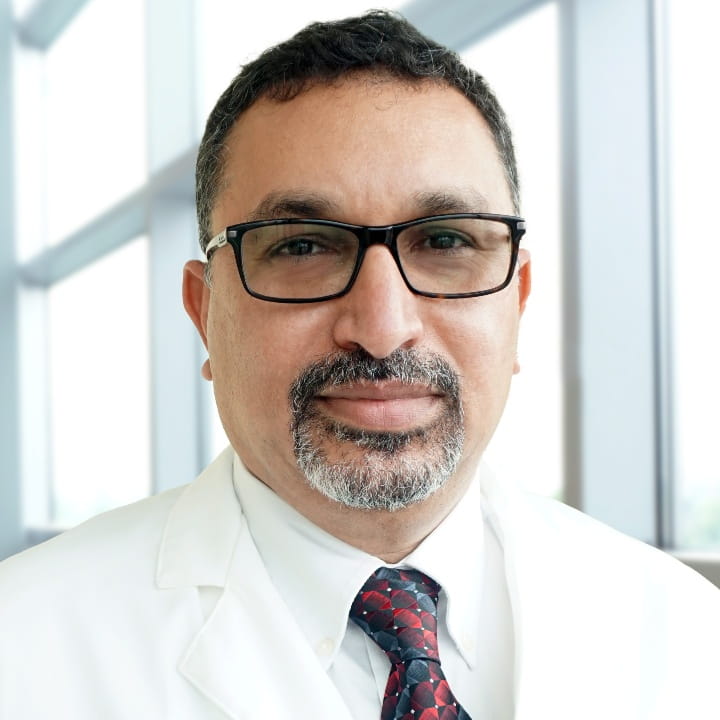 Wiseman Hall
400 W 12th Ave
Room 202
Columbus, OH, 43210

Office: 614-292-1396
Lab: 614-292-0709
Fax: 614-247-7153
Mohamed.Abdel-Rahman@osumc.edu

Dr. Abdel-Rahman is a research faculty member specializing in pathology, clinical genetics and molecular genetics. His research interests include molecular diagnosis of ocular melanoma, identifying novel targets for therapy of ocular melanoma and study hereditary predisposition to ocular melanoma and other cancers.

Dr. Abdel-Rahman has an adjunct appointment at the division of human genetics. He is working with Medical and Ocular oncology colleagues to develop a clinical trial for management of uveal melanoma patients with high-risk for systemic metastasis. Additionally, he teaches Ophthalmic Pathology for ophthalmology residents.
Research Interests
Uveal melanomas
Ocular genetics
Clinical cancer genetics
Ocular Pathology
Education and Training
MB BCh (MD): Cairo University, Cairo, Egypt
PhD: The Ohio State University
Residency: Pathology, Theodore Bilharz Research Institute in Giza, Egypt
Residency: Pathology, Faculty of Medicine, Menoufiya University in Egypt
Fellowship: Pathology, National Liver Institute, Menoufiya University, Egypt
Post-Doctoral Fellowship: Cancer Genetics, University of Texas in Houston, Texas
Fellowship: Ophthalmic Pathology, The Ohio State University
Fellowship: Clinical Cancer Genetics, The Ohio State University
Society Memberships
The American Society of Human Genetics, 2000-present
American Association for Cancer Research, 2002-present
Egyptian Society of Pathology, 2007-present
Association for Research in Vision and Ophthalmology, 2003-present
International Liver Cancer Association, 2013-present
Honors and Awards
Loes Jones Endowment for cancer research fellowship award Comprehensive Cancer Center, the Ohio State University, 07/2000-09/2000
Travel fellowship from the 10th International Congress of Human Genetics, Vienna, Austria, 05/2001
Junior Investigator Award, Ocular Melanoma Foundation, 10/2010
Junior Investigator Award, American Cancer Society, 02/2011