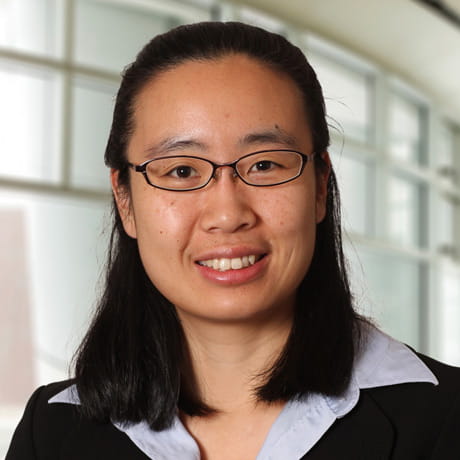 Associate Professor, Department of Orthopaedics, Division of Spine
Associate Professor of Clinical Orthopaedics
Fellowship Director, Orthopaedic Spine
Director of the Orthopaedic Minimally Invasive Spine Surgery Service
Clinic: 614-293-0706
Office: 614-688-0706
Fax: 614-293-6250
Background
As a spine surgeon, she treats patients afflicted with conditions affecting the cervical, thoracic and lumbar spine utilizing minimally invasive spinal techniques, which is Dr. Yu's area of interest. This includes degenerative disc disease, herniated discs, spinal stenosis, degenerative spondylolisthesis, spinal trauma/fractures, as well as degenerative scoliosis.
Dr. Yu has published several articles in peer reviewed orthopedic and spine journals. She is the author of several book chapters and has presented her research in both regional and national conferences. Some of Dr. Yu's accolades include a Howard Hughes Research Grant awarded by Stanford University, election to Alpha Omega Alpha National Honor Medical Society, recipient of Cum Laude MD degree, best resident paper (coauthored) awarded by the Minnesota Orthopedic Society, citation in Becker's Spine Review as "Female Spine Surgeon Leaders to Know" in 2016, and citation ranking in the top 10 percent of patient satisfaction at The Ohio State University Wexner Medical Center. She has also received several grants supporting her research.
Yu was recruited by the Spine Division at The Ohio State University Wexner Medical Center in 2012.
Dr. Yu is Board certified by the American Board of Orthopaedic Surgery, and is a Fellow of the American Academy of Orthopaedic Surgeons. She is active in both regional and national organizations, to include the American Academy of Orthopaedic Surgeons, North American Spine Society, Ruth Jackson Orthopaedic Society, Mid-American Orthopaedic Association, and the Society of Minimally Invasive Spine Surgery. She is a reviewer for numerous peer reviewed journals to include Spine, The Spine Journal, CORR, and Journal of Bone and Joint Surgery.
Dr. Yu's treatment decisions are based on what is first and foremost in the best interest of her patients and what she can do to improve their quality of life. Each patient is different and with the comprehensive spine center at OSU dedicated to individualized care, this allows Dr. Yu to incorporate all facets of spine care for her patients. This includes exhausting all nonoperative treatment before entertaining surgery using minimally invasive spine techniques and if indicated, an open spine technique. A good day at work for Dr. Yu is making a positive difference in her patients' lives.
In her spare time, she enjoys reading, cooking, and spending time with family and friends.
Education and Training
Orthopaedic Residency: Mayo Clinic, Rochester, MN
Fellowship: Spine Surgery, Stanford University, San Francisco, CA