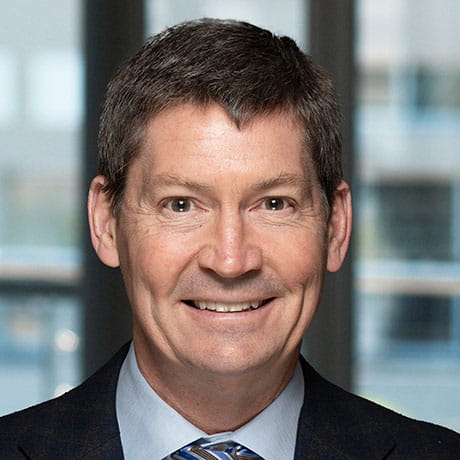 Professor, Orthopaedic Surgery
Head Team Physician, Department of Athletics
Clinic: 614-293-3600
Office: 614-293-8293
Fax: 614-293-2910
Background
Dr. Jones is a board certified orthopedic surgeon at The Ohio State University Wexner Medical Center with a sub specialization in shoulders and elbows. He was born, raised and now lives in Upper Arlington, Ohio with his family where he remains actively involved with the local community.
As a collegiate athlete, Dr. Jones earned scholastic and performance accolades that have continued into his professional career. Time Magazine selected him for its Achievement Award as one of the Top 20 College students in the nation in 1987. Jones was awarded the 2007 Ohio Athletic Trainers Association Team Physician of the Year Award. In 2015, he was inducted into the Capitol One/CoSida NCAA Academic All-American Hall-of-Fame. In addition to his service as an orthopaedic consultant for Ohio State's varsity athletic teams, he is Head Team Physician for the Columbus Clippers (Triple-A Affiliate of the Cleveland Indians), Columbus Destroyers (Arena League Football) and the Upper Arlington City School District.
Dr. Jones' industry involvement is extensive. He regularly speaks nationally and internationally, including multiple trips to South America, Europe and Japan. He has served on multiple AOSSM committees, as a reviewer for CORR, AJSM, JBJS, JSES, and OJSM journals and as the Editor of AOSSM's Sports Medicine Update. He is a member of both the prestigious Magellan Society and the Herodicus Society.
After participating in the AOSSM Traveling Fellowship to South America in 2008, he continues to foster the exchange of scientific information by regularly hosting international fellows at the Jameson Crane Sports Medicine Institute.
His research encompasses multi-center work, funded grants and projects with Major League Baseball. Most notably, he is a two-time Neer Award recipient, a founding member of the Multi-Center Outcomes Network (MOON) Shoulder Group producing some of the top research in the field of shoulder surgery and an investigator in the Arthroscopic Rotator Cuff Repair Trial (ARC Trial), the largest randomized trial ever performed in Orthopaedic Surgery.
Education and Training
MD: The Ohio State University College of Medicine, Columbus, OH
Residency: Orthopaedic Surgery, The Ohio State University Wexner Medical Center, Columbus, OH
Fellowship: Orthopaedic Sports Medicine, Hughston Clinic, Columbus, GA