2021 White Coat Ceremony connects and celebrates new generation of Buckeyes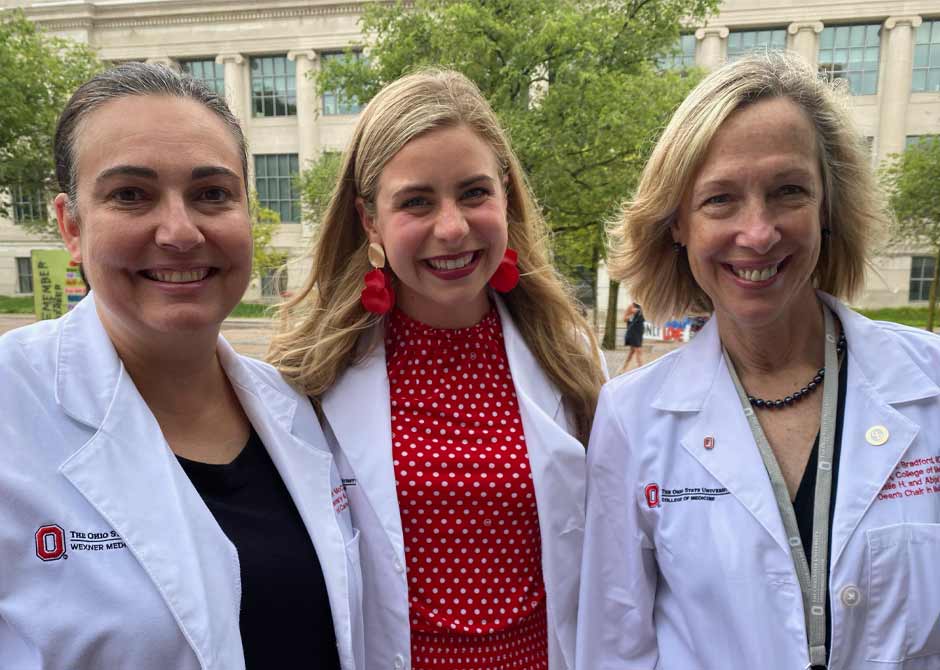 The Ohio State University College of Medicine's incoming class of 2025 comprises talented individuals poised to excel at the expectations placed on the 21st century medical student. Out of 8,206 applicants, 209 entrants to the school's medical program brought both unique personal backgrounds and exceptional professional resumes.
This year's influx of medical students is diverse — 55% of the class is female and 26% are from groups underrepresented in medicine. The undergraduate degrees of entrants span a range of majors. From molecular biology and genetics to political science and mechanical engineering, a collection of disciplines will bring unique perspective to the classroom. The diversity of personal backgrounds flourishes as well, with swim instructors, COVID-19 screeners, piano players, baristas, marathon runners and pharmacy technicians collectively agreeing to pledge and serve the Hippocratic Oath.
Admission standards for the Ohio State College of Medicine reflect the school's academic excellence. The rigorous dedication and commitment of its incoming medical students can be seen in admission statistics, with students averaging a 514 MCAT score and 3.82 class GPA.
For these individuals, the Ohio State College of Medicine's annual White Coat Ceremony marks the end of the undergraduate era and the beginning of a journey to becoming a physician.
On Aug. 9 at 4 p.m., the entering class of future physicians gathered in the Wexner Center for the Arts' Mershon Auditorium to soak in the valuable insight imparted by Carol R. Bradford, MD, MS, FACS, dean of the Ohio State College of Medicine.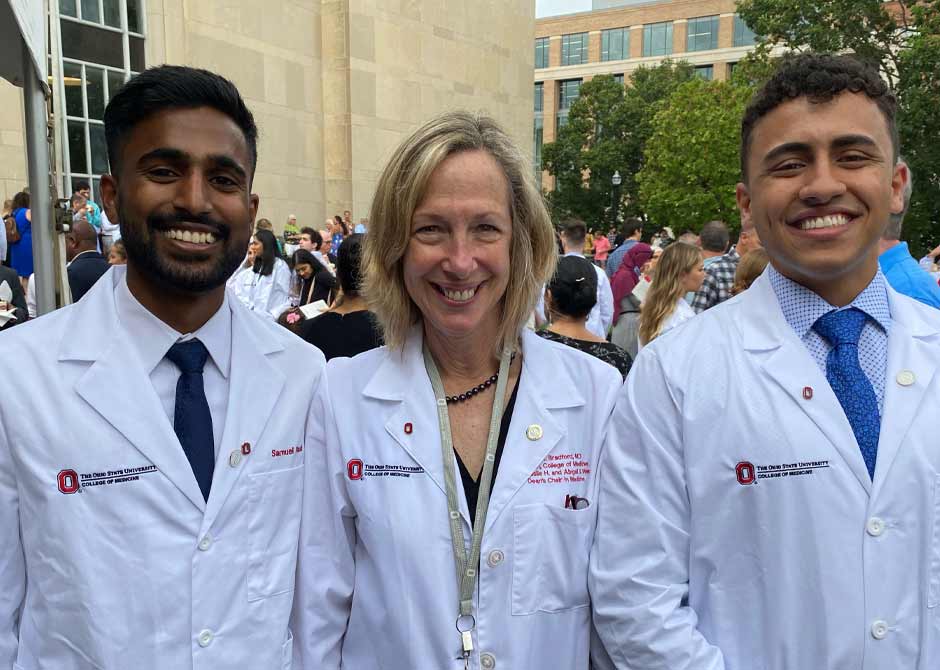 "No matter your motivation to attend medical school, you are doing so to pursue a profession that is truly a calling rather than a job," said Dr. Bradford. "You are transforming and innovating care to make a true difference in medicine. You are the future of health care."
Jennifer McCallister, MD, associate dean of Medical Education at the Ohio State College of Medicine, also left the students with memorable words.
"The presentation of the white coat is symbolic," said Dr. McCallister. "It shows your challenge, your commitment. This white coat…should be more than a uniform in your eyes, illustrating commitment to compassionate care, a willingness to walk the lifelong journey of learning and a promise to uphold the ideals of society."
Following the speeches, medical students eagerly filed across the stage to don the coat that represents one of the most important roles of their lives. Soon, these students will immerse themselves in the Ohio State College of Medicine's innovative curriculum, world-class research and unsurpassed patient care.